Where the world gathers for
plating, anodizing, & finishing Q&As since 1989
-----
Yellow stains on heat treated stainless steel
Q. Discoloration after Vacuum Heat treatment?
I am having a problem with a brownish/dark yellowish discoloration on parts after vacuum heat treat process of 440A at around 1900 degrees followed by 500 degree tempering process. It does not show up right away; after both processes are done it is a time-delay thing. I am not sure where to start with it.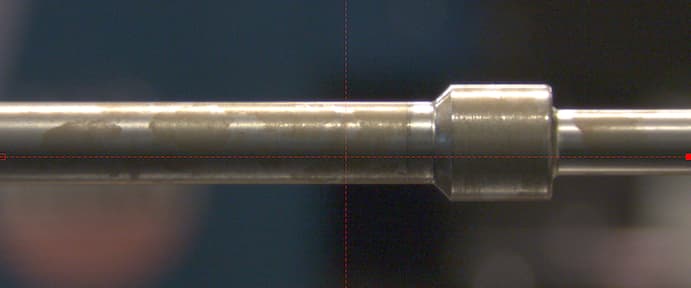 We ultrasonic wash with 3 rinse stations before heat treatment. I have narrowed it down to it is happening at our outsource heat treat company, just not sure what factors to consider when investigating it. It also seems to be a seasonal thing happening in the spring/summer time but also doesn't look like regular rust/oxidation.
Logan RM
- Kentwood Michigan
September 8, 2023
Ed. note: Since 1989 we've strived to build a legacy of aloha & camaraderie incompatible with anonymity; everyone is welcome to read anonymously, but is asked to use their real name & town when posting :-)
---
---
↓ Closely related postings, oldest first ↓
---
---
Q. We have occasional, intermittent yellow staining of stainless steel parts following our heat treat process that we cannot seem to prevent entirely. Does anyone have an idea of what might be on the parts prior to them entering the furnace that would result in yellow staining? Or perhaps the stains are occurring after heat treat but before inspection, resulting from something like condensation on the parts while they cool down? Any discussion is appreciated.
Stephen Erickson
quality assurance technician - Goleta, California, United States
2004
A. You really do not provide enough for a reasonable comment. Typically, it comes from cutting fluid that is not completely removed and from oxygen in the oven/furnace. To get a better answer from someone more qualified, you need to provide the alloy, cleaning process, type of oven/furnace and temperature/time cycle including atmosphere and cool down atmosphere. One clue is the uniformity of the yellow-perfectly uniform, blotchy and fingerprints.

James Watts




- Navarre, Florida






A. Not many details. Perhaps a bit of high temperature oxidation during cooling. Are you air quenching after heating in vacuum or protective atmosphere?

Ken Vlach [deceased]




- Goleta, California


Finishing.com honored Ken for his countless carefully researched responses. He passed away May 14, 2015.
Rest in peace, Ken. Thank you for your hard work which the finishing world, and we at finishing.com, continue to benefit from.



---
---
Q. I have the same problem with 17-4PH. We were passivating the part then H1050 heat treat (no solution anneal we get better magnetic properties this way). After the heat treat they come out yellowish or splotchy. We tried a solution anneal first and they came out shiny but we want the better magnetic properties.
Kevin Woolsey
aerospace - Lynnwood, Washington, USA
2004
A. This subject seems to come up time & again. When heat treating anything, even in an inert gas environment, the oven is never completely clean. The residuals in the oven volatilize and redeposit on your pristine parts causing the anguishing yellow uglies. Try wrapping your parts in aluminum foil and see the yellow uglies disappear.
Dan Weaver
- Toccoa, Georgia
2004
A. Use stainless foil. It is made specially for that purpose. Depending on the temperature, Al foil could melt on your part.
James Watts
- Navarre, Florida
---
---
Q. I faced similar problem of yellow on part. The material that I used AM350 material and clean-up using Micro 90 solution and ultrasonic tank, the final one use cascade-tanks and water-break-test. I put the parts inside tubes and the tubes has been heat-treated (out-gasing) ± 2000 °F and clean-up with similar cleaning process. The HT-cycle is 1750 °F for 20-30 minutes and the yellow show-up.

Does radian-thermal from the tube will make the part yellow? My friend said that I need to make cross-section on part to figure out the yellow-layer and inspect the IGA/IGO

Thanks you for your assistance ...
Irfan
- Batam, Indonesia
2007
Ed. note: Since 1989 we've strived to build a legacy of aloha & camaraderie incompatible with anonymity; everyone is welcome to read anonymously, but is asked to use their real name & town when posting :-)
---