Where the world gathers for
plating, anodizing, & finishing Q&As since 1989
-----
Manganese Phosphate Components have a red cast to them

2004
Q. I'm experiencing a condition of having a Red Cast or Hue to various components being processed through my Heavy Manganese Phosphate bath. Not all components demonstrate this condition, small components are not having a problem.Large items such as 2'x 3', or cast finish components, visually show this Hue. My operator has titrated the bath , all of the parameters and ratios are in spec. All of the components are degreased and blasted with 80 grit steel shot prior to processing.

Hope you can help me solve this problem, thanks.
Charles H.Collins
Production Manager - Watervliet, New York, USA
---
2004
A. What was the length of time between titration for free acid and processing the parts?

I suspect your free acid is high and the red color is red iron oxide., or the orange valence of manganese.

Do this. Start heating the bath, when you get to 185, right at tank side (not down the street in the lab), right at tank side, titrate for total and free, start adding Manganous Carbonate until the ratio gets to 7.5 to 1, by now you are at about 195, start phosphating, hold the temp below 200.

When thru, turn off the heat. Next time, titrate at the tank side just before processing. If you titrate on Monday and process on Tuesday the free acid will be sky high. Keep heat off when not in use.

Robert H Probert
Robert H Probert Technical Services

Garner, North Carolina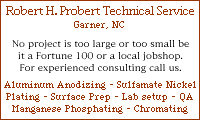 ---
2004
Q. Mr.Probert,

First of all, thanks for the response. The length of time from Titration of the Free Acid to processing a component, generally ranges from 30 mins. to possibly (2)hrs.

The distance from the processing tank to location of the titration setup, maybe 40 ft. On the addition of the Manganous Carbonate, how fast or slow do you make the addition, and does this chemical react fast, to change the readings, or is it a slow process ? To operate after this, normally, do I need to maintain the ratio, per your information ?

Thanks again,
Charles H.Collins
[returning]
- Watervliet, New York
---
2004
A. Good, 30 minutes is probably tight enough. You see, at operating temperature with no work in the tank the free acid forms very fast. Also the Manganous Carbonate works immediately. So. Titrate at the tank when about 185, add Manganous Carbonate (the best), or Sodium Carbonate (which makes the most sludge), and then titrate again, and keep doing that until you get to ratio, then load and keep loading until the work is finished, then cool down, take two aspirin and call me in the morning.

Robert H Probert
Robert H Probert Technical Services

Garner, North Carolina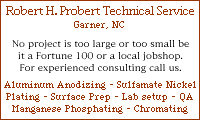 ---
2004
A. One problem we've experienced along these lines is that large parts take longer to come up to temperature so while the temperature of the bulk part is rising, the phosphate solution at the surface of the cool part is less than 180 °F. so the part undergoes phosphoric acid etching prior to phosphating.

Red phosphate is also often noted on heat treated parts and, in that case, not altogether avoidable.

Good luck at the Ars!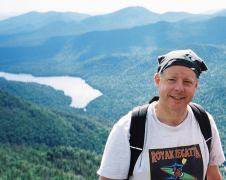 Milt Stevenson, Jr.
Anoplate Corporation

Syracuse, New York
---
2004
A. Just like to add to Milt Stevenson Jr's point - if you heat the rinse stage before the manganese phosphate bath, then the cooling down effect and thus the phos. acid etching is avoided, since the parts are already at the required temperature.
Will Rimmer
- Uxbridge, Middlesex, UK
---
2004
A. I said TITRATE when you get up to 185 °F. By the time you adjust the total free the solution will be up to 195, at which time start loading the tank. I did not say to phosphate at 185.

Regarding pre-heating, do that in the grain refiner pretreatment step which is less corrosive (rusting) than plain how water

Robert H Probert
Robert H Probert Technical Services

Garner, North Carolina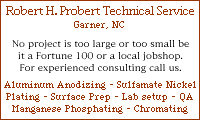 ---
2004
Q. Processed a few large components, and had mixed results. The one component that has been a problem, has been spotty at best. Processing 2-3 cycles, some cycles come out very well, while others seem to revert back to a slight red hue, and most notably, only in some areas, but not the same area on each. By using 80 grit steel shot, be a possible culprit, to this iron oxide being left on the component, prior to phosphate. I do use a grain refiner @ 180 degrees, for approx.8-10 mins, with little or no reduction in temperature, going into the phosphate. Again small components look very good in between the larger cycles, salt spray is passing and coating weights are very good. Lastly, is the red hue cause for rejection, under DOD-P-16232 [ed. note: replaced by MIL-DTL-16232 [affil link or from DLA] ] with the unaided eye. Unless you shine a direct light onto the component, you can't distinguish this condition.

Thanks in advance,
Charles H.Collins
[returning]
- Watervliet, New York
---
2004
A. I am 'bout ready to give up and blame the alloy, but first let's try two things more: (1)Get the T/F ratio down even lower and (2) try aluminum oxide blasting instead of steel shot(thinking that the residual aluminum left on the surface will dissolve and float off and yet do no harm to the solution).

Robert H Probert
Robert H Probert Technical Services

Garner, North Carolina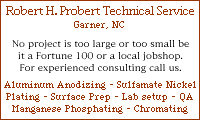 ---
2004
A. Dear Sir,

You probably have copper poison at one of your baths in the line. I believe it is in the etching bath, but it can be in the cleaning bath or in the Phosphating bath itself. It is enough that there is more the 10 mg/lt of copper to give the red color. Send samples of all the bathes to copper analysis.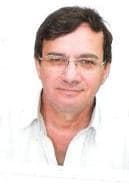 Yehuda Blau
YB Plating Engineering and Quality - Haifa Israel
---
2005
A. I have been using this process for about 15 years and have run into this problem many times. I have learned that the acid ratio is a culprit a good part of the time and that a free acid of 2.0 - 2.5 with a T/F ratio of 5.0 -6.0 works well. Also a bath temp of 195-200 °F is best. But, there is also another factor that must be considered, iron content. Iron content should be above 2.0 during titration. I have also found that not all metals will react the same, i.e., mild steel will park while hardened 4140 turns red. This could be caused by the heat-treating process, i.e., the carbon is being burned out of the surface. If your blasting is not penetrating this area then you may need to re-carburize the part.
Bill Hass
- Murfreesboro, Tennessee, USA
---
---
"Phosphating of Metals"
by Werner Rausch
from Abe Books
or

Affil. Link
Your purchases make finishing.com possible
2007
Q. I also am having troubles with a manganese phosphate bath. My problem is actually not being able to get a sufficient crystallization. I believe, now, after reading the previous posts that I am missing the "carbonate" part of the equation for neutralization. Our shop people turn the heater on many times when there is nothing to process. I have been titrating, but not for free acid so much as I have been checking the total acid. I will try the 5 or 6:1 ratio with some sodium carbonate as manganese carbonate seems to be a difficult chemical to acquire on short notice in this country. We have noticed that when the phosphate coating appears "fuzzy", as my coworkers put it, the wear properties are superior. So far, the parts I've attempted to process just turn black with no apparent crystals. Will Sodium Bicarbonate work for neutralization? or carbonic acid? or anything else?
Timothy Hill
- Mojave, California, USA
---
---
How to determine acceptable manganese phosphate appearance?
August 24, 2018
Q. Dear all,

This is my first post on this forum and I've read many posts on this forum which help me a lot in my work. I'm a QC on a conversion coating company, my question is specified on manganese phosphate. I'm having difficulty on checking the appearance of the process. The result of the coating is having yellowish/rusty marks. I can easily judge the appearance if I can observe with a torch light or sufficient lighting. The issue is that our company lighting doesn't help much in differing the yellowish/rusty marks with good results (all seems black and glossy without torch light). Right now, I and my colleagues are using torch light to inspect. My question is, is torch light allowed to be used for observing parts? Our production doesn't accept our method as according to them it is very detailed and our judgment will be very negative towards their output. This may be a very funny question, but I sincerely need your advice and help. Thank you in advance!
Jimmy Lie
Quality Control - Indonesia
---
"Phosphating & Metal Pretreatment"
by D.B. Freeman
from Abe Books
or

Affil. Link
Your purchases make finishing.com possible
August 2018
A. Hi Jimmy. For decorative finishes like chrome plating, whole booklets have been written about proper lighting for inspection. But for functional coatings like manganese phosphate, I'd be surprised if anything like that exists ...
It starts, however, with the specification. Your parts should be processed to some specification or other, and a primary job of inspection is to determine whether the parts comply with that specification. Production, inspection, and customer might debate qualitative parameters like "uniform appearance", but should never be debating whether parts comply with a completely unspecified parameter :-)
If the spec contains any wording relative to appearance, you must determine whether the parts comply with that wording, and this generally isn't possible to determine in the dark, but shouldn't be determined with special lighting (flashlight/torch) unless the spec says so, which it probably doesn't.
A second issue is that discoloration is often an early sign that a process is out of control or is getting out of control; so if your inspection by flashlight offers actionable information toward restoring control, rather than just a pass/fail judgement, the production department should find it worthwhile.
Interesting question; I hope that people who have wrestled with similar questions will chime in. Good luck.
Regards,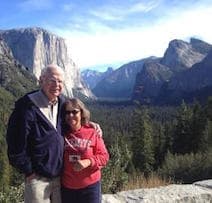 Ted Mooney
, P.E. RET
Striving to live Aloha
finishing.com - Pine Beach, New Jersey
---
April 1, 2022
A. I am dealing with this exact situation right now. Will keep you updated...
walker johnson
finishing supe - South Carolina