60,000 Q&A topics -- Education, Aloha, & Fun
topic 26663
Rusting of Electroless Nickel plated parts
adv.
A discussion started in 2004 but continuing through 2019
2004
Q. We are currently electroless Ni plating certain steel tubes.Plating thickness being maintained is 8-10 microns.After plating we are testing the parts in water by passing air to check for any leaks.This testing is done as there is a brazing done on the tube and we check the quality of brazing.The tubes are then wiped with a dry cloth and then sent to our customer in USA by sea.
The sea freight takes 4-5 weeks and by the time the parts reach our customer,the parts are rusted. What could be a reason for the rust.Is it insufficient plating thickness or any other reason?
Venkatesh Aiyer
Director - Bangalore, Karnataka, India
---
2004
A. Sometimes people dealing with Electroless Nickel tend to think in absolute terms what is meant in a macroscopic sense. EN does not have an infinite micro throwing power. It might not penetrate uniformly over a rough surface due to a number of causes. Most common are pits already present or caused by bubbles that remain adhered and prevent free access of fresh liquid. The particular chemicals or contaminants can also produce porous deposits. Involve your vendor in your problem, make sure your EN is high phos and does not contain heavy metals. Also, try to reduce roughness and observe outgassing during process. Consider a thickness increase.
Guillermo Marrufo
Monterrey, NL, Mexico
---
2004
A. To start with, I am not sure that EN can withstand marine environment for 3-4 weeks. Are you sure that your EN is a high phosphor one as mid phosphor has no chance. As for deposit thickness, 25 microns is minimum!
Are parts heat treated after plating to increase hardness? If positive, it deteriorates deposit's ability to withstand marine environment.
Sara Michaeli
chemical process supplier
Tel-Aviv, Israel
---
2004
A. Dear Sir,
EN is a great plating and works well for most corrosive environments. If parts are yet rusting, look into the following:
1. please look into the condition of the preplated material. Inconsistent to popular belief, EN does not do too well on pitted material.
2. Try using only High Phosphorous Nickel if the finish is acceptable.
3. As suggested by my peers, please ramp up the plating thickness to above 12 microns.
4. Try a clear lacquer over the EN Plating if the part permits.
5. Use anticorrosive paper for packing, not plastic as water WILL condensate inside the packets on account of extreme temperature changes in Containers.
6. Use a protective lacquer if permitted.
Best of Luck.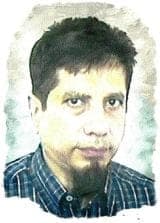 Khozem Vahaanwala
Saify Ind

Bangalore, Karnataka, India
---
---
How to avoid rust or crack at the knurling?
November 21, 2013
Q. Hi sir. Our company is mainly concentrating on Electroless Nickel plating. Currently we have got some new samples which has knurling on the shaft. When we plate as usual, after plating and baking, rust could be seen on the knurling. After a day cracking occurs. How can we settle this problem? Thanks.
Yamunnai Raja Gopal
Chemical Engineer - Penang, Malaysia
---
November 29, 2013
A. Hello,
You don't give much information on what the base metal is, what the pre-plate process is, etc. From what you say the knurling area was not prepared properly, whether it is post machining preparation or something else. We need more info to help you.
Mark Baker
Process Engineer - Malone, New York, USA
---
---
July 8, 2019
Q. Hi Sir,
My company did EN plating on some parts which clamp/stamping together (4 items stamped together). The plating process for the item includes alkali deg, electro A.D., Ni strike, acid treatment (asahi acid), EN, then electro neutr. The problem was that after plating and drying, the item tends to rust at the opening between the stamped area. We already tried to tackle the problem by increasing the drying temp or time, increase EN thickness to max (4,5 micron). I really hope to get more solution from professionals here regarding this. Thanks.
Ilham Adnan
Chemical Engineer - Selangor, Malaysia
---
July 2019
A. Hi Ilham. A photo sent to for posting here would probably help, but with parts that are stamped, clamped, riveted, spot welded or formed together the case may be that there are capillary areas where water can be sucked in from the first process, so you'll never suck the subsequent process solutions in successfully :-(
Even theoretically, the only way you could get the chemicals there would be to dry the parts between each step to restore the capillary action. If you can't plate the parts before the stamping/clamping, an anaerobic sealant or a vacuum impregnation step before the metal finishing processes may help. Some people zinc phosphate after the plating process to address unplated areas, but that suits things like tubing better than it suits capillary crevices.
Regards,
Ted Mooney, P.E. RET
finishing.com - Pine Beach, New Jersey
Striving to live Aloha