Serious Education ... plus the most fun you can have in metal finishing.

Want mirror finish on copper sheet
A discussion started in 2003 and continuing through 2017 . . .
(2003)
Q. I am creating bookmarks and other curio items from 20-32 gauge copper sheet materials. My objective is to obtain the best "mirror" or "plate" finish on the completed items. I have used 600 Grit sandpaper and handheld polishing tools but cannot remove scratches.
Eladyah Jones
hobbyist - WESTFIELD, Pennsylvania
---
(2003)
A. Well, you have to get those scratches out, and you can't do it without ruining the shine and starting over. Sorry, Eladyah. What you need to do is use a coarse enough sandpaper to get every one of the original scratches out, leaving new scratches perpendicular to the original ones and somewhat smaller and less deep. Then you need to use a finer sandpaper and get all the scratches out that you just created, replacing them with smaller and less deep scratches in a perpendicular direction. You keep doing this with however many steps are required; the minute you leave a prior scratch behind, you've lost the battle and there is no sense continuing. Unfortunately, you simply have to get all the scratches from the previous step out before you can go on.
Ted Mooney, P.E. RET
finishing.com
Pine Beach, New Jersey
---
(2004)
Q. Ted,
I have now attempted to finish two additional samples of the copper sheet. Unsuccessfully. I followed your instructions carefully and even though I used several grits of paper, I was never really able to get the desired finish. On the latest attempt, a "sort of" mirror finish appeared. On this sample (1"x4"- 20 Ga) as with the earlier one, the last size of paper leaves scratch marks of its' own. I went to 2000 grit emery with this last try.
Should I try some kind of polishing compound? Or would using the emery under water help? I'm still looking for a way to do this.
Regards,
Eladyah Jones
(returning)
hobbyist - WESTFIELD, Pennsylvania
---
(2004)
A. There are various grades of a 3M product called scotchbright, one of them is so aggressive I think it has diamond grit in it. They work really well wet with water. Use a fine cutting compound 4,000 meshed size that is about the finest grade you will get. apply it with low linting paper towel or a Chamois [linked by editor to product info at Amazon]. Always use cold water as hot rapidly causes the copper to tarnish finish with a rinse in deionized water then displace the water with metholated spirits.
Robert Fyfe
- Wyoming, NSW, Australia
---
(2007)
A. Taking the finish to a 600 grit sandpaper followed with polishing using tripoli [link to product info at Amazon by ed.] then by red jeweler's rouge [linked by editor to product info at Amazon] will give you a mirror finish. Use a bench polisher and muslin buffs.

Or, if you have a (rock) tumbler, you could use steel shot and tumble your items after the 600 grit sandpaper step.

Both methods will give you a mirror finish.
Cheryl B
[last name deleted for privacy by Editor]
- Shrewsbury, Massachusetts
---
December 21, 2011
Q. I have made some copper post caps (10"). Various angles and seams make it hard to polish? I did some sand blasting on parts of them; leaves it very clean w/sparkling glitter-like look in the proper light but kind of a matte finish in different light? Definitely the easiest way to clean it what next?
jim pettis
-
anderson California USA
---
December 22, 2011
A. Hi, Jim.
Sandblasting has removed the oxides and discoloration, which is why it looks bright in one way. But it has imparted a wavy, pockmarked profile -- which is why it looks matte in a different light. You won't get to a mirror polish by blasting, but if you are almost happy with what you have, some improvement may be possible with a clear coat. Wet the copper with water. If you like the way it looks when wet, a clearcoat like Everbrite [a finishing.com supporting advertiser] can probably give you pretty much that look.
If you don't like it even when wet, you are not going to get the look you like without changing your approach from blasting to buffing. Good luck!
Regards,
Ted Mooney, P.E. RET
finishing.com
Pine Beach, New Jersey
---
---
August 11, 2015
Q. I have tried everything recommended but NOTHING works for me ... I CANNOT polish or buff or do anything else to get the copper to a TRUE, PERFECT MIRROR FINISH! There is always evidence of very fine, microscopic scratches or buff marks left behind. Not even my professional jeweler knows how to achieve this end result.

ANY OTHER SUGGESTIONS?

Thank you so much for your time and consideration.

Sincerely,
John Hurlock
- Lewes, Delaware, United States
---
August 2015
Q. Hi John. I frankly don't know the answer to your problem myself. I'm wondering if anyone can comment on the possibility that your copper is simply too soft to be polished to a mirror finish (at least with the abrasives you are trying).
Regards,
Ted Mooney, P.E. RET
finishing.com
Pine Beach, New Jersey
---
August 12, 2015
A. Good day John.

We could use some more info regarding the copper you are trying to polish.
You state that your professional jeweler is stumped.
I am assuming you are dealing with a copper alloy as it relates to jewelry. It is quite possible there is a larger amount of other metallics within the copper- maybe zinc?
I would/have used a combination of muslin and fine cotton wheels (the muslin is very hard, providing the "cut" you need --maybe tripoli?-- to smooth out the surface, and finish off with the fine cotton with rouge with plenty of polishing rotation of the item to avoid heat generation = dragging/burning of the base metal = scratches-buff marks. (I like to use a hacksaw blade to "dress" the polishing wheels during polishing compound application, as it does help remove the fine buff marks/scratches).
Hope this helps.

Regards,
Eric Bogner
- Whitby, On., Canada.
---
August 14, 2015
A. Mechanical systems as suggested will work; however, I am a lazy SOB. Polishing can be accomplished using vibratory systems and a dry organic polishing media. If your parts can fit inside the work chamber of the bowl it should polish up to a mirror finish. Scratches you may need to work with a wet plastic media.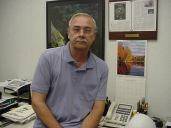 AF Kenton
Nova Finishing Systems Inc.
Hatboro, Pennsylvania
---
February 1, 2017
A. To polish copper to mirror finish, I'm a Printmaker and often work with industrial copper which has to be polished to mirror finish.

Drop 20 weight oil drops on the copper and use 00000 steel wool to remove the worst scratches, etc., than degrease the Plate and use 2000 grit from the car parts store wet sandpaper with water and go with the grain. A 24 x 30 inch Plate takes me about 90 minutes.

Ludwig
Ludwig Mohr
Krause Intaglio - Gardena, California USA