Live! From beautiful Pine Beach New Jersey: Welcome to the world's most popular metal finishing website
topic 26353
Cleaning gold that has been burned
A discussion started in 2003 but continuing through 2018
2003
Q. My friend asked me how to clean a Gold ring that has been burned. The ring was hanging over a burning candle and has become tarnished. I understand that it was probably the other metals in the ring that caused the discoloration. Jewelry cleaner did not remove the tarnish. Do you have any suggestions on how to get her ring back to normal?
Valerie McCullough
student - Balmertown, Ontario, Canada
---
2003
A. Very short immersion in pure nitric acid maybe can help (1-5 sec.)!
Goran Budija
- Zagreb, Croatia
---
2004
A. Hello,
Can you tell me how he tried to clean that ring? That jeweler should have to repolish that ring by buffing; it will come out brand new.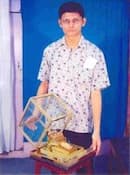 Dipen Pattni
jeweler/goldsmith - Dar-Es-Salaam, Tanzania
---
2007
A. Hello gold burn victim - I was on this site because of my own misfortune. I was cleaning my rings by boiling with just a little dish soap and water. The water boiled out of the pan while I was distracted and I found my white gold diamond earrings, white gold diamond heart shaped necklace, yellow gold and diamond ring, and my white gold and diamond hoop earrings, burned, black, and lifeless at the bottom of the sauce pan. After almost fainting, I came looking for help and found this page.
Then I remembered a friend of mine had a trick where he took the oldest darkest penny I could find in my wallet. He told me he could make it looked brand new. He took Tapatio sauce [linked by editor to product info at Amazon] sauce and poured it on the penny. He left an outer portion of the penny without sauce for comparison. Five minutes later he rubbed the sauce off with a rag and it was restored to it's copper pink finish.

I didn't have Tapatio but I did have the Valentina sauce [linked by editor to product info at Amazon] sauce, and prayed that it might take some of the black off. I let my jewelry soak in the sauce in a plastic cup for five minutes and it started to work. I put it back in for ten minutes the next time and it has almost come completely off.

At least they are wearable. I think they have a high acidity and work well. Get out anold penny and see for yourself....
Good luck!
Chris McMillen
- Richardson, Texas
---
September 12, 2009

Chris, I did the same thing. I was cleaning my wedding band by boiling it in water. It was a lot of water in the pan. I went upstairs to eat. Kids came home from hanging out with Grandma and forgot about my ring. When I finally went to the kitchen my ring (and my pan) looked like it had been in a fire. I almost cried. So I am going to get the sauce that you mentioned and pray that it works. Thanks.
Gold Burn Victim #2
[name withheld at request]
- Atlanta, Georgia
---
March 12, 2014
A. Take cigarette ashes and mix it with your spit. Make it in the consistency of paste. Put it on tooth brush bristles and scrub. For stubborn stains let it sit in the ashes and spit for an hour; then scrub. After rinse with clean water. It should look like new again.
Sharon Spurgeon
- Indianapolis, Indiana, USA
---
September 20, 2018
A. The person who mentioned using ashes is talking about essentially using homemade lye, or a reaction similar to that effect. I haven;t tried it, but it might be a good option. To add to it, I seem to remember being told that white ashes are the best when making the solution. If you don't smoke, perhaps try rooting around in the fireplace. I quit smoking, and don't own a fireplace, so I guess I'd just burn some paper or something in an old coffee can. There's more to the recipe for making actual lye, but I seem to remember it being kind of essential to use only white ashes. I imagine it would be the same for this. The recipe also involves water, so I imagine you could use that instead of spit.
Brian Schaaf
- Perryville Missouri United States.
---
May 12, 2014
A. Distilled white vinegar can help greatly … Just keep the damaged jewellery in the vinegar for 10/15 minutes and then rub lightly with soft cloth.
Atim Mullick
- San jose, California,USA
---
---
July 18, 2014
Q. We try to burn gold by liter to trace if it is gold pure or not and it became black. We tried also vinegar to remove that black but it's not removed. So meaning the gold we buy is fake?
remy balderas
- zambales, philippines
---
---
April 14, 2018
Q. How can I restore my burnt white gold chain? Although I have washed it with a series of things like hyppo bleach,vinegar, etc., the colour has changed to something pinkish or rose colour. Thanks.
Fafure Taibat Olufunke
- Ekiti State,Nigeria
---
August 16, 2018
Q. I also burned a gold necklace, it quickly got black. But it was removable quickly after. Does that mean it's real gold because it didn't stain permanently, it was just black powdery?
Jane urive
- Los Angeles, California
---
November 3, 2018
A. I had a small burned stain on my gold chai and I put half teaspoon of white vinegar and one teaspoon of baking sofa and put a thick paste on the stain for 20 minutes and the stain was gone. Hope it helps someone. Thanks.
Sumera khan
- Australia Nsw Sydney


If you have a question in mind which seems off topic, please Search the Site