topic 26295
Removing rust stains on anodized aluminum
(2003)
We have anodized aluminum soffit panels that were incorrectly stored prior to installation. They have lines of rust staining on them from the storage racks. These soffit panels are at the 2nd floor level and are highly visible. The building owner has been patient for three years whilst attempts have been made to solve the problem with mild cleaners. These have all failed. Are there any products that can be used to remove the rust stains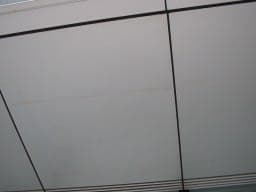 Clifford A Bury
curtainwalls - Yuen Long, New Territories, Hong Kong
---
(2003)
Dear Clifford,
Firstly let me tell you about anodized Aluminium. I apologies if you know this already. Anodizing of Aluminium produces a layer of Al2O3 to varying thicknesses depending on requirements. Aluminium will oxidize naturally in air and produce a very thin layer of oxide. This natural layer will stop any more corrosion (not rust), in the natural environment. Anodizing produces a much thicker layer of the oxide, giving a much harder or durable finish for different applications.
During storage it sounds like the Anodized oxide layer has been removed and the natural thin layer has taken its place.
This is why you can see this difference in the finish. Unfortunately I don't think there is much you can do about this apart from strip and re-anodize.
This is my first impression from the information you gave. A close up photo may help me to confirm or discredit my initial thought.
Regards
Jonathan
Jonathan Timms
- Hong Kong
---
May 7, 2011
Hi, Please can you tell me if aluminium sheeting will rust if used to make a garden feature and left outdoors.

Thank you
Joanne Rhoden
-
Darwen, Lancashire, UK
---
May 8, 2011
Hi, Joanne. Two things:
Aluminum can't ever "rust" because rust is the red-brown corrosion product of iron, and aluminum has no iron in it; but it can develop white corrosion. Second, everything with the possible exception of gold and precious metals eventually corrodes. But I think aluminum will prove reasonably stable as a garden feature. Good luck.
Regards,
Ted Mooney, P.E. RET
finishing.com
Pine Beach, New Jersey


This public forum has 60,000 threads. If you have a question in mind which seems off topic to this thread, you might prefer to Search the Site