60,000 Q&A topics -- Education, Aloha, & Fun
topic 26187
NaOH is attacking 316 Stainless Steel tank
A discussion started in 2003 but continuing through 2019
2003
Q. I am a technical services scientist at a vaccine production facility. We use a lot of 316L stainless steel in our processes. One of our 2000 Liter tanks has been found with a large discoloration on the tank's sidewall. The discoloration is a long white streak running almost the entire length of the tank. There is a large black spot in the middle of the white streak. During the process, 10N NaOH is added directly above where the discoloration is present. Can NaOH have this kind of effect on 316L SS? The tank is old and it is feared that electropolishing the tank might damage it further. We are thinking of trying hand polishing and passivation but are unsure if that will have any effect.
Anne Taylor
Technical Services Scientist - Raleigh, North Carolina
---
2003
A. Stainless steel alloys are resistant to general corrosion in NaOH up to about 65 °C, regardless of the concentration. What is the temperature in your application? SCC can occur at temperatures ~ 100 °C. If I understand 10N correctly (it's been too long since high school chemistry!), then this is very concentrated stuff. Type 316 may not be the most appropriate grade. More corrosion resistant grades like 7-Mo from Carpenter have better resistance to concentrated NaOH at high temperature. I would discuss this application with them for further assistance.
Toby Padfield
Automotive module supplier - Michigan
---
2003
A. Look for galvanic voltages all around and inside the tank. And be aware that just bending a piece of stainless steel sets up a galvanic potential. What is the drag-in? Is it acid? Is the drag-in containing any chlorides? Is the Caustic Soda pure (Like PPG "pels") or is it dirty and loaded with Sodium Chloride when it first comes in?
adv.
Call me, I am right here in town.

Robert H Probert
Robert H Probert Technical Services

Garner, North Carolina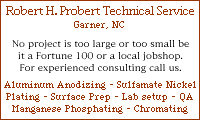 ---
August 18, 2008
A. NaOH can cause it. Since you mention a long white streak, it might be that that is due to a weld seam. A weld causes less Chromium to be on the surface and is therefore less chemically resistant. The weld seam might not have been properly passivated. The quickest and cheapest solution is passivating that streak with a kind of gel paste especially for passivating steel.
Tjerk de Vries
- Weesp, The Netherlands
---
July 1, 2011
A. Regarding "white stains" and black spot where 10N NaOH is added. I suspect the black spot is due to elevated temperature. A black rouge (magnatite) will form on, and tightly adhere to 316 SS even with exposure to WFI if temperature routinely exceeds 90° C. The white streak is usually micropitting caused by galvanic corrosion in an electrolyte (salt solution qualifies)where the naturally occurring passive surface has failed. Mechanical polishing will damage the 316 down into the material for some depth .0003-.0006" leaving a surface more susceptible to corrosion than the surrounding material (even if passivated). You mentioned not wanting to electropolish an old vessel for fear of doing further damage? In fact just the opposite is true. If properly mechanically polished (sanded) to remove any corrosion damage and micro pitting (primarily to achieve a pre-determined Ra is required)a GOOD electropolish will optimize the corrosion resistance of the 316 perhaps extending the time before corrosion can re-start. Electropolishing offers no risk of damage regardless of equipment age as it is a surface treatment that exposes new alloy with minimal material removal (<.001"). Simply mechanical polishing & passivating will most certainly insure corrosion will begin immediately after placing the vessel back into service due to the damaged (Belby) layer present after any mechanical operation including "buffing".
R. Keith Raney
- Houston, Texas, USA
---
2004
Q. Dear sir,
Can we use stainless steel tank to store NaOH solution?
Hossein Parsa
student - Tehran, Iran
---
July 22, 2010
A. As per the Erich Rabald Corrosion guide 2nd Edition =>

we can use SS-316 up to 100° up to 65% Concentration if there is no stirring (only storage).
Sumeet Patil
Technical services, DRL - Hyderabad, AP, India
---
---
What grade of stainless for caustic cleaning tank?
February 14, 2018
Q. I need to build a larger caustic tank that we use to dip our core boxes in to clean them. The caustic is heated to about 40 °C with electric immersion heaters. I need to know what the best type of stainless would be for this application.
Mario Ricci
Nemak of Canada - Windsor ontario Canada
---
February 2018
A. Hi Mario. I have personally seen dozens if not hundreds of decades-old caustic cleaning tanks used in the electroplating industry made of plain steel. Although I prefer fiberglass these days, if you're going to make it of metal, I'd say just use plain steel.
Regards,
Ted Mooney, P.E. RET
finishing.com - Pine Beach, New Jersey
Aloha -- an idea worth spreading
---
---
January 7, 2019
Q. Can we accumulate NaOH at 40 °C and 35% concentration in stainless steel pipe 316L. If no, what is the bad effect?
mohamed bakry
- egypt,cairo
---
January 2019
A. Hi mohamed. I think it will be fine, although I've heard that caustic can leach a bit of Chromium out of stainless steel; but plain steel pipe would be just as good. Aqueous NaOH solutions are not corrosive to steel.
Regards,
Ted Mooney, P.E. RET
finishing.com - Pine Beach, New Jersey
Aloha -- an idea worth spreading
---
---
June 3, 2019
Q. Hello, I am trying to perform an experiment in a 316 stainless steel vessel, involving NaOH pH:12.8 and 360 °C at 128 bar. Do you think the vessel will be damaged??

Thanks!
P Martinez
- Madrid, Spain
adv.