topic 26176
Steelcase Tanker Desk Restoration Tips
Some clearcoating solutions (adv.)

A discussion started in 2003 & continuing through 2017
(2003)
Q. I recently got my hands on an old (50's-60's era) Steelcase-type desk/table. It's in decent shape-workable, but dinged and dirty. I want to restore it to it's former (but updated) glory.
I have sanded off the original paint and coating (whatever that coating was), and I am now down to the bare steel (which is really nice, by the way). I'd like to keep this bare metal look. The sanding left behind a "swirly" pattern in the metal, which to me doesn't look bad. I'm curious what others think of this look.
Should I put some type of a coating over the bare metal? What would you suggest to protect and keep it shiny/glossy? Also, if I get a bunch of gagging over the swirly metal, how would I get the pattern out of the metal (it's only a surface pattern--maybe would buff out if necessary?).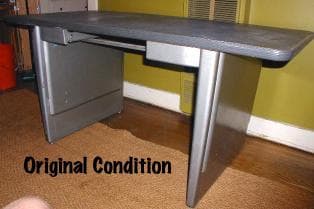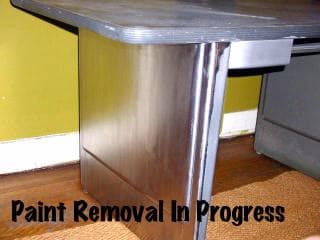 Also, the desktop is tragic. It's a linoleum, I believe, and has seen too many hot coffee cups, cigarettes and box cutters. It was suggested to me that I simply replace the linoleum, but I am curious of anyone has another suggestion that might look better. The trim around the desktop--I think I can save that, but in case I screw it up. do you know of a resource for replacing it? It is a rubber molding, with a metal strip between the molding and desktop. Anyone know of any good how-to books that might cover the entire process I am trying to do?
This is a new area for me, but I am very eager to make this piece beautiful, so I appreciate any direction or suggestions.
Todd Taliaferro
artist/graphic designer - West Hollywood, California
---
(2004)
Q. I have recently acquired several pieces of vintage steel office furniture. I would like to strip the ugly gray paint, polish the steel and clearcoat it. I need suggestions on the best method for removing the paint, polishing the steel and then the best clearcoat for the top. Any suggestions would be greatly appreciated.
Thanks!
Kelly Montano
- Denver, Colorado
---
(2004)
A. To Todd and Kelly, from another vintage metal furniture devotee: The May 1999 issue of Martha Stewart Living has a good article about restoring vintage metal furniture, with a few before and after photos. That article says you can use rubbing compound and a coat of wax to spruce up the existing paint and put new glides on the legs, rollers on the drawers and install a new top surface. If you choose to change the color of a piece, according to the Martha Stewart article, you can choose to have your metal furniture wet-coat painted (this is done at an auto-body shop with a high-powered spray gun) or powder-coat painted (involves applying a very fine, dry pigment to an electrically charged object and then baking it in a large oven). Before either method can be used, a professional should strip the old finish by bead-blasting it with tiny plastic pellets, according to the M.S. article. Most of the pieces shown in the Martha Stewart feature were wet-coat painted...the article says it is cheaper to have several pieces done at once - the furniture must be disassembled and the nonmetal parts have to be masked first. For powder coating, the glides, rubber bumpers and other nonmetal parts must be removed so they don't melt in the oven. The Martha Stewart article says powder coat painting is the cheaper method, but the choice of colors is more limited and it might take some persistence to find a painter who will work on an individual piece.
I just found an old Steelcase desk at a garage sale and hope the Martha Stewart tips work out! (I'm not positive, but I think those tips may have been provided for the article by a company called Past Present Future in Minneapolis.)
Tracy Wilson
- Palmer, Alaska
---
(2005)
Q. Hi, all. I took the leap and bought a 1950s Steelcase tanker desk. Happily, the linoleum top is in great shape, and there aren't too many dings/dents in the metal. I did my homework, read all your suggestions in this forum, read the Martha Stewart article (which is available on the Past Present Future Web site via .pdf scan) and took the desk to a local auto body shop. Shockingly, it would cost $1350 to bead blast it, get the dents out and repaint it! Breakdown: $200 for the blasting/stripping, $400 for the dent removal, $700 for the paint process. Needless to say, this is unaffordable!

I have no idea what to do. Should I spend $200 to have it blasted professionally and then try to coat/paint it myself (which poses obvious issues with the potential rust, etc.)? Is there a way I can get the dents out myself (Bondo [linked by editor to product info at Amazon]? Hammer?) and then sand it down lightly and apply a metal paint to cover the two layers of paint already on there?

Any suggestions/ideas? I noticed that one contributor is from Denver... Where did you have yours painted a few years back?

Now I know why Sonrisa charges $1800 for refinished tanker desks just like mine. It's a fortune to redo them!

Any advice would be appreciated... Thanks!
CJ McNally
- Denver, Colorado
---
(2006)
Q. Hi everyone. I am looking for information on how to remove the linoleum top from my Steelcase desk (40s/50s). I have been in brief contact with Past Present Future on tips about cleaning up the top with special heavy duty cleanser (and I have read the Martha Stewart article), but unfortunately it looks like we're going to have to replace this. anyone know how to go about removing the top without damaging anything. we've already got the replacement linoleum -- a company here in Sweden sells desktop linoleum in pretty vintage colors. Thanks!
Emily Tanner
- Stockholm, Sweden
---
(2007)
Q. Emily, I have a business in Pittsfield, MA that specializes in restoring these Tanker desks, as well as other Mid-Century metal seating and lighting. Can you please let me know the company that carries the linoleum in Sweden? It would be very helpful if I could expand the color options for these desk tops.

Thank you,
Shaun Guinan
- Pittsfield, Massachusetts
---
September 20, 2008
Q. Can anyone provide the Martha Stewart article from May 1999 regarding restoring vintage metal furniture that a previous reader wrote about? I just acquired a steel tanker desk for free! that is in pretty good shape. I just want to clean it up from top to bottom without doing any damage to the existing paint and further protect it. Any suggestions would be helpful.
Thanks,
Virginia
Virginia Planellas
- Glendora, California
---
April 26, 2009
Q. My question is a bit off the mark, but it seems like all these tanker desk owners might be able to help. My father is closing his business and needs to sell the office furniture. I have just this evening learned that at least three of his desks are "tanker" desks. I'd like to learn about the history of this style of furniture. Any suggestions? Does the Martha Stewart article discuss the history and manufacturers?
Kathy Doig
- Mason, Michigan
---
---
(2004)
Q. I'm looking to refinish an old 50's to 60's office desk with a brushed look on the sides, and the top with a swirled look, I've seen a few of them on ebay, can anyone tell me how to do this? I have a very deep mechanical background, so lay it out there :)
Jeff Swope
Student - Grapevine, Texas
---
(2004)
A. Hi, Jeff. I suggest you take a piece of scrap, polish it quickly, clearcoat it and try to protect and see how rust-free it stays in your environment first. Please consider that if you look at a really good paint job such as on a car, it involves first dipping the steel in molten zinc (the galvanneal process) so the surface is now zinc rather than steel, then phosphatizing it (which is a process that converts the surface of the steel to a toothy finish for good paint adhesion, while relieving corrosion hot spots that are caused by mechanical working) and providing protection against corrosion at any tiny pinholes. The phosphatizing is dull, matte, and opaque. Then the metal is dipped into an electrocoating tank to be primed with a colored primer (this gives coverage in the joints and folds and spot welds where sprayed, brushed or powder paint can't possibly reach and where moisture accumulates by capillary action and rust will start seeping out). Finally, two of more layers of spray paint are applied in a room from which the dust has been filtered, and which is humidity controlled; and then the paint is baked --all before the clearcoating. The reason for all this effort is that steel rusts so quickly and easily upon exposure.
Although "brushed steel" is a very fashionable look today, to have the steel show through like that requires that there be no galvanneal cathodic zinc coating, and no phosphatizing to fight galvanic hot spots, and no electrophoretic prime coating on the steel to protect it from rusting at the joints and folds -- in brief, it requires that most of the proven tools against long term rust prevention be thrown out the window, and only a layer of clear lacquer or clear coat paint stand between the very active steel and the atmosphere.
Then the user may ask why it rusts, and there may be no good answer! It's why appliance manufacturers use stainless steel rather than plain carbon steel for brushed metal kitchen appliances.
I note this not to disparage your efforts or discourage you from your hobby, which I wish you well with! But before people put a huge amount of man-hours into the effort, you should understand your odds of it staying rust-free. If the house is cool and dry and away from the ocean it should be okay for a few years, but good environmental conditions are required. A hot attic or a damp basement or garage location and it probably won't hold up.
Scratch brushing is actually done with a quick "SCRITCH!" from a large belt sander (called a timesaver), not a metal brush. There are also a lot of different swirled patterns, from a 'dowel' or 'jeweled' finish to larger patterns that can probably be done with sandpaper or scotchbrite on a circular buffer or a Dremel [linked by editor to product info at Amazon] tool. Good luck with your projects!
Ted Mooney, P.E. RET
finishing.com
Pine Beach, New Jersey
---
(2004)

Ted,
Thanks so much for replying to our inquiries. I am so glad that I found out now that this project is not a good idea -- at least if I don't want rusty furniture! Now that I know how this is done I probably would never buy any pieces that were done in this manner either. I will just have the pieces I have collected sent out to be painted. I had my desk painted several years ago by a car painter and it looks wonderful- with no rust!
Kelly Montano
[returning]
- Denver, Colorado
---
---
(2005)
A. An outfit called Modern Masters (a faux finishing company) have a clear acrylic called Master Clear that is often used on polished/brushed aluminum and other metal surfaces such as elevator doors, etc.

D Marcus
- Valencia, California


---
Hi, D. Thanks. Yes, there are many good clearcoat materials available. You may be interested in listening to our podcast interview about clearcoating with Teresa Sedmak, pres. of Everbrite Coatings. But aluminum surfaces and shiny elevator doors are not steel and do not need the same level of protection from rusting that steel requires.
Regards,
Ted Mooney, P.E. RET
finishing.com
Pine Beach, New Jersey
---
(2005)
Q. I just got a steel desk sanded and painted at an autobody shop . The desk was in relatively good shape so there was not a huge amount of fine work needed. For me, the key was finding a small company run by an independent contractor who was willing to do it at an affordable cost. I bought the desk for $10 at our local university recycle shop, and the total cost for sanding and painting (with BMW paint -- tee hee hee) was $252. It is beautiful. So my advice is to call around and find someone who needs the business. Good luck!
Beth Graue
- Madison, Wisconsin
---
(2005)
Q. I'm restoring a 1950's Steelcase desk. I want to replace the current linoleum top, but I can't figure out how to remove it. (Is it glued down?). Where might I find linoleum if I can remove the top?
Scott Bremer
- Atlanta, Georgia
---
---
March 8, 2009
Q. I have a desk with a laminate top; does anyone know how to get it off, it's glued to the steel behind it?
Mike Allison
hobbyist - Roseville, California
---
March 11, 2009

I answered my own question about removing the laminate top from the desk. I used a putty knife and a hammer and gently tapped the knife between the laminate and the steel. I got it all removed without damaging the metal beneath.
Michael Allison
[returning]
hobbyist - Roseville, California
---
---
(2007)
Q. I have my grandfather's STEELCASE desk that I want to restore. I plan on taking the metal portions to a body shop for painting but the top of my desk is not linoleum. It is some kind of soft black substance that is dented from years of use.

Does anyone know if this can be removed/replaced?

Thanks in advance,
Lawrence Amy
- Lafayette, Louisiana
---
(2007)
A. Lawrence A., what you have is the laminate top. It's soft and rubbery, while other tops for these tanker desks are hard, similar to kitchen counter tops. My laminate top is peeling back in one of the corners, its about 1/4 inch thick. I have yet to remove it completely, but its only glued down.

Here's my flickr page with photos:
http://www.flickr.com/photos/tanker_desk/
Jeremy Scott
- Grand Rapids, Michigan
---
(2007)

Jeremy,
Thanks for responding to my request. Your desk in process looks very nice. I hope to get mine to that point one day. The shape of my top is different in that the edges are rolled down and the corners have these somewhat ornate metal pieces on them. It gives the desk top a different look, not as flat, and it makes the laminate appear thick. I guess it is a different era of desk. I don't know the age of mine and haven't found any indication on the desk itself.

Thanks again,
Lawrence Amy
[returning]
- Lafayette, Louisiana
---
(2007)
A. Sounds like you have an Art Metal or possibly a Shaw-Walker brand desk. Those are definitely in the same era, just a different manufacturer. Check here for some great photos : http://pastpresentfuture.net/examples/desks.html

Not sure what I would do about that top. I've seen some people completely replace the top all together and place a nice wood butcher-block style slab on top. I've also seen a nice piece of glass placed over worn out desktops.

Good Luck!
Jeremy Scott
- Grand Rapids, Michigan
---
---
(2007)
Q. I have acquired a Steelcase desk that has lost most of the drawer rollers. The one I could find is an off-white plastic that has an outer diameter of 1", an inner diameter of 5/32", and a thickness of 5/32". One side of the axle hole is covered so that installation on the roller peg is from one side only. These rollers fit on pegs attached to the desk rather than the drawer. Any idea where I can get more rollers?
Thanks.
Lynn Keigh
- Idaho Falls, Idaho
---
(2007)
I have refinished, several desks, fridge, steel case shelves...by hand. It can be a lot of work but its cheaper than having it professionally done. I don't care for the brush look. I like the

To remove the old paint use aircraft remover [linked by editor to product info at Amazon]. With an industrial brush apply it in the same direction. (wear protective gloves [linked by editor to product info at Amazon], protective clothes and mask and goggles [linked by editor to product info at Amazon], do it outside. The stuff is intense)

- Leave it on, scrape it and apply as many times needed to remove the paint. Take steel wool [linked by editor to product info at Rockler], brush or scraper, and remove the rest. Be careful not to scratch it too much (it's messy)(I use the blue metal spatulas for Venetian plaster)

-At this point either you stop, or have to finish it. As it the metal will oxidize. If you stop, there will be a little work in removing some of the oxidation, when you start again.

-wipe it down, with a metal cleaner.

-Then take Silicon Carbide paper (wet/dry sandpaper [linked by editor to product info at Rockler]) (takes a lot), start with a 220-2000 grit . I got old gloves and stuck the paper on them. If there is a "grain" or machine marks , start by going against them, then other direction, then against again. Sand this way until they disappear. Continue on to the next grade sandpaper.

Same thing all over again. Repeat this until you've moved through all the grades and have a nice shiny surface.

I only go in the same direction, to achieve a smooth finished look with no pattern.

Use your own judgment when to move to the next grade.

You will have to apply some top coat, wax or paint to keep the metal clean and shiny. Immediately.

If you want to keep the piece raw, finish by using metal polish (by hand or buffer). Then cover with wax, I used butchers)If you use wax, there is maintenance involved...you will have to reapply, ever so often...its work!

If you want to put a coat on it I recommend an epoxy based metal paint (hard to find, specialty paint places carry them) or one from the auto department. The epoxy is the best. The auto body paint on the shelf is similar to spray paint. It looks good if you take your time and apply it evenly.

You need:
aircraft remover [linked by editor to product info at Amazon]
protective wear (gloves, eye, face)
Silicon Carbide paper 220-2000 grit (several grades)
sanding block or 2x4 cut
Steel wool, brush, scraper
a Dremel [linked by editor to product info at Amazon] is great as well
metal cleaner
metal polish
rags or buffer
top coat- wax or epoxy

Its a full day or more depending on piece, the application of initial paint (baked on is hard).
Andrew Black
- Vancouver, BC, Canada
---
(2007)
Q. Hello,

Does anyone have any advice on refinishing a 1954 RCA metal cabinet from a radio station: The original finish looks like a gunmetal grey metallic baked lacquer finish with a clearcoat with what look like mottled or 'dimpled' surface inflections.

At the moment, there is a bad black spray paint finish. The original finish is visible on the inside surfaces.

Thanks,
Marty
Marty Sellers
- Vancouver, Canada
---
March 11, 2008
Q. Does anyone have a step by step video or CD how to restore desk?
Marco Lugo
hobbyist - Denver, Colorado
---
July 7, 2008
A. I have restored at least 10 tanker desk and tables. Firstly if the old finish is still good with no rust, and no chipping;do not strip it. The baked on OE finish makes a good base for the new paint. If this is the case, disassemble, using a Air Powered DA simply knock down the old finish, do not sand through to the metal. Once you you have the surface sanded paint with automotive paint, clear, wet sand and buff. I found a local shop that will paint and clear for $150-200. I will finish the wet sanding and buffing, which only takes about 2 hrs.

If the OE paint is damaged have desk bead blasted, and powder coated. Check Local industrial powder coating shops. I have a shop that will bead blast and coat for under $200 on most desk and tables. Having done my first few desk the old fashion way; lots of elbow grease and massive amounts of time, bead blasting and coating is by far the most economical.
Jeff Perry
- Youngstown, Ohio
---
September 10, 2008
Q. To those who have refinished tanker desks: Can most of these desks be disassembled for easier stripping & painting, not to mention transporting? Especially, removing the top. The powder coat company I contacted said the top (orig. "rubbery" black, laminate) cannot withstand the 400 degrees necessary for this finish. Thanks.
Janice Parks
hobbyist - West Tisbury, Massachusetts
---
March 1, 2009
I have a steel 50's vintage reading table. It has the linoleum type top. I recall back when I was much younger you could pour a liquid chemical on the top of the desk and it would dissolve the top at which point it would re-solidify back to its original good finish with no dings or dints. Does anyone know what this chemical is?

Joe
Joe Haynes
- Birmingham, Alabama
---
March 14, 2009
As far as getting a brushed look on steel it can be done. I have been an automotive painter for 13 years and have done many successful finishes on brushed steel. When you sand metal that is what paint/clear coat sticks to. That is how automotive painters do it every day! When you stripped the paint off you didn't sand through the galvanized layer. It will not rust if there is ample clear coat on the piece.

As far as the rubbery top on the tanker desks, I have just used wedges, screwdrivers, or anything thin and ripped the top off. Once you get it going it should come off with ease. Then remove any excess glue and get the metal top of the desk as smooth as possible. I then take 1/8 press board with a very smooth finish on top and fit it to the desk top. I prep it for painting and then give the finishing color and making sure that you seal all the edges of the press board. If you do not then the press board will separate.
chad anderson
- new orleans Louisiana
---
April 11, 2009
Hello,

Forbo Nairn in Kirkcaldy produce very nice furniture linoleum for desk top type applications.
www.forbo-flooring.co.uk is a useful link and you can contact them for USA suppliers.

This is not just an ad - I was looking up furniture and lino-topped desks on Google.
Old furniture restoration is real work...
Regards,
Andrew
Andrew Paterson
Accountant - St Boswells, Roxburghshire, Scotland
---
May 5, 2009
I asked this question sometime ago, but got no response.
So here goes again. I have a gray steel table with a soft clay like top. I recall this type of desktop 50 years ago.
When it got dinged up you poured this mystery liquid on top and it would melt the clay and as it dried, the top would be restored to a nice finish. Does anyone know what this liquid was or the contents there of? Please help, the war department is wanting to throw this fine table out on the street.
Joe Haynes
[returning]
- Birmingham, Alabama
---
May 9, 2009
I also need to know how to clean up a linoleum-type desk top.
It's a dark gray... not in bad shape, but could use a good cleaning to get pen marks, scuffs, etc. evened out.

Any help would be appreciated.
Karen D
[last name deleted for privacy by Editor]
- Lakewood Ohio
---
July 21, 2009
I am looking into restoring a vintage tanker desk. I found one in really good shape but it has the formica top and I would like the all steel look. I am wondering if anyone knows if it is just steel underneath the formica if I removed it or is there a different material under there? Thanks, any help would be appreciated.
Angie Bander
Hobbyist - Rice, Minnesota
---
July 19, 2009
Hi,

I am wondering if anyone has any experience of restoring a 1950's HON Steel (Tanker) Desk.

We are going to have the unit sand blasted to get rid of the rust and the lovely (ahem) gray paint to get the shiny metaled look.
After this is done were unsure what needs to be done after that.

Does the metal need sealing, in some way shape or form?

What are our options on the top of the desk, currently some form of trashed rubber? Where can we find replacement/alternatives?

There is an Art Deco looking rubber surround enclosed in an Aluminum rim (pardon the terminology). We would like this completing in Aluminum. Suggestions very welcome.

Any advice would be really helpful.

Thanks in advance,

Chris
Daisy Jefferson
fashion design - Columbus, Ohio
---
October 2, 2009
For all of you with torn up desk tops:
Just have a piece of glass cut to fit over the top. It costs about $150.00 for 1/4 inch, radius corners with the edge sanded. I have an old tankers desk with ugly wood laminate. I got some beautiful wall paper with a large graphic print & slipped it under the glass. It looks wonderful & I can change the look of the whole room by changing the wall paper.
A word of caution about removing the rubber edge. I have heard that they can not be replaced once removed. Something about the way the manufacturer installed it. Can anyone confirm this?

What is the best way to remove spray painted numbers & permanent markers?
Monique Martin
- Vancouver, Washington
---
November 3, 2009
Hi:

I've restored a couple of these steel desks for my home and office, and here are some things I've learned:

1) Always try to retain as much of the original paint as you can. It was baked on and is much more durable than the paints most of us will be using. The original color can be closely matched if you take a piece of the desk to a professional paint store that uses a computer-matching system. They will hold an artificial eye machine against the desk piece, and then the computer will generate a recipe for the color the eye "sees." (Although the metallic content of the desk paint usually throws the computer color off a bit.) For one of my desks I only had to repaint the front of the desk drawers; I left the rest of the desk alone even though it wasn't "perfect." Although only the top drawers were dirty and scuffed, because the mixed color was ever so slightly different from the original paint I repainted all the drawers so that it wasn't obvious that only two of the drawer fronts were repainted. Even when I've repainted the whole desk, I've kept as much of the original paint as possible and sanded it to use as a primer. One last thing about these professionally-mixed paints: they're expensive -- about $20 per spray can! But they're professional paints that are tough and have a short drying time, which making the job of painting go a lot faster.

2) These desks can be taken apart. This makes them easier to restore and paint. Missing pieces can be cannibalized from a damaged duplicate desk purchased very cheaply. To do this, however, you should know which pieces you're looking for and make sure that the duplicate desk has them. This means that you have to take your desk apart and then wait for a damaged duplicate to turn up -- which might take a while, during which you can't use the desk you're restoring.

3) If you love the brushed-steel look, paint the desk in a metallic silver or metallic gray. Taking the paint completely off and clear-coating the desk is not wise -- you're simply asking for rust. The desk won't look nice for long, and you'll just have to restore it again.

4) Linoleum tops can be restored using a hot air blower. Similar to a hair dryer, these machines can be purchased for about $20 at a hardware store. They produce a small beam of extremely hot air. Directed towards the top of the linoleum and moved back and forth, you can heat areas of the linoleum until it gets soft and mushy. Then you can use a marble rolling pin to smooth out the surface. Deeper ruts in the linoleum can be gently shaped with a spoon and then rolled out. I've found that this technique works best using a two-person team: one person runs the blower and the other person rolls the rolling pin over the area being heated. (You have to watch out not to get burned, however!) Letting the linoleum heat until it slightly begins to bubble seems to work best for me. Although the former dents and gouges might still be visible (they often leave a discoloration or "ghost" of their former shape), you can get the linoleum back to a smooth writing surface with a little work and elbow grease. But it's worth it -- linoleum is a natural material and is soft and warm to the touch. Also, you'll be restoring the original desktop, and any time you can keep an original part to the desk, you should. The linoleum should finally be coated with a protective surface of floor wax specially formulated for linoleum.


Those are all the tips I can think of at the moment. Restoring these desks takes time but if you are careful and do a good job the results are well worth it. Do you think the particle board desks you purchase at Office Depot or Office Max are going to last 50 years or more? These steel desks have been around at least that long and with proper restoration and care they'll last another 50 years. Think of your restoration work as an investment.

Good luck and have fun!

-- Kenny
Kenny Suit
- Milligan College, Tennessee
---
November 19, 2009
Hello,
I have an old Steelcase desk, believed to be a Tanker desk with 3 drawers on the right and 2 on the left with a center drawer. My dad has had it forever and I only recently noticed the high quality design and it simplicity. It's in great condition but is missing the center drawer lock and one handle. Does anyone know of a good source for these items. Any suggestions would be greatly appreciated.

p.s., I do plan to refinish the desk and thank you all for your suggestions.
Michael Radonic
- Thousand Oaks, California
---
July 15, 2010
Q. I have an old Steelcase-esque (actually made by a now-defunct company in Philadelphia, PA) desk that I want to take apart to move since it is extremely heavy to move as-is. How do I do this? Does anyone have any tips on where to start? I've poked around a little bit but thought I might ask before I really start crawling around. I imagine the top comes off and then the two pedestals separate from the metal that holds them together, but I can't figure out where/how to start.

Thanks for any pointers!
Kay Mahon
- Washington, DC, USA
---
September 2010
A. Hi, Kay

I also doubt that you'll find anyone with assembly directions for such an old desk, but the usual best way to start is with the desk lying on the floor upside down for safety and practicality. You'll be able to see the fasteners without climbing under the desk, and you won't be risking something falling on your face when you loosen it :-)

Regards,
Ted Mooney, P.E. RET
finishing.com
Pine Beach, New Jersey
---
September 18, 2010
Q. Did anyone ever get a response on the name of the auto body shop in Denver that will refinish the tanker desks? Need to find one asap - can't leave on truck much longer! Thanks for any help in locating a Denver shop - just picked up one yesterday - have started calling around.
Mary Krohnfeldt
-
Denver, Colorado
---
November 16, 2010
I recently purchased a great tanker desk is fairly good condition from the Habitat for Humanity ReStore -- the university in our town has started to provide the store with it's surplus furniture items! In the future, I'd love to have the desk powder coated -- but for now, it's clean and sturdy.

The rubber on the top is not peeling up -- but it is a bit worn, and I would like to clean it up as much as possible. When I cleaned it with a basic all purpose cleaner, a significant amount of gray/black residue came off of the desk. Each time I sprayed it down, the same amount of residue was on the paper towels.

I'm wondering if the rubber is breaking down - or if I'm simply not cleaning it properly. Perhaps there is a way I could seal it?

Any advice some of you other hobbyists could provide would be very helpful!
Leigh Sanchez
Hobbyist -
Athens, Georgia, USA
---
March 20, 2011
Hi,

I recently came across a couple of General Fireproofing desks and I want to remove the formica top and use glass. But in doing so, I need to replace the aluminium edge that edges the desk top. It's in pretty bad condition. Does anyone know of a website I could find material to replace the edging? thanks, Brad
Brad Bachtold
hobbyist -
Decatur, Illinois
---
July 6, 2011
I have a desk like Mr. Taliaferro's pictured at the top of the post (no pedestals, just a pencil drawer). The laminate top was cracked so I took a screwdriver/chisel and hammer to it and scraped it off. The surface underneath is stained with old, red glue. Not bad, just ugly. I don't think it's worth the trouble to replace the laminate. The non laminated surface was smooth enough after some sanding. Luckily, the family business is auto paint/body.

I'm going to cover the top with chalkboard paint after primer for a nice smooth surface. The hardware store also sells dry-erase board paint too.

In my opinion, replacing the laminate if it's cracked is not worth the time finding the laminate and installing it. Painting it is way easier.

After taking the desk apart, I've begun to sand the paint off the rest of the desk to the metal with an orbital sander and 80 grit sandpaper. Then my husband will prime it and paint it. I've chosen a BMW interior color for the rest of the desk. My husband's family has a ton of experience with paint/body and they said that sanding and painting would be the best way to go about restoring this desk. Other options are too expensive and time consuming.
Susan T
[last name deleted for privacy by Editor]
-
Tucson, Arizona
---
March 4, 2012
A. I used gel paint remover, naval jelly rust remover, sandpaper, and car wax. I did this to my tanker desk 2 years ago, live a block from the ocean, and don't see any rust. I was going to clear coat it with this stuff they sold at Home Depot that says it prevents rust but was lazy and just waxed over the sanded steel. I did wipe it down with WD40 before waxing. I'm not an expert but am happy with the results.
I left the drawers original paint and I get compliments all the time. I found a matching chair on Craigslist: desk $60, chair $75.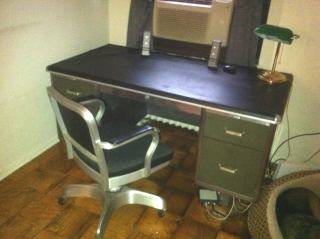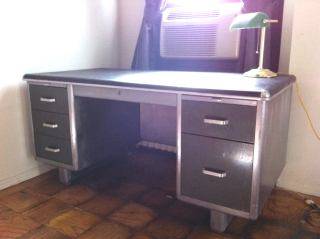 Mutt Lee
-
New York, New York
---
May 3, 2012
Q. I have a 1950s Steelcase desk that I got at an architectural salvage store. It has 2 drawers on the left and a space for a return on the right. The return was not attached when I bought it (nor was it attached when it was salvaged). I have 2 metal bracket pieces, but I cannot figure out how they all go together to attach the return. Does anyone know how they attach or where I can find information about how to attach the return? Thank you!
Rachel Nugent
-
Kansas City, Missouri, USA
---
October 1, 2012
Q. My wife just purchased an Art Metal tanker and I am tasked with the disassembly for the eventual blasting and powder coating.

The laminate top isn't in bad shape, but it has to come off, and therein lies my question.

The desk looks to have some metal end caps that seem like they would pop or otherwise be able to be removed but I don't want to use excessive force. Haven't flipped it over, so maybe there are some anchoring screws there?

I think once those are removed I should be able to use the putty knife and pry off the laminate. I just don't want to damage the end caps.

Thanks in advance for any advice!
Dan Foshee
- Springdale, Arkansas, USA
---
January 20, 2013
Q. Hi I am going to refinish a tanker desk and I was wondering if anybody has any thoughts on scuff sanding and using lacquer spray paint on the metal and possibly the same paint on the Formica top. Thanks
Robert Beach
- Santa Barbara, California, USA
---
February 1, 2013

I answered my own question! It worked great, scuff sand, 4 coats of white lacquer, wet sand each coat, 4coats clear lacquer, wet sand each coat and buff with car polish.
Robert beach
[returning]
- Santa Barbara, California, USA
---
---
July 9, 2013
Q. Can you tell me where the asbestos is normally found in these desks? I want to check mine to see if it contains the asbestos fabric/padding. What is the best way to go about removing the padding if it is present?
Megan Black
- Atlanta, Georgia
---
February 22, 2014
Q. Hello. Can anyone please advise where I can purchase parts for my tanker desk? I'm specifically looking for the round plastic rollers inside the drawers. Any help would be greatly appreciated. Best regards, Mike.
Michael Biehl
- Setauket, New York, USA
---
January 10, 2015
A. I suggest contacting Berkeley Outlet in Berkeley, California.
La Ronda Bucciarelli
- Inverness, California USA
----
Ed. note: Respond to Michael with names of places only, please, gentle readers -- no praise or criticism please. Testimonials from strangers with unknown vested interests have no value, and they have often prompted sellers to post with fictitious names and praise themselves, posing as satisfied customers :-)
---
---
April 20, 2015
Q. I have a tanker desk and want to start using it but the drawers pull really hard almost like they stick. What type of lubricant would I use.

Thanks in Advance!!

Signed,
An Amateur
Tina Gordon
- Wausau, Wisconsin
---
July 20, 2015
A. I have had my tanker desk since 1990 where I use it in my home office. All the drawers open and close smoothly on nylon rollers which should not be lubricated. The center desk drawer with the pencil holder in it does need to be lubricated periodically. And for this I use a plain white lithium grease. This works well and doesn't attack the paint. Slide the drawer out and empty it if you wish. Then remove it completely. Looking at the tracks under the desk it will be obvious where the old grease was. I clean it out with a few cotton tipped swabs. Same for the drawer itself. The grease I buy comes in a squeezable metal tube. I just add new grease to the front half of the sliding surface attached to the desk, and the rear half of the sliding surface of the drawer. Slip it back in and it opens and closes a lot easier and smoother. The grease will migrate on its own to the entire areas that need it. One application lasts me well over a year.
John KaBang
- Schenectady, New York, USA
---
---
September 7, 2016
Q. I have had this steel desk (ALL of it top included is steel ... very heavy) since 1998 and cannot for the life of me find any information about it ... can someone help with this? The gentleman I bought it from had it since the 60s.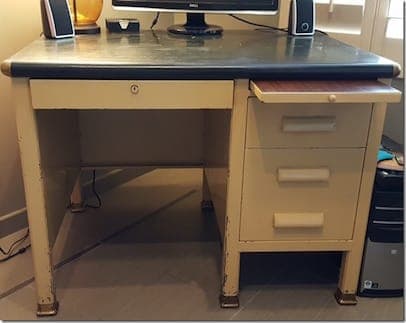 That is all I know the corners are brass inlaid? And paint, etc. all appear original including the pencil tray in the center drawer.
Thanks in advance for any help at all Cristine
Cristine L Orzel
- Cave Creek, Arizona
---
September 2016
Hi Christine. I'm no tanker desk expert, but I've worked at office desks for 50 years or so :-)
From the heavy look of it, and your statement about its weight, and the fancy feet, I doubt that it's from the 60s -- but probably the 40s or early 50s; maybe even the 30s from the lack of aluminum handles that have been used on almost all office furniture for many decades. Steelcase is probably the most common brand name, so I'd try that for some similar pictures on e-bay, etc.
It's a small desk, probably not an executives ... maybe a teacher's desk?
Regards,
Ted Mooney, P.E. RET
finishing.com
Pine Beach, New Jersey
Striving to live "Aloha"
---
October 18, 2016
Your desk strongly resembles a small library table I recently purchased. The brand name is Shaw Walker and I believe dating is more like 1940-50's. And I believe those corner caps and feet covers are aluminum and can be polished up very nicely.

Try Google search "Shaw Walker student desk or small desk"

The top of mine is in horrible condition and I'll be trying the "melting" method mentioned in this thread after I clean it up as much as possible. I thought I'd replace the top with "Forbo marmoleum", but after looking at samples, I think it's too stiff to wrap around the bullnose perimeter. And lots of glue would also be necessary.

Good Luck,
SBerg
Sharon Berg
- Waukee, Iowa USA
---
December 18, 2016

Thank you for taking the time ... had it in my office for almost 20 years and bought from the original owner.
Cristine L Orzel
- Cave Creek
---
---
May 28, 2017
Q. Hello all! Hoping I can get some type of answer to this, since google and YouTube have failed me. I have a late 60's teal tanker desk with drawers on either side (unsure of brand) that is unlocked, but only half the drawers open. They all opened in the store when I bought it, we transported it, the counter weights kicked in, and now 2 drawers won't open. Anyone know what the trick is to this? It's the middle left drawer(of 3), and the top right drawer above the filing drawer.

Luckily these things can take a beating, I'm about to that point x-D

Thanks!
CANDACE sarda
- Fredericksburg, Virginia, USA
---
May 2017
A. Hi Candace. Each manufacturer probably patented their mechanism, forcing other manufacturers to do it differently ... so there are probably several different possible arrangements.
But in any case, pushing the rest of the drawers in was supposed to free the remaining drawer. So what I would do is to remove the drawers you can remove, then look up/down or reach up/down and see what needs to be pushed, jiggled, or held. I'd be virtually sure that it's possible with a drawer removed and almost impossible without. Once you free the stuck drawer, you can remove it as well and you'll have good access to fix whatever got bent or came loose.
Regards,
Ted Mooney, P.E. RET
finishing.com
Pine Beach, New Jersey
Striving to live "Aloha"
---
---
August 9, 2017
Q. Okay guys, in Sep 16 I asked about refurbing, etc., my little single pedestal desk. Well, just getting the rehab / repainting done :) of my 1941 Shaw Walker desk with brass corners and brass feet as well as brass around the lock and YES original Bakelite Drawer pulls in great shape. Am considering painting them to match the body of the desk :)
... I even got a key but am afraid to try it out; could not find a DWA 148 lock remover though? Anyone know where to find the lock remover key for that pre-Yale lock?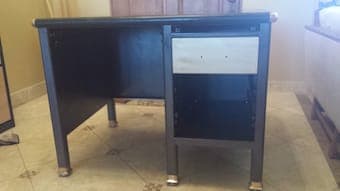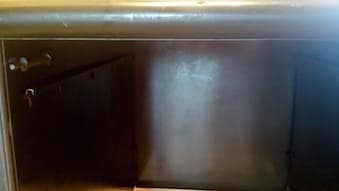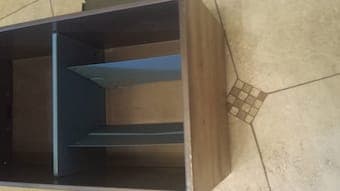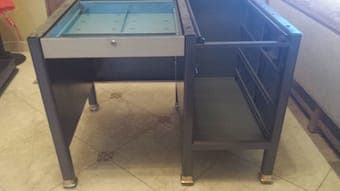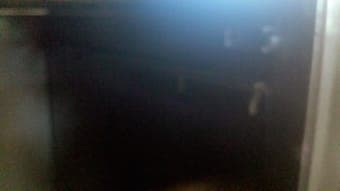 Now comes the dilemma. I can't safely get the pencil drawer in :(
... afraid of scratching. Attached is photo of where I am at right now ....do you try angle up or angle down rather than straight in? there is a spring on left side and a rubber stop on right to get around and onto the tracks
Cristine L Orzel
[returning]
HomeSmart - Cave Creek, Arizona


This public forum has 60,000 threads. If you have a question in mind which seems off topic to this thread, you might prefer to Search the Site