Where the world gathers for
plating, anodizing, & finishing Q&As since 1989
-----
Restoring a black & copper "japanned" antique finish
Q. I have boiled our door hardware in baking soda and water and cleaned off 100 years of paint to discover we have steel hinges that were japanned. Some hinges look great while some are quite rusted. Any ideas on what to do about the rusted hinges?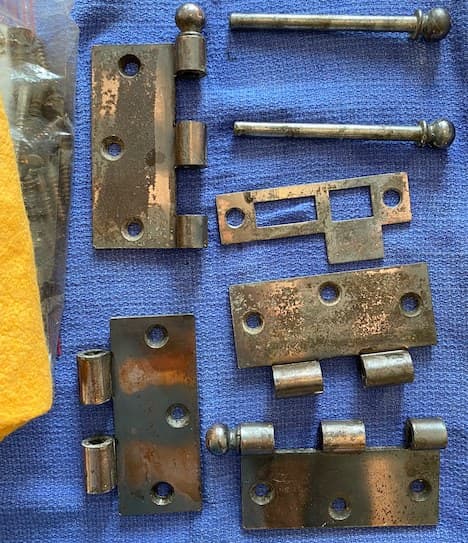 Heather We
Architect/Homeowner - San Francisco, California
August 29, 2022
A. You can fill corrosion pits with finest iron powder and 2-part epoxy adhesive mixture -- instead of adhesive you can use waterglass too → Hope it helps and good luck!
Goran Budija
- Cerovski vrh Croatia
A I found this webpage when searching for the filler to use on some 1900s hinges/drawer pulls (eastlake elements possibly) - seems to be of some relevance for the "recipe" on jappaning lacquer:

www.2ndusss.com/uniforms-and-gear/an-actual-japanning-how-to-yes

Best of Luck.
ACM Shears
Hobbyist - Buffalo, New York
February 9, 2023
Ed. note: Thanks ACM -- seems to be a very nice site! (but we rarely post links because most break in short order, often becoming malware sites, which is a maintenance plague for reference sites like ours :-)
---
---
---
Closely related historical posts, oldest first ...
"Hand and Home: The Homes of American Craftsmen"
by Simpson, Hammel, Bennett
from Abe Books
or

Affil. Link
Your purchases make finishing.com possible
Q. I am in the process of restoring the original electric hardware and fixtures in our 1904 farmhouse. The original finish of the items is a "japanned" finish, for a lack of a better term..they appear to be a dark lacquer with swaths of copper on them. The finish has worn off or corroded from a number of pieces and I am trying to find out how to restore this effect on the items that have lost it ... any help is appreciated. Thank you!
Clifton Haggard
home restoration/hobbyist - Austin, Texas
2003
A. I hope I am not too late in responding to your inquiry. Your description of the finish is almost correct ("japanned" is absolutely the correct technical/historic description). Your fixtures are most likely brass (possibly steel but not likely) and the surfaces have been copper plated. Typically the brass will have been polished prior to plating. The dark color you mention is actually what we refer to as a "patina". This is typically some form of copper sulfate. There are a number of companies making a variety of formulas that will produce very different colors on brass and copper. The only lacquer on the fixtures would have been a glossy clear which may have yellowed over the years.

Refinishing is not a simple matter. Once the fixtures have been disassembled a best case scenario would go like this:

1) chemically remove the lacquer - no abrasives, we do not want to harm the copper plating.
2) remove the patina by carefully polish the parts - we want to achieve a clean copper look with out exposing the brass below the plating.
3) re-patina the parts to get a solid consistent color.
4) re-create the "japanned" finish by removing portions of the patina by polishing in random patterns like the original.
5) give a second mild patina to tone the polished copper down just slightly - we want a consistent "aged" look not a new penny look.
6) re-lacquer all of the parts. This will slow/stop the copper from oxidizing further.
7) re-wire and assemble the fixtures.
8 )I highly recommend testing the fixture for continuity and shorts before re-installing. Ideally this is done with a "hi-pot" tester and by a company that is familiar with UL standards. We don't want your house burning down due to an electrical fire.
JR Vanderburg
Custom Period Lighting Manufacture - Portland, Oregon, USA

Thanks for your help. I have just seen the reply but wanted to clarify that these are steel pieces and I ended up restored them by simply cleaning them...taking them apart, spraying them with Scrubbing Bubbles [affil link] bathroom cleaner (mild cleaner without abrasives) and wiping down with a sponge, then cleaned off the cleaner in water (I did not rinse the sockets just dusted and sprayed with compressed air). After letting the parts dry completely. I closely inspected the sockets and switches for ANY damage and repaired or replaced them, then completely rewired and reassembled the fixture. At this point I masked off the socket's openings, hung the fixture from a support and sprayed it with 2 coats of a high quality clear gloss lacquer.
The small surface rust spots and scratches are part of the character of the piece and when lacquered, the fixture cleans up and they blend in nicely into the patina. If you want something perfect this is not the route to take, but if you just want to clean up and make your pieces presentable this has worked very well on 90% of the pieces in the house ... sometimes the finish is just to gone to try to keep and more drastic measures ($) would have to be used.
Remember I am a Non Professional repairing my own home on a budget.

BTW, I found this Japanned finish to be very delicate and could be destroyed/removed if any abrasives were used. I have been to many architectural shops where they just cleaned it off thinking it was a brass piece that had just become dirty, but I really do enjoy the random drawing like qualities that I think would be lost if someone tried to redo this finish today ... it seems to almost be a lost art.
You can buy a couple of hinges or parts with this finish at most salvage places that you can practice on (which is what I did). In Houston, Atkins is a great place to look...Good Luck!
Clifton Haggard
[returning]
- Austin, Texas
2006
---
---
"Craftsman Bungalows"
by Yoho & Merritt
from Abe Books
or

Affil. Link
Your purchases make finishing.com possible
Q. I have a 1908 house that has some of the same finish on some of the original hinges. I have wanted to figure out how to re-create that look also. I used to think that finish was called japanned, but now, after some research, I think japanned is the flat black, baked-on finish that a lot of hardware from that era, and earlier, had. The tiger-striped copper/black, I believe, was known as Antique Copper. I saw a box of original hinges on Ebay with that finish and the box said Antique Copper. I also have a reprint of a 1910 Sears builder's catalog and they have lots of hardware in both Japanned and Antique Copper, although you can't see any difference in the catalog drawings. Have you tried to recreate that finish yet?
Dan Axton
- Houston, Texas
2004
A. Dan, Sorry for not seeing your post sooner. I hope you found a source for refinishing your house hardware. If not, I would think that an older plating company in your area could come close to re-creating the finish. As for doing it yourself ... I personally would not attempt it. I know of a company in the Portland OR. area that does a Japanned finish (and yes it was called antique copper by some companies) but I am sure there are local companies that can provide this finish for you. I would check with some of the older but smaller plating or metal polishing companies in your area. If they can't do it they might know of someone that can.
Good luck on your house. JR
JR Vanderburg
- Portland, Oregon, USA

I hadn't really given much thought to finding a local plater but that would be ideal. It's such a lovely look, to me at least, I guess it just went out of style and never came back. I appreciate the advice. Take care and best of luck in your business.
Dan Axton
[returning]
- Houston, Texas
2005
---
---
Hardware of 1907 Craftsman house is brownish-black what?
Q. I have a craftsman style home built in 1907. I'm in the process of stripping old paint on all the doors on the bedrooms (which are solid chestnut wood and gorgeous). The hardware, on these doors, was all painted along with the doors. From what I can tell, by the chipped portions, there are three coats of paint on them.

My attic doors however, were never re-painted and the original hardware which matches the bedroom hardware is "brownish- black". I took the painted hardware to several hardware stores and no one has been able to tell me what type of metal they are, and how I can remove the paint to return it to its original state.

My question is- how can I tell what kind of metal they are? How can I remove the paint? Was this hardware blackish-brown in its original state or is this just the process of aging? I'd like to keep them this color.

Marie
Marie Schechter
- Mahwah, New Jersey
2007
A. Marie

I would suggest checking at a local historical society; posting a picture to show the style (maybe include a door lockset photo -- this may not be the best forum for this option); remove a hinge and examine/test the wood/hidden side where no one will see the results of testing when you are finished.
Willie Alexander
- Colorado Springs, Colorado

Those are good ideas, Willie; thanks! But a photo is welcome here, Marie, just e-mail it to mooney@finishing.com. :-)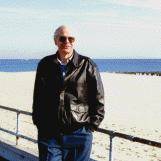 Ted Mooney
, P.E.
Striving to live Aloha
finishing.com - Pine Beach, New Jersey
---
---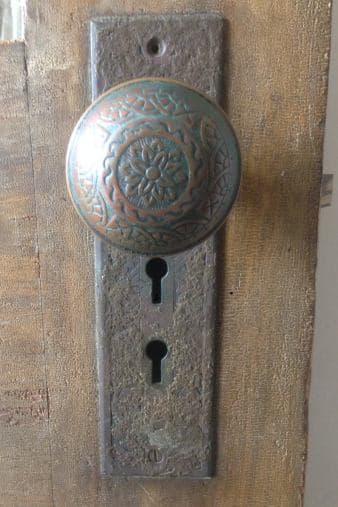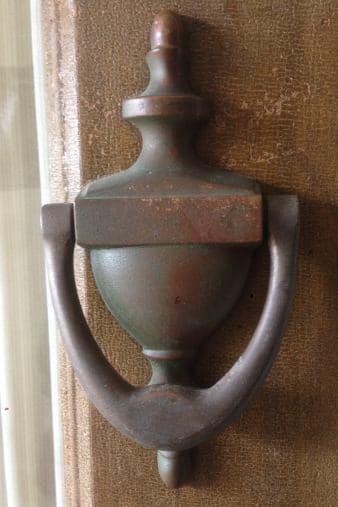 Q. Greetings,

I have a similar situation. I am attempting to restore some old door hardware, doorknob, mortise lock, knocker, and mail-slot. I am having a hard time determining if the original hardware is Antique Copper, Japanned, or filthy.
Can anyone shed any light before I go trying to restore grime or polish off gilding or anything?
Gabriel Kanes
ExelKey Locksmith Services Co. - Spring City, Pennsylvania, USA
March 24, 2014
A. Gabriel,
Easiest way I know to find out is to take them off the door and look at the inside/backside of em. This should provide the majority of the information you need regarding them being plated, solid, or whatever.
The other bonus is that you can also find a couple out of the way spots that won't show that you can test any cleaning methods on that won't show.

Good luck!
Marc Banks
Blacksmith - Lenoir, North Carolina USA
A. As the one respondent mentioned, In the period in which this finish was used it was called "Antique Copper". In our own time it is commonly called "Japan" or "Japanned". I don't know why, but this has lead to confusion. Japan Finish is a black lacquer, sometimes asphalatum varnish, and was a very popular 19th/early 20th century finish on metal (including on,apparently, automobiles), and was usually a gloss finish originally. Common into the 1920s. https://en.wikipedia.org/wiki/Japan_black
As for the antique copper finish (in the original inquiry) I don't believe I have seen it reproduced, but know it is offered by one of the restorers of stacking book cases, so it must be possible. I got excited when I saw the link to the discussion, because I hoped someone would be sharing the "secret"!It was offered on all sorts of builders hardware (as one finish option)on bronze as well as steel. On the pieces in my parts box, all of which happen to be steel, the reverse is all (patina) black, while the copper stripes only show on surfaces which would be visible once installed. So looking at the reverse would tell you much less than with most finishes. This does suggest that the dark patina(?) may have been generally applied, and that it was polished or removed in some manner for the characteristic bright copper stripes. I always assumed the black was applied, but perhaps there was some sort of resist. Much hardware did have a clear coat, which usually aged to a rich color- so do not use brass polish, even for a plain brass finish "Gentle" cleaning and paste wax would probably be a good conservation approach. Salvage replacement might be a good option if pieces have a heavily damaged (such as rusted)surface (or are just missing. It is not that uncommon, so with persistence you may find what you need. But you should probably include "Japan" or "Jappaned" in your search, since this terminology is so commonly, if apparently incorrectly, used today. This Antique Copper finish seems to have been popular in the early 20th century, although I have not done a survey of catalogues to see when it starts to show up, and when it is no longer offered.
David Swarens
- San Diego, California, USA
August 13, 2019
A. Hi,
Regarding the Antique Copper finish, called Japanned (which should be copper over steel, brass, and mixed metals) with a heat/ oxidized Chemical reaction for the black)... yes, the Japanned finishes were a lacquered black. The copper (sometimes striped finish) was delicate but responds well to a brass brush if not heavy handed. I have successfully cleaned many painted pieces (door knobs, screws, hinges, back plates, etc) using a chemical stripper and a brass brush. A copper spray paint or rose gold helped too if the finish is really gone and you want to recreate it simply and don't need authenticity. Sprayed rose gold paint with a coat of amber shellac looks quite lovely. You can strip on some bronze or apply in reverse, placing the other color in the grooves and across the front. The tiger striping was later and I call this 'squiggled'. LOL
I like the old copper flash finish better because it doesn't show sharp thin lines. I've got hardware in my old house from the 1870s with the mottled copper finish (butterfly butt hinges). We have Yale Locks with a patent date 1897, copper flashed. The door knobs we have also show the finish it's over wrought steel and wears off more easily and is from the early 1900s. We also have light fixtures dated 1910 and 1914 which are coppered. So this finish was popular a long time!
Denatured alcohol doesn't seem to harm the finish and is good for cleaning.
Something I noticed recently, is that it looks like the colors in my old fir...quite beautiful. I wonder if that's why it was so loved.
Robin Jayne
- Eugene, Oregon, USA
June 3, 2020