Where the world gathers for
plating, anodizing, & finishing Q&As since 1989
-----
Poor Salt spray test results on black zinc plating

March 3, 2022
Q. Black passivation on fasteners? Please suggest best method for electroplating fasteners of 8.8 & 10.9 grades.

We have barrel plating plants.
We are facing salt spray testing issues with hexavalent black passivation.

And with trivalent passivation we are not getting desired dark black colour.

We also tried alkaline zinc nickel followed by trivalent Black Passivation with topcoat but not getting desired results

Please share appropriate method any plating & passivation) to achieve jet Black finished parts with 100 hrs of White Rust SST life.
Himanshu Padh
- Mithapur, Gujarat, India
---
May 4, 2022
A. Hi Himanshu,

You should try another vendor (common hex black chromates can't withstand 100 hours NSS, 48 hours is tops even with oil or sealers) and try some organic sealers to improve this.

We had many many tests done with black zinc here and hex chrome isn't the best option here. We make zinc plating, blackening (nickel based), sealing (proprietary from vendor) and have better results than hex chrome, and all without any chrome.

Trivalent chromates for acid zinc plating is far from good in terms of color. It just needs some time for this technology to make it better.

Best wishes,
Daniel
Daniel Montañés
Process Engineering Manager - Cañuelas, Buenos Aires, Argentina
---
---
↓ Closely related postings, oldest first ↓
---
---
2003
Q. Dear sir,

We are hydraulic hose assembly manufacturers, we are currently doing zinc plating with yellow passivation of end fittings which withstand 120 hrs of salt spray. Please tell me how my components will withstand 500 hrs of salt spray.
Sudesh t.s
1st tier automotive - Bangalore, Karnataka, India
---
2003
A. Dear Mr Sudesh,

In order to increase your salt-spray corrosion resistance, I would recommend installing a solution on your process line which will leach the hexavalent chromium out of the passivate film and seal the surface. A solution I used was one by the name of JS500 from Macdermid in Birmingham, England, which I operated at 12% strength and gave salt-spray results which exceeded 500 hours before the onset of white corrosion and 720 hours before the onset of red corrosion. Such solutions you should be able to source. They are not difficult to analyse. Good luck in solving your problem!
Nigel Gill,B.Sc. MIMF
- Blantyre, South Lanarkshire, Scotland
---
2003
A. Mr Suresh.

For 500 hours of neutral SST there are alternatives open to you.

1) Zinc Iron plate to minimum 15 microns, Black Passivate, seal with topcoat or sealant.
2) Zinc Nickel Plate, Blue or yellow chromate, seal .
3) Zinc Cobalt alloy plate, blue or yellow chromate, seal.
2 is the costliest and most corrosion resistant. 3 is a middle of the road answer. 1 is the least expensive and is good for black chromate only.

The best Chromate is trivalent blue. Or a Trivalent Black. There is a Yellow 2 step which is basically a dye to follow the Tri blue.

All three find use in the automotive world today.

The materials are domestically available and you will find users in your city.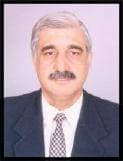 Asif Nurie
[deceased]
- New Delhi, India
With deep regret we sadly advise that Asif passed away on Jan 24, 2016
---
2003
adv.

Dear Mr Sudesh,

All of Mr. Nurie's alloy plating suggestions are carried out at our plating shop. Please contact us for more details.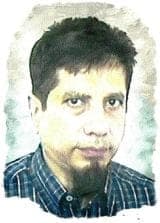 Khozem Vahaanwala
Saify Ind

Bengaluru, Karnataka, India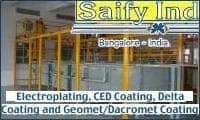 ---
June 2013
A. Hi. One more thought on this is tin-zinc alloy plating, if these hose fittings are crimped, because it is a very ductile plating less likely to be damaged by crimping than most other platings.
Regards,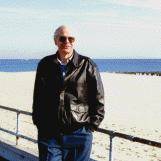 Ted Mooney
, P.E.
Striving to live Aloha
finishing.com - Pine Beach, New Jersey
---
---
Looking for (black) plating that will pass 200 hr salt spray on zinc
2004
Q. I am looking for a plating on Zinc 3 that will pass a 200 hour salt spray requirement, we started with a black chromate which failed after 96, any ideas? Would a black nickel work and is there any standard documentation out there that proves this? I need to show my automotive customer some theoretical proof.
Daniel Taylor
1st tier automotive - Lake Forest, California, USA
---
2004
A. Hi,

The best alternative would be zinc -iron with trivalent black passivation, and a good sealant to get jet black finish and also increase your salt spray may be up to 700 hrs.

Thanks and regards,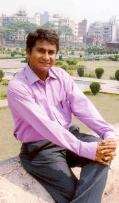 Praveen Kumar
plating process supplier
Mumbai, India
---
---
Not reaching required Salt Spray hours with zinc plating and trivalent chromate
2007
Q. Dear sir
Hi, I am Kiran Reddy.
I am facing lot of problems with plating-related issues -- let me give you the details of our customer specification.

1."Zinc plate & Trivalent chromate leached & sealed"
2."White Rust - 120 Hrs, Red Rust - 240 Hrs"

My doubt is can we achieve the above salt spray requirements of our customer?
If yes please let us know how to have control.
Our components have failed the salt spray at 74 hours even after trivalent plating.
What do we mean by leached & sealed?
Is there any relation b/t plating thickness and salt spray.

Thanking you,
Kiran Reddy
- Bangalore, Karnataka & India
---
2007
A. Mr. Reddy your requirement is easily achievable.Use better Trivalent chromate chemistry available in the market and select the best plating process. ( Preferably Alkaline Zinc). With respect to Acid chloride system good control and maintenance is required in terms of organic buildup. Consult your chemical supplier how to achieve your requirement.

Best Regards,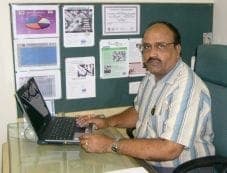 P. Gurumoorthi
electroplating process chemicals - Chennai, Tamilnadu, India
---
2007
A. Dear Friend,

If you are plating any intricate parts try to check the thickness of the substrate everywhere. It its more than 8 microns then you can be sure that it will pass 240 hours of salt spray. Also during passivation you may loose 1 or 2 microns. So plate some extra thickness. That may help you. Your salt spray life depends on pre treatment and chemistry. Try working on passivation more. Does your plated component becomes black after some months (which is not subjected to salt spray. If so, analyse the bath for impurities and and do the needful.

All the best,
S.V. Aurobind
plating process supplier - Bangalore, India
---
---
Black zinc for exterior application?
April 8, 2008
Q. How long will a black zinc coated steel screw hold up (cosmetically) in a typical outdoor environment (sun, rain, freezing)? I am avoiding stainless for cost reasons and am hoping black zinc will be adequate.

This is a unique application because the screws would not be in contact with any other metals, but fasten plastic to wood or vinyl.

Thanks
Justin Alexander
product designer/engineer - Sydney, NSW, Australia
---
April 12, 2008
A. This is a commonly asked question about many finishes. The answer is that there is no answer. By this I mean that durability tests i.e. salt spray, etc. give only an indication of what finish will last longer, there is no real work correlation other than that generally the greater the salt spray, the longer a part will last in most environments.

For the application you are suggesting I would look at zinc alloy plated parts with a black chromate and a top coat as the most viable choice
Gene Packman
process supplier - Great Neck, New York
---
April 17, 2008
A. Hi Justin,

Gene is correct, there is no real answer to this question, but as a general statement I can tell you it won't be very long until the surface starts to lose its colour and turn white with Zn corrosion.

Again following Gene's suggestion I would look at Zn-Ni alloy (>12% Ni) and a black passivate with top coat. This will last significantly longer than standard Zn.

Regards,
Jonathan Timms
- Hong Kong
---
---
October 12, 2012
Q. Good Day

Could anyone please tell me what the acceptable number of hours is that a sample of fasteners should withstand a salt spray test (as specified in ISO 9227 [affil link]) before the first signs of white rust and red rust appears for samples which are zinc plated, heat treated and chromated black. With coating thicknesses of 5, 8 and 12 microns. Or please refer me to other reading material which I could use to determine these values.

Thank you,
Francis Sonn
- Johannesburg, Gauteng, South Africa
---
October 12, 2012
A. Hi Francis. It isn't quite that simple because trivalent chromates and their topcoats are so proprietary these days. If you are restricted to zinc plating rather than zinc-iron alloy plating, and you are allowed no topcoats, and you are using a fairly generic chromate conversion coating, then letter 15849 from back in 2002 may still be true. But if you can switch to zinc-iron, and use the best available chromates and top coats, then the hours that Praveen speaks about above may be possible.
Even still, it will depend on what kind of fasteners you are speaking of, and whether the specified thickness is average or minimum. It's not uncommon for a fastener with nominal 5 microns of zinc to have virtually no (just barely covered) zinc in the deepest recess. A full thread fastener with a large head might well have no zinc in a thread root right below the head when the screw has an average thickness of 5 microns
Regards,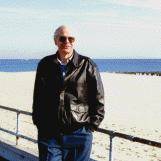 Ted Mooney
, P.E.
Striving to live Aloha
finishing.com - Pine Beach, New Jersey
---
---
June 27, 2016
Q. Which type of Zn passivation (Yellow / Blue / Green ) on Casting of FC250 [ed. note: grey cast iron] is better to withstand 48 hr. salt spray ?

shirish Joshi
Fukoku India - Pune , Maharashtra , India