60,000 Q&A topics -- Education, Aloha, & Fun
topic 26051
Our chrome plated mufflers have some spot or stain
2003
I make motorcycles mufflers that are chrome plated. I am having problems with my chrome plating process. After the process started to appear on the surface of the muffler some spot or stain that cannot be removed. Who can I avoid this problem?
Jorge Mora
automotive - Medellin, Antioquia, Colombia
---
2003
Jorge, you are doing nickel-chrome plating and must have some appreciation of the complexity of this process, and the impossibility of anyone being able to tell you the cause of "some spot or stain" on these mufflers when you provide no particulars. I could say that one possibility is that your final rinse is contaminated, but I doubt if this answer is of great value. Please get back to us with some particulars and some troubleshooting results, and if you have a photo of the stains, that would be a great help in discussing them! Good luck.
Ted Mooney, P.E.
finishing.com - Pine Beach, New Jersey
Striving to live Aloha
---
2003
Jorge,
Often mufflers can have stain or a blue shiny effect after the engine first has started, that can be related to the ignition is wrong at the engine, i.e., the temperature is too high.
Regards,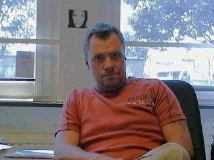 Anders Sundman
4th Generation Surface Engineering
Consultant - Arvika, Sweden
---
2003
The bright (as deposited) nickel under the chrome always turns yellow-brown-black under heat and the muffler does get hot. The sulfur bearing brighteners are codeposited or occluded and the sulfur turns color. I have plated many motorcycle exhaust pipes with pure nickel, buffed, then chrome plated and never had the nickel turn color under the chrome.To avoid this problem you must use a PURE nickel that is deposited dull and then buffed before chrome plating. A pure Watts formulation without brighteners or a pure Sulfamate formulation without any saccharin should not turn color under the heat of a muffler.

Robert H Probert
Robert H Probert Technical Services

Garner, North Carolina
finishing.com is possible thanks to our supporting advertisers, including this shop: