60,000 Q&A topics -- Education, Aloha, & Fun
topic 25680
Nickel coatings with boron-nitride, mold release coatings
A discussion started in 2003 but continuing through 2020
2003
Q. Dear Sir,
I am an Italian student of Mechanical engineering. I would like to know something about the Electrodeposition of Cubic-Boron-Nitride onto a nickel matrix. For example the composition of the solution and other interesting things.
Regards,
Giorgio Giuliani
- Falconara, Ancona, Italy
---
2003
A. Hi Giorgio. In general there are the particles, a surfactant or wetter for the particles, perhaps thixotropic agents to help keep them suspended for occlusion into the deposit, and the electrolytic or electroless nickel plating solution, which itself may have a number of ingredients. The incorporation of particles into electrolytic and electroless nickel deposits is the subject of numerous patents, so you might try a patent search. There are a lot of trade secrets involved, so everything will not be fully available, but I think the licensors of such technology can help you with the properties of the deposits. Take a look at some vendors' website, like Surface Technology, and see if they answer some of your questions. Good luck.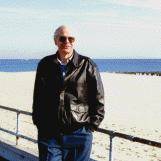 Ted Mooney, P.E.
finishing.com - Pine Beach, New Jersey
Striving to live Aloha
---
---
2003
Q. Hello,
I'm Thomas Dusty Samples from a rubber development lab. I am searching for permanent mold release agent. If you could I would appreciate any information on products which meet our specifications which are; Must be permanent cannot effect molded piece, and it must be able to withstand high temperatures, also it would help if it was specific to medical rubber applications.
Thank you in advance for you help in this matter.
Thomas Dusty Samples
medical rubber applications - Akron, Ohio
---
2003
A. Plain electroless nickel might be all you need. If not good enough, then a composite of same with teflon is more expensive but is the best you can get for rubber molds. Chrome could also help a bit, but it is difficult to polish and will not get into deep recesses, grooves, etc.
Guillermo Marrufo
Monterrey, NL, Mexico
---
2003
A. The Electroless-Nickel/Teflon coating is an ideal surface treatment for mold release especially for plastic injection molding, but I have heard it doesn't work for rubber injection molding due to temperature restrictions. We are in the process of evaluating a co-deposit of Electroless-Nickel with particles of Boron Nitride. It provides the same co-efficient of friction as Nickel-Teflon, but can withstand extreme temperatures and it has a chrome like hardness.
Charlie Camenzind
- Phoenix, Arizona, USA
---
2003
A. Is the rubber "real" or synthetic? Years ago some tire molds were plated with EN for release and the adhesion was perfect. Synthetics seem to be ok with EN. We did some molds for fan belts some years back with EN and a Teflon baked coating that worked well. I don't think there is such a thing as a "permanent" mold release.
Dan Weaver
- Toccoa, Georgia
---
---
Electroless Nickel Phosphorous Composite Coatings
2005
Q. Dear Sir,
I have Electroless Nickel Low and High Phosphorous coating facilities.
I want to convert it to Silicon carbide and Boron Nitride composite coatings. Please advise that If I put the Silicon Carbide or Boron Nitride Powders in these ENP solutions would it be coated or advise for other process. Thanks
Mian Iqbal Hasan
service provider - MULTAN, PAKISTAN
---
Citation & abstract exported from
www.springerlink.com/content/ut2526368v2qm53t/abstract/
Reference Type: Journal Article
Author: Balaraju, J.N.
Author: Sankara Narayanan, T.S.N.
Author: Seshadri, S.K.
Primary Title: Electroless Ni-P composite coatings
Journal Name: Journal of Applied Electrochemistry
Cover Date: 2003-09-01
Publisher: Springer Netherlands
Issn: 0021-891X
Subject: Chemistry and Materials Science
Start Page: 807
End Page: 816
Volume: 33
Issue: 9
Url: http://dx.doi.org/10.1023/A:1025572410205
Doi: 10.1023/A:1025572410205
Abstract: This review outlines the development of electroless Ni-P composite coatings. It highlights the method of formation, mechanism of particle incorporation, factors influencing particle incorporation, effect of particle incorporation on the structure, hardness, friction, wear and abrasion resistance, corrosion resistance, high temperature oxidation resistance of electroless Ni-P composite coatings as well as their applications. The improvement in surface properties offered by such composite coatings will have a significant impact on numerous industrial applications and in the future they will secure a more prominent place in the surface engineering of metals and alloys.
2005
A. Dear Hasan,

You can add silicon carbide and boron nitride in hypophosphite reduced electroless nickel plating baths to prepare the Ni-P-SiC and Ni-P-BN composite coatings. However, there are several factors such as particle size and shape, relative density of the particle, particle charge, inertness of the particle, the concentration of particles in the plating bath, the method and degree of agitation and the orientation of the part being plated that govern the incorporation of second phase particles in the Ni-P matrix.

Besides, electroless plating baths are highly susceptible for decomposition in presence of foreign bodies. Hence the baths used for preparing composite coatings should have suitable stabilizers.

A recent review on electroless Ni-P composite coatings is published in Journal of Applied Electrochemistry 33 (2003) 807-816. You may want to have a look at that.

T.S.N. Sankara Narayanan
- Chennai, Tamilnadu, India
(ed.note Nov. 2017: The good doctor has a fascinating blog at https://advancementinscience.wordpress.com)
---
---
July 28, 2008
Q. Dear sir
I want to electroless Ni-ZnO-P composite,i have nickel electroless acidic solution with ph=4.7 but I don't know that if I add ZnO to the solution with this, ZnO is soluble in this solution or not? How can I increase the pH of the solution to pH=8-10?
Taher Rabizadeh
student - Iran
---
July 31, 2008
A. Hi, Taher. I don't think you can convert an acidic electric nickel bath to an alkaline bath by simply raising the pH. I think you would need to use an alkaline electroless nickel bath. I could be wrong, but I think the ZnO will rapidly convert to ZnOH at that pH. I don't have much confidence in being able to co-deposit ZnO particles in your electroless nickel bath, but I've been wrong before :-)
Regards,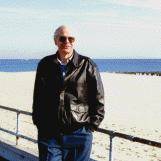 Ted Mooney, P.E.
finishing.com - Pine Beach, New Jersey
Striving to live Aloha
---
August 1, 2008
Q. Dear sir,
Thanks for your answer to my last question
I have another question what kinds of stabilizers can I use in Ni-P electroless plating to prevent decomposition of ZnO? Can you name them? I ask my last question from a researcher from China that he covered ZnO particles with electroless Ni plating and he added ZnO particles to bath with ph=5.5-6, and he said to me that ZnO particles will not dissolve in ph=5-6, do you think this is true?
thank
Taher Rabizadeh
[returning]
student - Iran
---
---
What type of clip is used to hold parts in EN/BN?
August 5, 2008
Q. What materials can I use as hook or hangers in a Electroless Nickel Boron Nitride bath?

I am plating small parts and need some type of alligator clip to hold them
Mary Jones
- Johnson City, Tennessee
---
August 6, 2008

A. Titanium sounds fine to me. There are many companies dedicated to manufacturing these items commonly called racks.

Guillermo Marrufo




Monterrey, NL, Mexico





---

August 6, 2008

A. If you are really going to use an alligator clip, I would try to find one that has not been plated, there might be such a clip that is stainless.
For racking in EN, I have used piano wire or brass wire for the contacts. Titanium racks will work well for many parts. Find the web site of a rack mfg. to see if anything looks like it might work.
The springs in alligator clips will fail after a few uses and your tiny part is on the bottom of a tank.

James Watts




- Navarre, Florida




---
---
affil. link
"Chemical (Electroless) Nickel Plating
G. G. Gawrilov"
from Abe Books
or

January 5, 2011
Q. Hi. From my understanding, the current tire molds do not used any surface coating (i.e. EN, chrome, etc) and instead rely on blasting of dry ice to prevent mold fouling.

May I know whether you use "pure" EN or or composite (as suggested, PTFE or Boron) to do coating for your tire mold? I read somewhere (couldn't find the link now) that the EN plating of tire mold is ineffective as the coating will be "torn off" after during the production process.

First time posting here and found this site very informative and interesting. Will try to contribute and learn.

Cheers,
Amir Setiawan
- Indonesia
---
---
January 21, 2012
Q. Hello

I am Amalraj working as a Sr.Engineer - Material Development in Sundaram Auto Components Limited, India. I am facing a problem of sticking rejection in FKM rubber to Metal(aluminium) while demolding. I am using bonding agents which is recommended by Lord and Rohm & Hass. I am not able to resolve the issue till now.

Metal Cleaning - Clean the inserts in Exxtron Chemicals
Bonding - Megum 3290-1 applied by brushing
FKM- I am using Viton A 361C

Request all to give your suggestions


Thanks
Amal Raj
- Hsour, Tamilnadu, India
---
---
February 22, 2013
Q. Dear sir, I am starting new business of Aluminium Hands casting industry, which are use to make PU coated knitted gloves. For that I need to apply a Teflon coating to that aluminium mould.
Please help me how it is applied, what is the mixture, how it is prepared.
Also I am looking forward to find out whether we can use Plastic material instead of Aluminium?
Upul Sanjeewa
- Colombo, Sri Lanka
---
December 26, 2017
A. Upul,
Spray from aerosol can like Pam.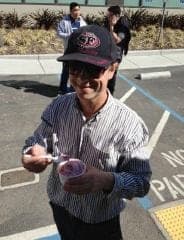 Blake Kneedler
Feather Hollow Eng. - Stockton, California
---
---
Need mold release for stainless molds used for pressure sensitive adhesive
September 14, 2014
Q. I am in need of a very strong release agent for stainless steel mold in contact with very high tack pressure sensitive adhesive granules
Any suggestions?
Thanks,
Victor benbanaste
- Istanbul, turkey
---
December 26, 2017
A. Victor B,
Would BN (boron nitride) work for you?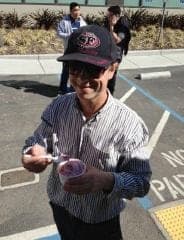 Blake Kneedler
Feather Hollow Eng. - Stockton, California
---
---
adv.
NIBORE™ - A unique composite of electroless nickel and boron nitride particles that provides ultimate lubricity along with superior abrasion resistance of 67 RC.
Nickel Boron Nitride, Poor Adhesion to Uddeholm Viking steel
November 14, 2017
Q. Looking for feedback on poor adhesion of Nickel Boron Nitride to Uddeholm Viking [type of steel]. Plating thickness of ~0.50 µm (.000020") seems to adhere to some surfaces that are ground, but not to EDM surfaces in the VDI 10 range. I'm being told that the high chromium content is the reason, but when compared to D2 which is even higher %Cr I get no reason why it adheres to D2.
Chris Schreck
Mold troubleshooting - Erie, Pennsylvania USA
---
November 2017
? Hi Chris. You are speaking of electroless nickel phosphorous plating with boron-nitride particles, right?
Regards,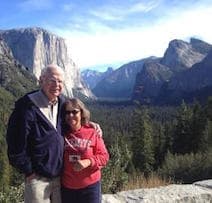 Ted Mooney, P.E. RET
finishing.com - Pine Beach, New Jersey
Aloha -- an idea worth spreading
---
November 16, 2017
Correct on all.
Chris Schreck
[returning]
- Erie, Pennsylvania USA
---
---
Need Guidance Electroplating CBN Onto 304 Stainless Steel?
July 7, 2020
Q. Hello Everyone ,
Wishing for Your Good Health in Pandemic ,
Can anyone guide how to Electroplate CBN on stainless steel
Also if possible CBN adhesion by RESIN base.
We want to Create abrasion resistance for our Products Tip parts for its better Grip for example.
Rehan
- Pakistan
---
July 2020
A. Hi Rehan. CBN abrasive particles can be occluded into nickel electroplating, electroless nickel plating, or chromium plating. As the nickel or chrome is deposited onto the substrate, the particles are incorporated into the metallic deposit and the metal grows around them, locking them in place. I don't think it's possible to electroplate CBN by itself because it's non conductive.
This plating process is not easy to do because the particles must stay suspended in proximity to the parts and not get blown away from it either; I understand that a good fluidized bed design to keep them in suspension plus special wetting agents are required to do this properly. Consequently most of this technology is licensed rather than being available as published generic information.
CBN particles can also be "glued" onto the substrate with resins. The adhesion is not as good because encapsulating a particle in solid metal will always be more secure than any adhesive; but if this is just for a better manual grip, for example, surely an adhesive will be sufficient, and to my understanding is much cheaper.
Luck & Regards,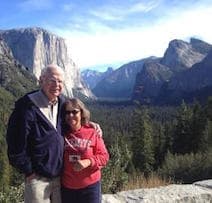 Ted Mooney, P.E. RET
finishing.com - Pine Beach, New Jersey
Aloha -- an idea worth spreading
---
July 7, 2020
Q. Hello Mr.Ted ,
Thanks for your quick Response as always,
Could you please guide me Electroless Nickel CBN Plating ,
We already have in house simple Nickel plating
My purpose with CBN to have certain abrasion for our Products Tips to improve their Grip e.g. Pliers
Would be Helpful if someone Explain me on that step by step .
2nd Guide me also on Resin Based CBN coating; I know it's not durable as much as electroless one but for some of our minor applications it could work as well.
Thanks In Advance
Rehan
- Pakistan
---
July 2020
A. Hi again Rehan. Sorry, I don't actually know how to do either of those processes. I realize that business works differently in Pakistan and the USA, but very few people in the world actually know the details of this, and only after many years of experimental work ... and they license the technology, i.e., you pay them a certain amount per month, or per piece that you want to plate, and they give you all the details, the necessary surfactants, and the necessary technical help, etc.
If you go to https://www.surfacetechnology.com you will see how this generally works. They are one of the suppliers who license this technology. There may or may not be a consultant or company in Pakistan or India or the mideast who can help you. Good luck because you will need it if you hope to do this type of electroless plating without licensing the technology from someone who already knows how to do it.
Luck & Regards,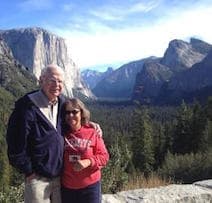 Ted Mooney, P.E. RET
finishing.com - Pine Beach, New Jersey
Aloha -- an idea worth spreading