60,000 Q&A topics -- Education, Aloha, & Fun
topic 25617
Getting control over Nitric HF pickle process for titanium
A discussion started in 2003 but continuing through 2019
2003
Q. I wonder if any one can help, I have a nitric HF pickle tank that I control with 70%v/v nitric and 40% HF solutions could you recommend a suitable make up for it for stripping titanium alloy that possesses a blue oxide layer and possibly a control method I am currently using etch rate but would an ISE probe do for the HF content? I currently make up in a 460 liter, 245 lt nitric, and 20 liter HF by vol. I here the ISE probe only works for a short time before inaccuracy due to complexing of HF to titanium and other methods are a bit dodgy to do.
Many thanks for your help,
IAN JONES
metal treatments - WREXHAM, UNITED KINGDOM
---
2003

adv.
There is another method of removing oxide layer from titanium. It is slower than etching, however is controllable; this method is safe for environment and workers.

Anna Berkovich

Russamer Lab

Pittsburgh, Pennsylvania





---

2003

A. There are new electrode families that have come out since I was active. I would ask that question to a major electrode manufacturer, like Thermo Orion, and ask them if they have a long term ISE for nitric-HF. You will probably end up using wet chemistry. Several options, pros and cons, have been discussed by myself and others in past letters. Suggest that you do a search of the threads.

James Watts




- Navarre, Florida




---
2003

Many thanks to all for replying to this I will look into getting an ISE probe also seasons greetings to all.
Ian Jones
[returning]
- Wrexham
---
2003
A. In the aerospace industry, they use 20% nitric with 3% HF for an etch on titanium before welding. The rate is rapid, much evolution of gas going on simultaneously. The ISE is not intended for use on solutions as high as yours in HF. You will need to dilute the solution perhaps as much as 100 to 1 to get it low enough. They also sell TISAB which is an ionic adjustment to reduce interferences. Ask the supplier. I don't think you will need such. Also, using the solution too long will cause you problems. Therefore using dilute solutions for shorter times will reduce the acid consumption but make your process more reliable. ISE's are made with glass which is dissolved by HF.
Dave Fairbourn
- Sandy, Utah
---
2003
A. I analyse daily my Titanium Inspection Etch tank using an Orion EA940 Expandable Ion Analyser for Nitrate and Fluoride ions. Calibration is easy and sample preparation is straightforward. For Nitrate ions: 0.4 mls of TISAB 2, 10 microlitre air bubble followed by 0.1 mls of sample pre-diluted to 50%. TISAB 2 is 2M Ammonium Sulphate solution.
For fluoride ions: 2 mls of TISAB3, 10 microlitre air bubble followed by 20 microlitre sample of 50% pre-diluted sample. TISAB 3 make-up can be found on Thermo Orion's website. The reading on the EA940 is the concentration in the sample as moles of Nitrate/ Fluoride.
Nigel D Gill, B.Sc. MIMF AIEMA
- Blantyre, South Lanarkshire, Scotland
---
2003
Q. Dear Nigel,
We also analyse the same solution but I do not understand your addition of air bubble. Do you mean that you bubble air into the solution with the TISAB? What is it good for? Please give as much info as you can.
Thanks,
Sara Michaeli
chemical process supplier
Tel-Aviv, Israel
---
2004
A. All my solutions for analysis are prepared on a Hamilton autosampler/diluter. To separate TISAB 2 OR TISAB 3 from the sample of process solution being analysed, we are required to take up a 10 microlitre air bubble. We do not bubble air through the solution. Hope this helps!
Nigel D Gill, B.Sc. MIMF AIEMA MRSC
- Glasgow, Scotland
---
2004
Q. Nigel,
Thanks for your explanations. One more question that bothers me in this analysis procedure is whether by analysing with ISE, the result is Total or Free fluoride ?
Sara Michaeli
chemical process supplier
Tel-Aviv, Israel
---
2004
A. Sara,
By using this method the TOTAL concentration of Nitrate ions or Fluoride ions are displayed on the Orion Ion analyser (Orion EA940). As my solutions are 50% pre-diluted, I take the result obtained on the machine and DOUBLE the value to give the true value of concentration present in the sample taken for analysis.
Nigel D Gill, B.Sc. MIMF AIEMA MRSC
- Blantyre, Glasgow, Scotland
---
2004
Q. Nigel,
Why do you measure the total fluoride rather than the free fluoride? If you are trying to use the fluoride concentration as an approximation of the HF concentration, why wouldn't you want to leave the reacted fluoride bound to Ti as it is in your tank?
Elaina Lankford
- Terre Haute, IN, USA
---
2004
Q. I'm doing a lab for school, can't find much info in the net about what TISAB actually does. As far as I know, its composed of 4 constituents (sodium chloride, acetic acid, sodium acetate, sodium citrate) and has 4 distinct functions...what are they in relation to the four constituents?
Barbara
- Perth, Washington
---
2006
A. TISAB is Total Ionic Strength Adjuster Buffer. It is made up as follows:

230 ml glacial acetic acid
232 g sodium chloride
16 g CDTA

The sodium chloride and acetic acid buffer the solution to pH 5.5. This does 2 things, firstly it eliminates covalent HF which is present at low pH, and secondly ensures that hydroxide ions are not present, which interfere with F- measurement.

It also ensures that the background ionic strength is relatively high, making the solution conduct better.

CDTA is added to complex some metals out of solution.
Chris Nattrass
- Nottingham, UK
---
---
January 20, 2014
Q. Hello All,

My name is Jeremy and I am the QA Manager for a machine shop that specializes in aerospace parts. I am hoping that someone may be able to lend some expertise and insight to a repeat problem we have incurred with acid pickling of turned Titanium 6AL-4V parts.

The parts in question are cylindrical pins, with multiple critical outer diameters (.001" tolerance or less) which are turned from 2.5" round stock. All parts are machined to the upper tolerance limit prior to processing, and all parts are verified 100% for diameter, roundness and taper. Parts typically exhibit no more than .0001" - .0002" of ovality or taper.

The issue we are seeing is that after processing, which consists of penetrant inspection, acid pickle and abrasive blasting, the critical diameters are often undersized and tapered. We have seen material removal of up to .0018" (total) and tapering of up to .001". Oddly enough, not all of the parts, or even all of the diameters on a single part are always affected in each process batch.

We do not carry out our own processing. It is done by a customer-approved source who swears by their process. We do know that the abrasive blast operation parameters, if followed, will not play a role in this discrepancy, as we have conducted our own internal tests. However, we do not have the capability to carry out our own chemical tests, and we are limited to which chemical processing suppliers we can use.

Can anyone offer a theory on what may be causing parts to etch in such a random and uneven manner? I am wondering if the pre-cleaning, or lack thereof, may be playing a role here. Any help would certainly be greatly appreciated.
Jeremy Hull
Quality Assurance Manager - Oakville, ON, Canada
---
January 27, 2014
A. Jeremy,
This may be something of an overgeneralization, but chemical etching, which is what acid pickling basically is, is by its nature often somewhat random. Over a large surface things generally average out, but on small parts with such critical dimensions, pickling would not be my first choice.

I question the need for both pickling and abrasive blasting, in my experience one or the other can be used to remove surface discoloration and promote an even surface finish. I would think in this case the two processes are redundant to each other and since the pickling is causing a problem it should be be eliminated.

It's possible that the pickling is being included for the purposes of passivation, that is, to remove any iron contamination that may have accumulated on the surface during machining. If there is a known iron issue, it probably is the better idea to remove it prior to the blasting step. However, if this is the case I would go with a non-etching citric acid based process rather than the harsher pickle bath (nitric-HF, I assume).

Ray Kremer
Stellar Solutions, Inc.

McHenry, Illinois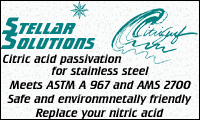 ---
January 28, 2014
A. Jeremy,

What is the overall volume of processing? In critical parts with high tolerance it is better to electropolish them. We have installed such processes for production electropolishing of this grade titanium alloy. The removal is 0.0005" from each size, thus enough to keep tolerance required and remove all the burrs. The productivity is up to 1000 pieces per hour with exact removal rate for each part. In a long run it worth it, instead of wasting part of the production volume.

adv.
Contact me for more information.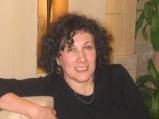 Anna Berkovich
Russamer Lab

Pittsburgh, Pennsylvania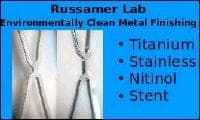 ---
January 30, 2014
Q. Hi again,

Thank you for the responses and suggestions.

Typically we would run these particular parts in batches of 20 - 30 parts at a time. They are up-to 2" in diameter and approx. 8-9" in length.

I guess one important tidbit of info I left out of my original post is that we work to our customers drawings and specifications, and are thus bound to the processes and limitations within those documents. There really is no freedom for us to deviate from these without expressed consent from our customer.

For titanium, a Nitric-Hydrofluoric Acid Pickle solution is specified (etch rate of 4-5 mils/surface/hour is noted). The process itself dictates that the parts must be immersed for enough time to remove .0002 ±.0001" per surface. Our processing vendor states that they are immersing parts for 6 minutes (which actually works out to .0004-.0005" per side removed). I am more interested in what may be causing the parts to taper so much during the process though.

The input from the responses to my post are definitely things we can bring up with our customer though.

Many thanks,
Jeremy
Jeremy Hull
[returning]
- Oakville, ON, Canada
---
February 27, 2014
A. Jeremy,
Obviously it is not the easiest thing to tell a customer that their specification is not the optimum process for their part, since getting a company spec updated often seems like it takes an act of God to accomplish.

The other option I can see is to get an engineer from your customer who is familiar with the manufacture of these parts and has seen the process run successfully to examine the process for these current parts from start to finish and see what looks different from the norm.

I'm wondering what the intended purpose was behind requiring chemical removal of .0002 from the surface for a high-tolerance part. I imagine whatever surface contaminant they were worried about is taken care of long before that. It seems like the sort of process that is fine when everything is working perfectly, but becomes a disaster when the slightest little thing is just a little bit off.

Ray Kremer
Stellar Solutions, Inc.

McHenry, Illinois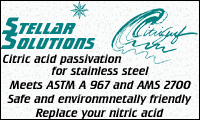 ---
---
Titanium grade 9 pickling control
August 29, 2019
Q. I wonder if anyone can help: I have to pickle titanium 3Al-2.5V (grade 9) in order to remove 0.025 mm from wall. The solution is HF 3% plus HNO3 20%. My goal is to use the solution as much as possible without having to discard it (just adding acid to keep the concentration within the limits).
My questions are, what are the ions that are formed during pickling, which are aggressive and what would be a good method to control them?
Many thanks for your help.
Diego Isoca
Mechanical Engineer - Argentina
adv.