60,000 Q&A topics -- Education, Aloha, & Fun
topic 25612
Polymer coating for Gold/Silver/Wood for dye sublimation printing
2003
What a great web-site. I wish there were more like it.
I am a retired man with serious hobbies in woodworker and digital photography/printing. My wife is a practicing craft silversmith/goldsmith. I am looking at opportunities to combine some of our interests, crafts and skills. I have an idea for printing high resolution images on wood or silver or gold. The desired result is to have the image embedded in the surface almost like a watermark....certainly not as a surface decal. In the case of wood....I would not want to lose the timber's natural grain. In the case of silver/gold I would hope to retain any textured finish we may have applied. I guess the image would be one best described in Photoshop speak as semi-transparent.
My search has lead me to the probability that dye-sublimation printing is likely to offer the best, if not only, solution.
I am attaching a photo simulating what I am trying to achieve in wood. That was fairly easy to do. Not nearly so easy to show it to you in silver or gold....but the idea is the same....to sublimate a semi-transparent image into the sheet of sterling silver or gold. I know your web is for metals but the wood one is easier to show you, You can see how the wood grain still shows though the image even though I collected too much glare at the right hand end in my haste.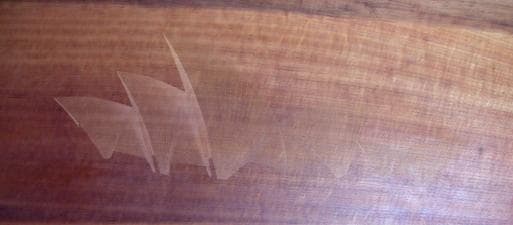 Attached is the original photo I took last week of the Opera House. Did a few things digitally and them superimposed it on a photo of some wood grain to achieve the result in my other photo.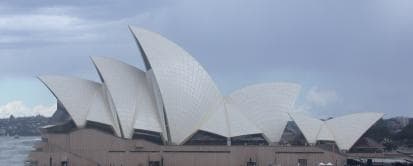 I understand the printing end of that solution. I do not understand anything of the polymer coating requirements for either wood or metal. Is this a hi-tech thing that is beyond what an intelligent and persistent hobbyist can do for himself. Or is the mystique that surrounds the process one that is generated by those in the know in order to keep it that way.
Hope you can help.
Graham Kerrison
(retired) hobbyist - Terrigal, NSW, Australia
---
2004
I too am interested in finding a polymer coating for hard substrates. Has there been any response? I know it's out there - companies are using coatings for ceramics, but where does one purchase them for other uses?
Kathy Fuerst
- Bainbridge Island, Washington
---
2004
I have been testing and I got some oil based varnish from my local Lowes store and put it on a piece of wood. I then pressed the image for 1:00 min with medium pressure and got fantastic results. Now I am sure that you want to have a well ventilated area cause it does have fumes.
I would suggest you peel the paper while hot to minimize adherence to the varnish. It does tend to liquidate the varnish slightly and it darkens the coating too. After it has cooled, I used water and a non abrasive scrub brush to remove the paper residue. I was very pleased with the results.
John B.
[last name deleted for privacy by Editor]
- Atlanta, Georgia
---
2005
In answer to Mr. Kerrison's question about coatings for dye sublimation. In my research to find a polymer coating I have come to the conclusion that the same resin used in polyester fiberglass is compatible to dye sublimation. I also came across a company that sold a coating just for that purpose, very expensive though. A web sites to check is onesourceorganics.com, or just type in polymer coatings for dye sublimation. There are a host of others out there. Good luck and keep us posted.
Jim A. Miers Sr.
- Brunswick, Georgia
---
2005
I would like to add one more company that has a polymer coating made for dye sublimation.Mr. Kerrison should go to Hilord. They manufacture a coating that should help him. Good Luck.
Jim A. Miers Sr.
- Brunswick, Georgia
---
2005
Thanks for all the help. I found a company called SubItAll that actually offers a full line of sublimatable wood products for wood sublimation. They have everything from carpenters pencils to wine boxes. I tried out a popsicle stick and one of the pencil holder. The quality was great. It took a little bit of a learning curve for me to be able to get it right but I love the background woodgrain coming through. anyway, thanks again for all the help.
Randall J Vastlik
- Stockton, California
---
September 13, 2011
I just found a wonderful coating. I've tried Digicoat and that coated well too, but my frustration in that product was 1. It took too long to get here and 2. It only covers like 20 something yards. Try Dyepress....It coats much more for about the same price and gets here MUCH QUICKER!
Angela Muir
Mamarayz - Leeds Alabama
----
Ed. note -- Folks: the internet can be a great place to discuss technical issues with your peers. But remember that the internet is a poor place to go for brand-name testimonials because it's impossible to tell who are actually the satisfied customers and who are distributors of the materials they lavish praise upon. And in some cases the posters may even be shills posting with fictitious names :-)

Disclaimer: It's not possible to fully diagnose a finishing problem or the hazards of an operation via these pages. All information presented is for general reference and does not represent a professional opinion nor the policy of an author's employer. The internet is largely anonymous & unvetted; some names may be fictitious and some recommendations might be harmful.
If you need a product/service, please check these Directories:
JobshopsCapital Equip. & Install'nChemicals & Consumables Consult'g, Train'g, SoftwareEnvironmental Compliance


---
©1995-2020 finishing.com, Inc., Pine Beach, NJ - About finishing.com - Privacy Policy
How Google uses data when you visit this site.