60,000 Q&A topics -- Education, Aloha, & Fun
topic 25543
Laser-marking steel wheel rims destroys paint and causes rust
A discussion started in 2003 but continuing through 2019
2003
Q. We have been contracted by several car manufacturers to make laser marks on several parts of new cars. We are having trouble with the steel wheel rims because the rims are coated with paint, but after we laser-mark them they rust. We have to do deep engraving, not just changing the color of the metal.
We can't add any kind of paint that would be visible since these are new cars. So we need some kind of chemical or process that can be done to the rim while mounted in the tire and car.
Jose Vera
Automotive security systems - Monterey, NL, Mexico
---
2003
A. There might be several ways to approach the problem (one that comes to mind is carried out by portable equipment and known as selective plating), but to be able to recommend something we need to understand a bit more of your problem. Do you strip a certain area of the original paint from the parts before engraving, or is the reaction and temperature from the laser burning the paint or what? In other words, how large and affected is the area that is rusting? Besides, you say the work would have to be done with the wheels already mounted in the vehicle. How do you think that could be handled? Also, what volumes are you talking about?
Guillermo Marrufo
Monterrey, NL, Mexico
---
2003
Q. The laser removes the paint. The marked area is about 2 cm. by 0.5 cm. And whatever is done must be done in a very short time since I don't have the car more than 5 minutes.
Jose Vera
- Monterrey, NL Mexico
---
2003
A. Hi,
I have a similar application where I engrave with a CO2 laser - laser coding apparatus for labels etc - some text onto a galvanised and enamel painted part. It is important not to engrave too deeply by changing the energy. I do not have any corrosion problems with it. Probably, the zinc layer could make a big difference between this application and yours with regard to corrosion. The engraving happens in fractions of a second. One could imagine a line where it is engraved while the car is rolling.
Good Luck,
Piessens Peter
- Bertem, Belgium
---
2003
A. Go to US PTO and look up Professor Wim van Ooij. He has more than 20 patents on a chemical named silane. Not SiH4 but replacement of Carbon in organics with Silicon called silane. Could be just lightly painted over. Stops corrosion. Future replacement for phosphate/chromate.
Dave Fairbourn
- Sandy, Utah
---
2005
A. Another thought is that the laser beam is too powerful that is cutting through the paint. It's possible that the is required only on the surface of the paint coat, thus not exposing the substrate.
Is the wheel being phosphated before paint ?
Can you regulate the power of the laser beam ?
Fernando Martinez
- Monterrey, NL Mexico
---
---
Laser marking on colored tempered carbon steel
September 2, 2019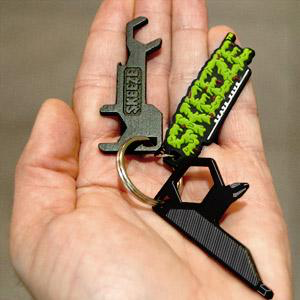 Q. Hey Guys, great forum. I single-handedly launched a skateboard tool start-up in January.
The tools are made of tempered carbon steel, and I initially was having them finished in hot black oxide in the Midwest.

The factory that makes the keys can make them black with e-coating instead which I may do. But we are going to add an autograph of a pro skater on the side of the key as if written in a white or greyish/silver paint pen. I assume a laser is what we need. In this case, do I need a fiber laser that would remove the black e-coating to reveal the silver raw metal underneath so it has the desired look?

And second, we also want to do a version that looks like a gold key. The factory said to e-coat the key in gold I'd have to order about a million to be cost effective (not gonna happen). Powder coating seems out due to thickness, and I am gravitating towards plating.

Maybe an alloy of gold and zinc or brass so it has the look at a budget price? What do you recommend and then if we want a BLACK autograph on these gold keys done with a laser, is this going to be possible and does it require a fiber laser?

The last scenario may be a pink key with a white autograph, which may have to be paint or powdercoating with a white fiber laser. I'm in over my head but you can imagine the durability needs (needs to last but eventually any amazing coloration method would be toast).

The users of these tools would not use them super frequently so if in a year they are a little beat up it would be expected. There is a metal file on the tool and a saw and it's a given that any color on these would be toast after even one or two uses on the 'grip-tape' and I see no way around that, and it's acceptable.

Thanks so much for the assistance!
Don Holm
SKEEZE INC - Salt Lake City, Utah