Where the world gathers for
plating, anodizing, & finishing Q&As since 1989
-----
Corrosion resistance of Electropolished SS304 versus unpolished SS316
Q. I am a local manufacturer and need to customize a batch of steel wire ropes that can be used near the marine environment. if I choose T316 stainless steel, how many meters should I mark the distance from the sea? I don't know if I can use it and avoid rust. (For example: Can T316 stainless steel be used 400 feet away from the sea?)
Tom Smith
manufacturer - Houston, Texas
November 1, 2023
A. Hi "Tom". Passivated or electropolished T316 is widely used not only near the sea, but even on yachts & sailing ships.

Ray Kremer mentions "tea staining", and I think that staining, rather than the exact distance from the sea, may be the heart of the situation. I think we can expect T316 to remain serviceable and rust-free; but that it remain shiny bright, totally free of tea-staining, and maintenance-free even 400 m from the sea might be a lot to ask.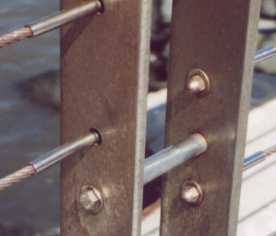 I love the not-quite-free-of-staining stainless steel railings at the Lewes Delaware ferry landing.
Luck & Regards,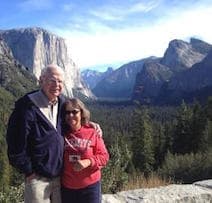 Ted Mooney, P.E. RET
Striving to live Aloha
finishing.com - Pine Beach, New Jersey



A. Any stainless steel in a marine environment will corrode eventually due to the high chloride presence, though the degree of exposure is affected by distance, prevailing wind directions, being on the leeward side of a building rather than the windward side, etc. 316 will fare better than 304. Duplex grades are better still but rarely used due to the cost. Polished surfaces will fare better than rougher finishes. Early corrosion will generally be light "tea stains" or a freckles pattern, but it will progressively develop into heavier rust if left unmanaged.

Passivated stainless will hold out for longer, and periodic passivation treatments to restore the iron-free surface will help keep it looking nice. Any areas that picked up iron contamination during fabrication or transport, and also unpassivated welds, will rust rapidly in a marine environment. Frequent rinsing with fresh water to get the salts off the surface may help reduce the corrosion rate.

Ray Kremer
Stellar Solutions, Inc.

McHenry, Illinois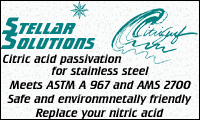 November 2, 2023
---
---
↓ Closely related postings, oldest first ↓
---
---
"Scrap Sorter /
Alloy Sorter"
from eBay or


(as an Amazon Associate
& eBay Partner, finishing.com earns from qualifying purchases)

Q. We have a pipe support fabricated of Stainless Steel 304. Out client insist that we should have SS316.
Question:
If we electropolished the existing SS304 support to RA 20 0r 32, Will this be much better in terms of corrosion resistance versus a non polished SS 316. is their a technical proof or data on this case.
Thank you for the assistance.
Nicanor T. Suarin
Water Treatment Plant Manufacturing - Tampa, FL, USA
2003
A. What is the environment? In general, no, Type 304 will not perform better than Type 316, just because it has a better surface finish. If the application involves any amount of chloride, then Type 304 is unsuitable.

Toby Padfield




Automotive module supplier - Michigan






A. An impossible question to answer because there are too few details on the end-use. 316 stainless steel is an "improved" version of 304. The major differences are that 316 contains slightly more nickel and some molybdenum. This change promotes improved pitting and crevice corrosion in the 316 material, especially in chloride containing environments. However, when stainless steel is electropolished, the surface is passivated or protected by a complex and very thin layer of oxides and phosphates. The effect of this layer is to "equipotentialise" the electrochemical activity of the metal's surface. This, in effect, reduces the possibility of creating localised corrosion cells and thereby makes the surface more corrosion resistant. It does not, however, make the surface impervious to all corrosion. In the end, all material usage is based on a "horses for courses" policy. To get the best possible option, you could electropolish the 316 steel.




Trevor Crichton




R&D practical scientist




Chesham, Bucks, UK





A. 316 stainless will always be more corrosion resistant, especially in halide presence, than 304- even when electropolished, although electropolishing will be a great help. The best of all situations is to use 316, electropolish it and then passivate it afterwards.


Lee Kremer
Stellar Solutions, Inc.

McHenry, Illinois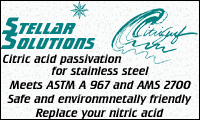 ---
---
Q. Hi,
I want to know which type/grade of SS is best suited for use in saline air environment. Application is pipe. It is to be installed in open space near the sea shore, approximately 50 meters away from the sea. It will never come in contact with sea water as it is at higher elevation. It will see saline, moist air due to its proximity to the coast.
Please advise. Thanks.
SK Sharma
- Mumbai, Maharashtra, India
October 1, 2012
A. Hi Sharma. We appended your inquiry to a thread which answers it. Type 304 is very subject to chloride corrosion and probably should not be used near the shoreline. 50 meters seems too close by a factor of 10 - 100.
Regards,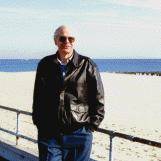 Ted Mooney
, P.E.
Striving to live Aloha
finishing.com - Pine Beach, New Jersey
Q. Hi Mr. Mooney,
Thanks for your reply. Kindly suggest me which is suitable material for above said application in the given environmental condition.

Thanks & regards,
SK Sharma
[returning]
- Mumbai, Maharashtra, India
October 2, 2012
A. Hi Mr. Sharma. I would anticipate that passivated type 316 stainless steel would be fine and electropolished type 316 stainless steel would be even better. But "a peak is worth a thousand finesses"; if you can make contact with someone who has installed any stainless steel in that area, and can review their success, that would be best. Good luck.
Regards,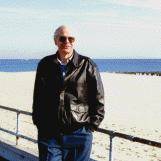 Ted Mooney
, P.E.
Striving to live Aloha
finishing.com - Pine Beach, New Jersey
---
---
Electropolishing 316L stainless vs. powder coating it
Q. I'm wanting to produce a metal product that will install on the deck of commercial fishing vessels. It needs to be built like a tank. When considering materials/finishing I was considering 316L stainless and then powder coating. Cost isn't a major concern within reason, durability is primary concern. I'm wondering if electropolishing is better than powder coat, or maybe there are other options out there I am not aware of. The metal needs to be weld-able prior to the finishing, but other than that I'm open to suggestions.
Eric Petty
- Knoxville Tennessee
June 6, 2017
A. Hi Eric. Electropolished 316L stainless steel sounds perfect. Powder coating of stainless steel is not impossible, but it is problematical, and I don't think it's the right answer. Good luck.
Regards,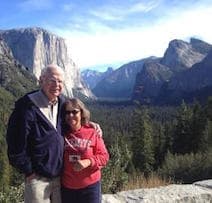 Ted Mooney
, P.E. RET
Striving to live Aloha
finishing.com - Pine Beach, New Jersey
A. Eric,
Electropolish and passivate, though even with those and 316, in a marine environment they should expect to see some tea staining at the very least within a couple of years.

Powder coat and other coatings are fine, but then why bother using stainless as the substrate?

Ray Kremer
Stellar Solutions, Inc.

McHenry, Illinois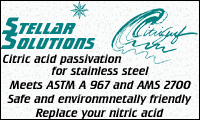 ---

www.finishing.com is made possible by supporting advertisers ...
this text gets replaced with bannerText