topic 25398
Need alkaline pickling process to eliminate hydrogen embrittlement
A discussion started in 2003 but continuing through 2017
(2003)
Q. I'm wondering if there's a so called alkaline base pickling process which can be an alternative for my current hydrochloric acid pickling (on small screws made of carbon steel and alloyed steel), and if there's one, will that be 100% sure that there'll be no risk of hydrogen embrittlement.
Lim Chong Tat
Power Tools - Penang, Malaysia
---
(2003)
A. This process usually goes by the name 'alkaline descaler' or 'alkaline deruster' rather than 'alkaline pickling', so you may have better luck searching with those terms. Usually this would not be a stand alone process, but would be preceded by alkaline cleaning and acid pickling, and followed by acid activation and plating. So this may not be a practical way to have a process that generates no hydrogen anyway. The best way to deal with hydrogen problems is to bake immediately after processing.
Ted Mooney, P.E.
finishing.com
Pine Beach, New Jersey
---
(2003)
Q. Hi Ted, Thanks for the advise, but I have two more questions; 1) Do you mean that the alkaline derusting process must be somehow coupled with an acid pickling process in the later stage to complete the cleaning/derusting job? 2) Can I say that there's so far no way to prevent hydrogen evolution in any derusting process?
Lim Chong Tat
[returning]
Power Tools - Penang, Malaysia
---
(2003)
A. Hello again, Mr. Tat
I was referring to the fact that electroplating must begin on an active metal surface, and that a lot of plating processes are acid based--such that a dip in activating acid is usually required in between cleaning and plating.
No it is not impossible to prevent hydrogen evolution in the derusting; if the work is anodic, no hydrogen is generated. But if freedom from hydrogen evolution is necessary, the parts would usually be cleaned via dry blasting processes, solvent cleaners, etc., rather than with an alkaline deruster.
Actually, I think my earlier posting was hasty and would like to partially retract it. Although baking is good, and perhaps necessary, you are certainly on the right track trying to minimize hydrogen evolution rather than just accepting it and dealing with it by baking.
Ted Mooney, P.E.
finishing.com
Pine Beach, New Jersey
---
(2003)
Q. Hello Ted,
For a screw of property class 8.8 and above (made of alloy steel, through hardened and tempered), if for economical reason, we can't use sand blasting to pre-treat them before the black oxide process. Is acid pickling the only choice available so far? Or can you recommend a good alkaline base de-scaler?
Thank you very much indeed, Ted.
Lim Chong Tat
[returning]
Power Tools - Penang, Malaysia
---
(2003)
A. Sorry, I can't personally recommend a particular alkaline descaler, although all of the major plating process suppliers offer one or more. They contain sodium hydroxide and chelating materials, and many contain cyanide. There is introductory information in ASM Metals Handbook, Vol. 5 and in the Electroplating Engineering Handbook, but neither says exactly what chelating materials and auxiliary agents are used in addition to the caustic and cyanide.
But I would certainly expect that a process supplier who also offers black oxide processes would have experience with a full cycle that incorporates cleaning, alkaline descaling, and black oxiding. A couple of our supporting advertisers who I suspect would have direct experience in using alkaline descalers as preparation for black oxide would be Heatbath and EPI (Electrochemical Products Inc.) [a finishing.com supporting advertiser]
Ted Mooney, P.E.
finishing.com
Pine Beach, New Jersey
---
(2003)
A. I would suggest you look to acquire an alkaline deruster based on Sodium Hydroxide and Sodium Gluconate.I use 2 such process tanks at work at a concentration of 200-300 grams per litre at 85-95 °C. The product name being Ardrox 1301 Salts. I think this might help with your problem. Good luck!
Nigel Gill, B.Sc. MIMF
- Blantyre, South Lanarkshire, Scotland
---
---
Digital version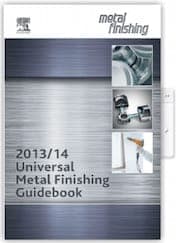 (No longer published, but Elsevier hasn't yet de-commissioned the online version of the Guidebook)
Download it before it disappears.
2006
Q. Hello,

I am a high school student doing a research paper for chemistry on a topic similar to the one discussed here. I am asking if anyone could aid me by giving me information of the pickling process. I need to know the chemistry behind the procedure, its uses, why it is important, and any other pieces of information that is necessary for the fuller understanding of the subject. I would like to thank anyone who is able to assist me.
James G.
- Perris, California, United States
---
2006
A. Either of the two books already mentioned in this thread should be fine for that assignment, James. The Metal Finishing Guidebook would cover that as well. Good luck.
Ted Mooney, P.E.
finishing.com
Pine Beach, New Jersey
---
---
ACRONYMS:

HSLA = High Strength Low Alloy
TRIP = Transformation induced plasticity
DP = Dual Phase (ferrite plus martensite)
November 3, 2017
Q. How to do pickling for High strength steels (HSLA, TRIP, DP) as we can't use HCl because of hydrogen embrittlement?
BVV PRASAD
IIT BOMBAY - Mumbai, India
---
November 2017
A. Hi BVV. We appended your inquiry to a thread which discusses the possibility of using an alkaline deruster in lieu of HCl. But what kind of parts are you processing? ... because abrasive blasting may be a better alternative.
Regards,
Ted Mooney, P.E. RET
finishing.com
Pine Beach, New Jersey
Striving to live "Aloha"
---
November 6, 2017
Q. Hi Ted,
Thanks for your response. I am using HSLA steel sheets for hot dip galvanization research. I can't do abrasive blasting. Can you suggest me how to prepare alkaline deruster for high strength steels. Otherwise any other pickling methods for such steels?
Bvv Prasad
IIT Bombay - Mumbai, India
---
November 2017
A. Hi again BVV. This thread already notes two plating textbooks which discuss the general methodology of alkaline deruster formulation and use (many other plating textbooks do also), but that you need to go to any major plating supplier for fully developed solutions, because exactly what ingredients are in these proprietary solutions is not generic knowledge. The previously suggested Metal Finishing Guidebook has a chapter on "Pickling and Acid Dipping" which discusses a general strategy for minimizing hydrogen embrittlement of high strength steel when using acid pickling, but if you investigate the standards which you intend to process in accord with, you may find some processes to be forbidden.
That is as far as a proprietary trade secret subject can be taken. Please get hold of the previously recommended Metals Handbook vol. 5 "Surface Cleaning, Finishing, and Coating" and/or "Electroplating Engineering Handbook" and absorb what they explain, then either purchase an alkaline derusting process or attempt to develop your own, or try to follow the suggestions in the "Metal Finishing Guidebook" for minimizing hydrogen embrittlement despite acid picking.
Attempting to teach is one of the best ways to learn, so spend some time searching the forum for similar subjects and trying to help out, and you may soon be the 'go-to guy' for this subject . Best of luck.
Regards,
Ted Mooney, P.E. RET
finishing.com
Pine Beach, New Jersey
Striving to live "Aloha"


This public forum has 60,000 threads. If you have a question in mind which seems off topic to this thread, you might prefer to Search the Site