60,000 Q&A topics -- Education, Aloha, & Fun
topic 25352
Does titanium discoloration in heat affected zone hurt aircraft components?
A discussion started in 2003 but continuing through 2019
2003
Q. A friend of mine from England has posed a question to me regarding Titanium discoloration in the heat affected zone due to Gas Tungsten Arc welding. He states that the discoloration is only in the heat affected zone and not in the weld itself. My question is: does the discoloration in the heat affected zone only, and not in the weld itself, have any detrimental affect to the grain structure or mechanical properties due to excessive heat input only? Titanium tubing 0.04 wall thickness for aircraft components. Any comments would be gratefully appreciated.
Thank you in advance.
Henry V. Cabrera
specialty metal fabrication - Pittsburgh, Pennsylvania
---
2003
A. Ti has to be welded in an inert gas chamber and not welded out in the open or you will have alpha case in the weld. No, backup gas does not count. The more blue, the worse it probably is. Are you checking for it?
James Watts
- Navarre, Florida
---
2003
A. Excessive heat can change the mechanical properties of titanium. Heat affects titaniums temper just like it does with steel. If this is a concern you may want to send it out to get tested to make sure it still meets your requirements.
Jason Aube
- Flint, Michigan
---
2003
A. The discoloration and the heat-affected zone itself near the weld are not caused by EXCESS heat input - they are an inevitable consequence of normal, correct, welding.
The microstructural characteristics and mechanical properties of the HAZ are probably different as a result of the heating. The corresponding properties of the weld deposit itself are probably different again from both the unaffected tube material and the HAZ. Just HOW different depends on what the initial properties were, and which Ti alloy is being used, and welding parameters.
Whether the differences are DETRIMENTAL can only be decided by considering whatever characteristics are important to service performance - mechanical properties? corrosion resistance? cosmetics? whatever? Whoever specified the material for the component must know what characteristics are important in order to have been able to select the particular material in the first place, so they should be able to nominate acceptance ranges for the various properties.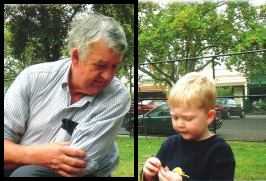 Bill Reynolds [dec.]
consultant metallurgist - Ballarat, Victoria, Australia
We sadly relate the news that Bill passed away on Jan. 29, 2010.
---
August 10, 2014

Thank you all for your responses to my query...

To Mr. William Reynolds of Australia,

Your explanation was the most comprehensive out of all of the responses and I appreciate the thoroughness of your response.

And I totally agree with your opinion which is based on the absence of enough details to give a definitive answer that would result in an absolute conclusion that decides the premise of my query in the first place.

Sometimes it's hard to convey in a query what the poster is actually trying to find an answer with the choice of words chosen in the query because of semantics, lack of understanding the query and over-answering the query based on irrelevant assumptions. This has been my experience over the years from participating in various forums within the WWW.

Once again, thank you for your very intelligent response and answer.

Respectfully,
Henry
Henry V. Cabrera
[returning]
- Pittsburgh, Pennsylvania
---
Titanium Discoloration
October 14, 2019
Q. I am receiving grade 4 annealed titanium that has dark discoloration covering the whole piece. An EDS analysis reveals Si and Fe are present in our material.

Is there any advice for what kind of process could introduce dark discoloration on grade 4 titanium? Chemical etching, annealing in the wrong atmosphere?

Any general ideas would help!
Jared Gaumer
- Chicago, Illinois