Live! From beautiful Pine Beach New Jersey: Welcome to the world's most popular metal finishing website
topic 25258
Mil-A-8625 Sodium Dichromate seal: make up and troubleshooting
A discussion started in 2003 but continuing through 2018
2003
Q. I want to install a small 185 gallon Sodium Dichromate seal tank for Mil-A-8625 [link is to free spec at Defense Logistics Agency, dla.mil] MIL-A-8625 TY IB & TY II anodized parts. I have found two makeup plans, but I am uncertain as to how to calculate the amount of sodium dichromate to add to DI water. Can anyone show me the calculations?
Plan 1- Shows 56 to 64 g/l of Sodium Dichromate.
Plan 2- Shows 4.0 - 6.0 percent solution by weight of Sodium Dichromate.
John McGuirk
Metal finisher-Mil/Aerospace - Oldsmar, Florida, USA
---
2003
A. They are nearly the same. Water weighs 1 gram per ml, a liter is 1,000 ml, so 4 -6% would be 40 to 60 grams of dichromate. Whatever the specification calls out is what you want to use.
James Watts
- Navarre, Florida
---
2003
A. Here is my take on the calculations you need:
185 gallons * 3.785 Liters/Gallon = 700.3 liters.
56 grams/liter = 39216.87 grams / 453.59 grams/pound = 86.46 lbs. of NaCr2 For 64g/liter, 98.81 lbs. of NaCr2.
For a 4-6% solution by weight:
185 gallons * 8.33 lbs./gal = 1541.05 lbs., .04 * 1541.05 = 61.64 lbs. NaCr2, .06 * 1541.05 = 92.46 lbs. Na Cr2
I am not in the plating industry, just a chemical engineer looking for pot metal restoration help. These are what I would consider the correct calculations, however you might want to confirm with another source before using.
Mike Jones
Indiana, USA
---
---
May 24, 2012
Q. I am a lab tech/ intern at a metal finishing company, and we came across a problem with the sodium dichromate seal tank. The pH of the tank is 6.0, which puts it within the range of 5.6-6.0. The sodium dichromate concentration is 6.4 oz/gal which equals to around 47 g/l which is also within range. However, the parts go in charcoal black, and are coming out green (unacceptable). Possible problems?
Chris Sierka
Lab tech - Greensburg, Pennsylvania
---
May 25, 2012
A. Need more information. What kind of anodizing? Alloy? Why dark gray going in? Is it dye? You always shift the color of the dye with dichromate sealing. A greenish tint is normal on some alloys with regular non-dyed Type II anodizing on common alloys. What thickness? What temperature of anodizing?

Robert H Probert
Robert H Probert Technical Services
Garner, North Carolina
---
July 11, 2012
A. I agree with Mr. Probert, we need some more info. I can only assume that this is type II anodize, in which case I imagine they will be a yellowish green color. As Mr. Probert asked, why are the parts so dark?
Scott Merritt
- Eastman, Georgia, USA
---
July 26, 2018
A. Unless it is 8625 Type III Clear …
Build up on Type III 8625 will begin with a Grey to a dark Grey in a bath of 20-25 °F; the dichromate will look like an olive color

Thanks,
Wendy McGaha
Aerostar Industries, LLC - Huntsville, Alabama USA
---
---
Sodium dichromate seal tank - pH adjustment
November 12, 2018
Q. Hi all,

We sulphuric anodise to Mil-A-8625 [link is to free spec at Defense Logistics Agency, dla.mil], and are having minor powder issues. From trials it does not appear to be an anodising tank issue, and parts have been stopped at this stage and inspected with no trace of powder (white). It appears after sealing in sodium dichromate with (yellow/green) powder. I have reduced the sodium dichromate content to mid limit (50 g/l), but still powder issues continue ...

I wish to make a minor adjustment to my sodium dichromate seal tank from 5.8-5.9 pH to 5.6-5.7 pH range. What acid is best to use without further side effects? (I have seen acetic acid mentioned).

Thanks Ian
Ian Armour
Engineer - Bristol, U.K.
---
November 13, 2018
A. Chromic Acid

Robert H Probert
Robert H Probert Technical Services
Garner, North Carolina
---
November 20, 2018
A. Along with adjusting your pH, look for the possibility of contamination in your Dichromate Seal. One possible source is stray Nickel from a nearby bath, entering as rinse overspray, dragover, or even condensed mist dripping out of a shared ventilation system (speaking from experience here... luckily it was an easy fix). If you take a sample from your Dichromate Seal bath, pH adjust it UP to about 8-8.5 with Sodium hydroxide, and see particulate settling- you've got a potential problem, and I would have it sent out to be tested for Aluminum and Nickel (if you use a Nickel seal too) levels. Nailing down the actual contaminant will also help you nail down what you can do to prevent recurrence.
Bath age is important as is making up fresh baths with deionized water. I run my seal bath at pH 6.5-6.7 with no powdery residue until the bath gets pretty old and has to be dumped for contamination, and still don't see salt spray issues even at that point. One clue I use that the bath is getting dirty is that the pH starts to drift slightly downward.
You may in fact solve your problem by adjusting your pH as planned, but this is another thing to monitor over time.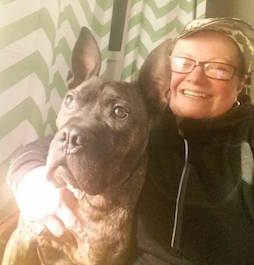 Rachel Mackintosh
Plating Solutions Control Specialist / Industrial Metals Waste Treatment - Brattleboro, Vermont


If you have a question in mind which seems off topic, please Search the Site