Live! From beautiful Pine Beach New Jersey: Welcome to the world's most popular metal finishing website
topic 25010
The life of galvanized beams in salt atmosphere
A discussion started in 2003 but continuing through 2018
2003
Q. I live on a salt water sound and have a boat lift. The cradle is made of galvanized H-beams. The beams have become quite rusty after ten years of service. I have recently scrapped them and spray painted them with more galvanized paint. My question - how long should such beams last in this type of atmosphere? The boat I lift on it is a 1977 25 foot Chris Craft with a fiber glass hull.
Thanks for any information you can give me.
Hardy Wessell
consumer - Surf City, North Carolina
---
2003
A. 10 years in such a corrosive environment sounds like you got your money's worth, Hardy. But your new "galvanized spray paint" is not a match for factory applied hot-dip galvanizing. I'd give you maybe 2 or 3 years this time; just a guess.
But I see no reason you couldn't also attach zinc anodes to extend the life easily and inexpensively; then if you replaced the anodes when required, your repair might last a good deal longer.
Ted Mooney, P.E.
finishing.com
Pine Beach, New Jersey
Striving to live "Aloha"
---
---
Galvanized boat lift vs: Galvanic Corrosion
April 1, 2018
Q. I have a 10,000 lb Ace Galvanized vertical boat lift approximately 18 years old mounted on four 10" piles located in S.W. Florida in a brackish canal. The lower I-beams were so badly rusted that I just replaced the entire bottom of the lift with new galvy. I assumed this was the effect of salty/brackish water but recently learned it may have been galvanic corrosion, and this would make sense because the mounting brackets and bolts which attach the lift to the top of the piles have always shown rust stains running down the piling and they are also rusting away. I treat and repaint every year to no avail.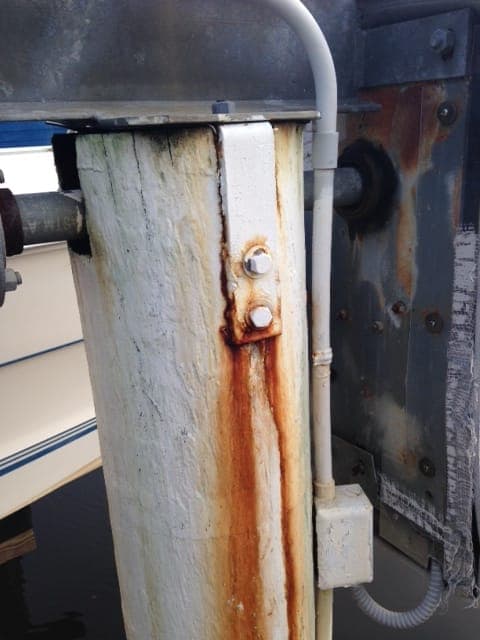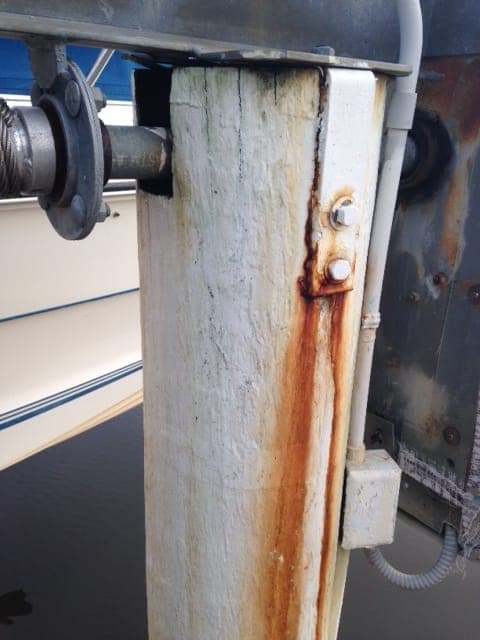 I have been told that some folks are using sacrificial anodes attached to their boat lifts but I can't find any info on the Web as to how to do it. I do know if not done properly the anodes either won't be effective or could actually accelerate the corrosion.

Please help.
Steven Konjoian
Home Owner - Port Charlotte, Florida, USA
---
April 2018
Hi Steven. Pressure treated wood is hard on metal; the old CCA was corrosive, the new ACQ is devastating. Those galvanized bolts, and perhaps the back of the mounting bracket they are holding lost their galvanizing long ago and the steel is corroding as rust.
But things don't last forever, and you don't need galvanic corrosion to explain galvanized steel corroding after 18 years in brackish water. I think you should use aluminum anodes. To insure good electrical contact, you should probably lightly sand the galvanized area you bolt them to. Good luck.
Regards,
Ted Mooney, P.E. RET
finishing.com
Pine Beach, New Jersey
Striving to live "Aloha"
---
April 2, 2018

Thank you for the speedy response.
Steve Konjoian
[returning]
- Port Charlotte Florida USA


If you have a question in mind which seems off topic, please Search the Site