topic 2531
How to tint lacquer for steel artwork
(1999)
I'm attempting to tint lacquer (various colors) for a cold application to steel that has been ground or sanded clean. Any help would be appreciated. Thanks
Rex Wondergod
---
(1999)
I'd suggest you purchase the lacquer from a lacquer supplier like G.J. Nikolas. But more than that, I'm concerned about trying to keep sanded steel from rusting, with only a lacquer on the bare steel surface. Might you consider nickel plating the steel before applying the tinted lacquers?
Ted Mooney, P.E.
finishing.com
Pine Beach, New Jersey
---
(1999)
These art pieces wouldn't be exposed to the elements. Strictly indoor hang on the wall type of artwork. What I had in mind was to put a coat of tinted lacquer and then follow up with another coat or two of clear lacquer.
I've purchased artwork similar that I'm trying to copy somewhat on my own. The pieces I have are items made from 1/8" steel plate. Animals, trees, mountains and etc. Then the artist uses a small grinder with a sanding disc to accentuate and create shading effect. Once this is done his adds shades of brown's and blue's mostly. The pieces appear to have a clear lacquer finish over the top.
I'm going to attach a photo of one of the pieces. Thanks for any help you may be able to provide.
Rex,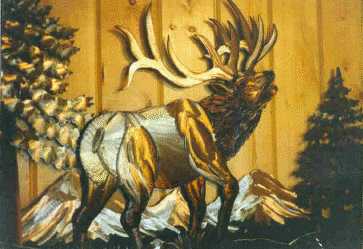 Rex Wondergod
---
(2002)
The tint that you see on the metal art that you purchased is achieved using heat. Then a clear epoxy coating is applied to seal the heat coloring or oxidation. The coloring process is easy, but takes practice and an oxy-acetylene torch. You must grind the metal to bright finish and then apply heat slowly. The metal will begin to turn colors. For example, the elk that you displayed, the straw color appears first, then quickly gives way to a the color of the elks legs, then to an indigo / violet then a quick fade to blue gray dinge. Have fun, and make sure you don't have oils or finger prints on the metal as they will prevent the surface from oxidizing with the same speed as the untouched areas.
S. Fenmechan
- Texas


This public forum has 60,000 threads. If you have a question in mind which seems off topic to this thread, you might prefer to Search the Site