topic 2510
Painting & Silk Screening on Bare Aluminum
(1999)
We don't want to do any pretreatment
Q. We currently anodize and Alodine raw-aluminum manufacturing parts. These parts are 1) UV-cure ink silk-screened or 2) painted and then UV-cure ink silk-screened. Our current thrust is to eliminate both the anodizing and Alodining processes altogether. This is what we are currently looking for:
For the painted and silk screened process:
A paint system or aluminum grade which does not require anodizing, Alodining or a wash-coat / primer intermediate. We wish to bind the paint directly to the bare aluminum substrate. Ideally, this paint system should be conducive to high production volumes (i.e. quick drying); corrosion resistant; environmentally friendly; and compatible with our current UV-cured ink system. The paint system must withstand long-term exposure to ultraviolet light, can be moisture resistant, and be chemically inert, so as not to be affected by airborne industrial pollutants - the paint should withstand the elements.
For the silk screen only process:
An UV-cured ink system (or alternative) that can stay on a bare aluminum substrate which has not been anodized, Alodined or treated with a wash-coat / primer intermediate. The UV process should meet the same criteria specified above.
I do not know if this technology exists or not. Methods that are anodizing-, Alodining-, and wash coat intermediate-substitutes (ala phosphatizing) are not viable options; we wish to remove ourselves of all types of plating.
Chien-Yu Lin
---
(1999)
A. Aluminum can be cleaned with an acidic cleaners that also remove oxides, and prime the surface for adhesion of coatings while preventing reformation of oxides. UV inks are mostly based on acrylic monomers and should stick like glue to the surface formed on the aluminum by such cleaners.
James Taylor
- Orange, California
---
(1999)
A. Our company applies a catalyzed-polyurethane, waterborne acrylic that meets all your criteria including the prep specification.
Pete B
[last name deleted for privacy by Editor]
- Reno, Nevada
---
----
Ed. note-- Readers, please remember that this site is for technical information exchange and camaraderie. The forum would be drowning in spam if we didn't delete hundreds of commercial and proprietary postings each week. Everyone please try you best to provide as much technical content as practical without suggesting proprietaries or sources. Thanks!
---
A. Hi Chien-Yu. I think you might also investigate whether it's practical to switch from aluminum parts to stainless steel or plastic if corrosion protection pretreatments won't be done.
While it's good to keep an open mind and look for a paint that eliminates all need for pretreatment, aluminum is an extremely active element, and people do these pretreatments because decades of research have proven them obligatory. If aluminum is exposed to the atmosphere, it is going to oxidize. Can the paint really be impermeable and never get scratched? And as for bare aluminum, it's just not going to work, short of in environmentally controlled rooms.
If your intent is cost-cutting, I suppose it's okay to look for cheap but less capable processes; but please don't avoid anodization, chromate conversion coating, phosphatizing, and 'all types of plating' on an ideological basis. The world's countless billions of dollars of annual corrosion is an unsustainable disgrace, 1000x more environmentally damaging than proper corrosion deterrence is, and it is our responsibility & duty as technically knowledgable people to educate people to this fact, rather than to surrender to ignorance.
Ted Mooney, P.E.
finishing.com
Pine Beach, New Jersey
---
---
Want formulation for UV-cure screen ink
(2002)
Q. Interested in a formulation guide for:-
UV cured screen ink on bare aluminium substrate
Conventional air-drying screen ink on bare aluminium substrate
Please advise me of a formulation guide for the above two.
Thank you,
WONG SAU WAN
- SELANGOR, MALAYSIA
---
October 17, 2012
Hi, Wong. We're pleased to post your request, but don't hold your breath :-)
... I doubt that suppliers with good formulations will reveal them. Sorry.
Regards,
Ted Mooney, P.E.
finishing.com
Pine Beach, New Jersey
---
---
How to silk screen before chem-film?
June 27, 2013
Q. our machine shop has received an order for silk screening information onto the front panel of an aluminum box
the print specs call for SILKSCREEN .19 HIGH TEXT WITH EPOXY BASED INK, COLOR 37038 PER FED-STD-595, BLACK
the aluminum will be chem filmed with the MIL C 5541 class 3 specs
Any ideas on how to do this?
We have never silk screened anything before, wanted to give it a try
Thank you
Mary
Mary G
- Versailles, Indiana
---
July 12, 2013
A. This is not an easy task but if you really want to do it yourself you'll need to make a drawing with the artwork in PDF or DWG format, model and layout. You'll need to specify angle, thickness of emulsion, frame type, etc. You might want to buy more than one screen, they're fragile.

You'll also need the paint. If you look around you can find a supplier. You'll also need a squeegee with a handle and some practice. You will need a screen printer. You'll need to work quickly because the epoxy could easily ruin the screen. You'll need cleaning supplies and sponges, wipes. Most people would probably go to a specialist and have them do it because it wouldn't cost too much in all likelihood, maybe a few hundred. For you to do it yourself would probably cost at least $500 in material if not quite a bit more, plus it would take a lot of elbow grease. Good luck.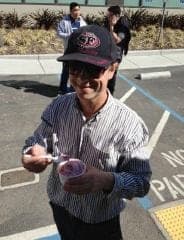 Blake Kneedler
Feather Hollow Eng.
Stockton, California


This public forum has 60,000 threads. If you have a question in mind which seems off topic to this thread, you might prefer to Search the Site