topic 24730
Many Types of Blade Steel, Which is Best?
(2003)
Q. I am a student at John Brown University majoring in Construction Management, but a friend of mine came to me with an idea to create a perfect line of knives for any situation. I guess before doing that it would be necessary to know the best blade material. I have searched a bit, and it looks like high carbon medical stainless is the best. But is 1095C (being extremely common) also a high enough quality with the proper finish to be considered great? Thank you. Michael
Michael Blees
student - Siloam Springs, Arkansas
---
(2003)
A. Hate to break it to you but there is no "perfect knife for any situation". man has been trying to invent this for thousands of years and will continue to do so for thousands of years. For example a folding knife is, for the average person, the best knife to own because it will be the one they will probably be carrying on them when the need arises. But for a survival situation I would want a large knife (at least 8 inch blade)..now that would be a bit difficult to carry around on a daily basis. This is the reason why there are hundreds of knife companies and thousands of custom knife makers...if it were possible to make the perfect knife 99% of the industry would die, because there would be no need for competitive designs. As for materials...you need to first decide what the intended purpose of the knife is (daily carry, hunting, survival, combat, etc.) this will narrow down your prospective blade materials quite a bit(then you need to think about handle, sheath, guard, etc material;) this is a VERY opinionated topic..every maker has his own preferences. Me personally I use ats-34 or 154cm for "art" knives that need to keep a good polish, 440v for smaller knives(folders too) that need to be stainless and hold an edge good. For large hacking/survival knives I tend to use 1095 and send it out to get a tungsten or boron carbide coating (rc 90ish) to help it be noncorrosive, and edge retention.
Here's a list of steel that ALL work well in different situations: 1065,1095,O1,L6,M2,ATS34,154CM,440C,420V,440V,5160,D2,A2..this of course is only a partial list, and I'm not even going to get into the subject of crucible, cast, dendrite, damascus, etc steels... there is A LOT to learn on the subject..I've been making knives for about 13 years and still am learning/refining my designs, ask a maker that has been doing it 50 years and he will tell you the same thing. My advice to you is, take college courses in metallurgy/industrial materials, subscribe to the knife media, contact a custom maker and talk with him, and make sure you have plenty of time :) good luck
P.S.: o..i forgot to add that proper heat treating of the steel is just as important (if not more) than the steel type itself.
Jason Aube
- Flint, Michigan
---
(2003)
Q. Hello,
I have been collecting knives for many years I have a few very simple questions in which professional opinion is needed. I am looking to find a TOP-OF-THE-LINE combat knife, of my own design, to add to my collection. I'm not worried about price; however, I am worried about finding the hardest steel a knife can possibly be made out of. One that can hold an edge for very long periods of time and undergo lots of abuse, for example- chopping other metals, cinder bricks, or hard woods without denting or breaking. I have heard a lot about different blade materials capable of these qualities, one of which includes honyaki folded steel specially made in Japan, which to my knowledge is primarily used through out the food industry, is this true? But I am strictly in need of professional opinion only. I'm not concerned about the sharpening difficulties that accompany a blade material of extreme hardness. I simply want the ultimate knife made out of the ultimate blade material available anywhere in the world to add to my collection at any cost! If possible please help!
Thanx,
Brian Stevenson
Retired; knife collector hobbyist - Overton, Nevada, United States
----
Ed. note: We appreciate Jason's reply that there is no perfect material. There are healthy discussions on letter 7090 and 25750 as to whether D2 is the "ideal" material or not. Good luck.
---
September 14, 2008
Q. Hi,

Need a professional opinion...

I am shopping around for a pocket knife of the highest quality, can't make up my mind. Spyderco, Cold Steel or CRKT?

Please help.
Lionel Dartnall
- South Africa
---
March 31, 2011
Q. Hello, I am Angelina, an 11th grade student who is looking into collecting functional fantasy blades and knives. So far, I have not bought anything because I really want to know what types of steel are best for what I want.
I have found a 'finger armor blade' that is claimed to have a 440 stainless steel composition, and it also says the blade is anodized. There wasn't any more information. Is that a good quality steel?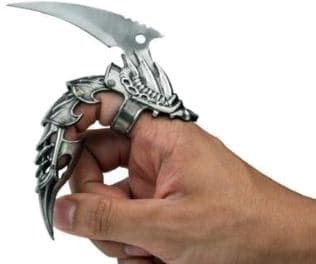 The Amazon customer reviews were all positive, but I would still like professional input. I really appreciate your help!
Angelina L
[last name deleted for privacy by Editor]
student -
Williamsburg, Michigan, United States
---
April 1, 2011
A. Hi, Angelina. This is the grade that would be used in stainless steel cutlery; it should be fine. Stainless steel is not as hard or quite as capable of holding a really fine edge as some of the non stainless steels, but it doesn't readily rust -- which would be important for this intricate piece.
Regards,
Ted Mooney, P.E. RET
finishing.com
Pine Beach, New Jersey


This public forum has 60,000 threads. If you have a question in mind which seems off topic to this thread, you might prefer to Search the Site