topic 24349
How to best clean rust off a knife
(2003)
Q. Hi
A couple days ago I found a knife that my father used to really love but it got all rusted and had all this dark stuff on it....I managed to get some of the rust off it by sharpening it but I can't get the rest off because they are too tough.....is there any household chemical or tool that I can use to finish cleaning the stains? Or anything that can help me remove it?
Kevin M.
[last name deleted for privacy by Editor]
student - Fall River, Nova Scotia, Canada
---
(2003)
A. See letter 23762, except you'll probably have to start with a coarser grit sandpaper (220?), and BE VERY CAREFUL! Many a person has went to the hospital for cuts, severed fingers, knife thrown through leg by buffer, etc , trying to do exactly what you want to do.
Jason Aube
- Flint, Michigan
---
(2007)
A. I too found a very old knife a few years back that was very rusty but I didn't use any chemicals, I just simply stuck it into the ground, blade first, about 20 times and it removed just about all of the dust I then got some course sandpaper for the tough stuff and then enabled it to get a mirror finish by using the finest sandpaper I could find! good luck with your knife
Andrew Stabler
- Durham, England
---
January 11, 2008
A. Go at it with vinegar and baking soda [linked by editor to product info at Amazon]. It works too.
Amy Alken
- NYC, New York
---
March 27, 2009
A. Years ago there was a product out called Naval Jelly. I used it to fix the rust on my SCUBA truck. There is a similar product today in auto parts stores. I don't know what it is called but I assume it's the same kind of thing.

You paint it on, let it get gooey and then lift it off along with the rust which it goo-ifies. Then repeat until the rust is gone.
Robbie Dean
- Raleigh, North Carolina
---
March 27, 2009
Hi, Robbie. Some things haven't changed much. Here's a hot link to Naval Jelly [linked by editor to product info at Amazon]
Regards,
Ted Mooney, P.E. RET
finishing.com
Pine Beach, New Jersey
---
September 6, 2009
A. Another trick that works really well is to put the blade into a potato. Let it sit for a few days and then the rust will come off with a bit of steel wool.
Jonathan Tinsley
- Belle Fourche, South Dakota
---
December 28, 2009
Q. I was given a nice nice set of forged knives for my kitchen. By accident they were put in the dishwasher which caused rust to each knife. How can I clean these without ruining them?
Becky McCurley
homeowner - Newborn, Georgia
---
March 16, 2013
A. Regarding the forged kitchen knives.

Clean them with ultra fine steel wool, wash with warm/hot soap and water, dry immediately, and a light coating of an edible oil (mineral oil is what I'd suggest).

If there are any heavier corrosion deposits you're going to need to CAREFULLY sand those spots down with 500 and then 1000 grit sandpaper then clean and oil.
Marc Banks
- Boone, North Carolina, USA
---
---
March 14, 2013
Q. Refinishing old M3 commando knife. Is it possible to plate the rusted blade of this knife with a layer of steel? What are the waste by-products? Would it be better to plate with zinc, buff then refinish with bake on paint finish?
anthony zeller
- mine hill, new jersey
---
First of two simultaneous responses -- March 16, 2013
A. Zinc !!
What a terrible thing to do to an old knife that did nothing to offend you.
You cannot plate steel.
To plate anything, you have to get rid of the pitting. The only practical way is by surface grinding. And when the pits are gone you have a practically new knife. Oil it and stop there.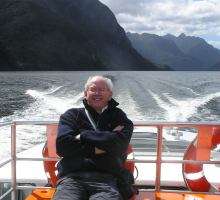 Geoff Smith
Hampshire,
England
---
Second of two simultaneous responses -- March 16, 2013
A. Regarding the M3 knife, firstly if it's a real antique, DON'T DO ANYTHING.
Find a proper company with experience in antiques take it to them and get them to give you options.

If it's a knife you like but don't want to sink a lot of money into then you're going to be better off cleaning and re-polishing it, then getting a good nickel or chrome plate done by a reputable shop, this also means that you're going to have to disassemble the knife.

If there are any parts where the corrosion has gone too far you will likely need to have them filled with a welder, ground flat annealed, and go through the heat treatment again.
None of which I'd suggest to a novice.
I'd highly suggest going over to
http://www.knifenetwork.com/forum/index.php
and posting your question with pictures. The guys there will offer up a great deal of advice on how to take care of it, or might offer to help you do it yourself if you're nearby.
Marc Banks
- Boone, North Carolina, USA
---
March 18, 2013
A. Hello Anthony,
You can't plate steel as steel. If you want a professional restoration you may want to seek out a Electroplating job shop in your area. Depending on the condition of the knife it may just need some rust removal, Electropolishing, sharpening and buffing. If it does need plating a semi bright Ni may be a good choice. Keep in mind once you plate the object it affects the authenticity and value if you ever want to sell it. Good Luck.
Mark Baker
Process Engineer - Mesa, Arizona, USA


This public forum has 60,000 threads. If you have a question in mind which seems off topic to this thread, you might prefer to Search the Site