topic 24233
How to age or rust galvanized steel or "tin"
A discussion started in 2003 & continuing through 2017
(2003)
Q. I want to speed up the process of "rusting". I have some new galvanized steel pots and roof tin. How can I remove the coating and accelerate the process of aging? I want to use the tin sheets as an interior ceiling, so leaving it outside is not an option. Also, if I paint the sheets, what will cause it to chip and crack?
Marie Clark
hobbyist - Cartersville, Georgia
---
(2004)
A. There is a product for aging tin called "Plum Brown" as I recall =>

I haven't tried it yet. I tried vinegar and that was totally ineffective on tin plated sheets. "Plum Brown" is fairly expensive, costly about $10 for enough to age 3-4 10"x14" punched tin panels.
Roy Ramey
- Roy, Utah
---
TUTORIAL FOR NEWBIES:

People often call steel sheet metal "tin", but actually tin is very different from steel.

- "Galvanized metal" is steel that is coated with zinc. This is the most common shiny sheet metal which you will see for sale at hardware stores; metal trash cans are often made of galvanized steel; metal roofs and roll-up doors are often galvanized metal. It often exhibits a crystalline look similar to a frosted window.

- "Punching tin" is steel that is plated with tin rather than zinc. Tin is "food safe" and zinc is not, so there are applications like cookie sheets and baking pans where tin plated steel is used, and zinc plated steel must not be used.

- "Tin sheet", rolled from high purity tin, is available from a few specialty suppliers, but you are very unlikely to accidentally get your hands on pure tin sheets -- they are quite difficult to find.

Zinc and tin are different materials and will react differently to treatments, so the first step in a case where a treatment didn't work, may be to find out for sure which material you are dealing with!
September 18, 2010
A. Hi. I am doing some punched tin work for a shaker style cabinet door and needed to age it. I have found that you can use Muriatic Acid to remove the galvanizing and then use Apple Cider Vinegar. Only Apple Cider Vinegar works. You soak the tin in the acid bath (use an old or cheap metal cooking tray). Not sure how long, so you may need to experiment. Then you clean it with water, dry and then soak it in the Apple Cider Vinegar for a few minutes. Let dry out side. In fact, do all this out doors in a well ventilated area. Redo the vinegar if more is desired. I found it at desultorybutterfly.blogspot.com/2008/01/primitive-style-decorating.html
Gary McNeel
- Houston, Texas US
----
Ed. note Dec. 2016: Sorry the desultorybutterfly blog no longer exists.
---
July 26, 2008
Q. I have bought 2 French 1940 tin work/ boot lockers and I want to take the paint off of them to polish the metal to get that old shiny metal look. What is the best way. The lockers are 1 m 95 cm high x 36 cm deep x 72 cm wide.
Thank you for your help.
Guy Trench
contemporary antiques - Maldon, Essex, England
---
July 27, 2008
A. Hi, Guy. You can strip the paint with paint stripper, maybe sanding any little areas as necessary until you're at bare metal, then try the plum brown?
Regards,
Ted Mooney, P.E. RET
finishing.com
Pine Beach, New Jersey
---
March 10, 2012
Q. I'm wanting to put rusty corrugated metal on my ceiling and backsplash. I'm having trouble finding used tin. What can I do? How can I achieve this look without the used material?
Jan Smith
- Dallas, Texas
---
August , 2012
A. Hi Jan. Muriatic acid is dangerous stuff, requiring protective gloves [linked by editor to product info at Amazon] and goggles [linked by editor to product info at Amazon] and working outside, but it will quickly remove the galvanizing from the metal.
Don't use muriatic acid inside, no matter how careful you are; it's a gas dissolved in water, not a liquid, so the fumes can ruin stainless steel and everything else (including your lungs) even if you haven't splashed it.
Regards,
Ted Mooney, P.E. RET
finishing.com
Pine Beach, New Jersey
---
August 30, 2012
Q. I am finishing the inside of a room we had built on. I am very into the country look and told my husband that I want to use galvanized silver roofing for the inside ceiling. My question is what to use for the trim work.
dana stitt
- kittanning, pennsylvania usa
---
February 26, 2013
Q. Hi, I just began soldering and have been trying to figure out how to antique the solder for jewelry/decorative purposes. I've tried liver of sulfur - which didn't work even after I sandpapered the item. The solder I used is 98% tin. Please tell me what I can use for tin. Thank you
Denise Erickson
- Murrieta, California, USA
---
March 26, 2013
A. Muriatic acid is the best choice but, you must mix with about 20% water in a PLASTIC rectangular container at least a couple inches deep and big enough to lay the panels down in it. Be sure to wear a real respirator, not the little face cup type. Heavy rubber gloves and full face protection is also needed.
The Muriatic acid will give off gas as it eats the galvanizing off the metal sheet. This is why you should do it outside and stay up wind. Do NOT use an aluminum throw-away roasting pan!! It will eat right through it!
Make sure you have a hose handy so you can wash the acid off as soon as you take it out.
It only takes a few minutes to de-coat the metal. Afterwards, you can put the washed sheets in an aluminum throw-away roasting pan partially filled with vinegar to further age the look of the metal.
FRED MATAS
- DESERT HOT SPRINGS, California
---
November 12, 2013
Q. Hi. I am trying to make a craft for some Christmas presents. I would like to have "Tarnished" or "Aged" spoons in them. I have gone to thrift shops and it is harder to find tarnish spoons than I thought it would be.

I have several "Stainless" spoons that are pretty shiny. Is there a way to stain them or age them?
Sean Oshae
- Evansville, Wyoming, USA
---
November 18, 2013
A. Hi Sean. Deciding that you want to use stained and tarnished materials, then starting with a material which has been very carefully developed and optimized to not stain or tarnish sounds like the wrong approach :-)
Please try E-bay or Craigslist for worn out silverplate.
Regards,
Ted Mooney, P.E. RET
finishing.com
Pine Beach, New Jersey
---
July 29, 2014
Q. Details for Selecting raw roofing metal for rusting ...
How to prep/pre-treat the correct materials from oils in mfg?
What to treat prepped materials with to remove zinc coating?
What concentrations of suggested effective solutions to achieve rapid red rust?
What conditions to be in for best outcomes - Weather - Heat - Humidity?
Suggest working with materials after in place or on ground prior to installing?
Project 4,000 SF 1890's house/porches wanting good metal roof with real red rust surface.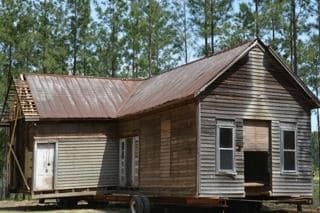 Freddie Dwozan
Project Owner - Eastman, Georgia USA
---
---
December 29, 2016
Q. I am going to be using GALVANIZED steel sheets to do a kitchen back splash. What is the best way to distress it? I know that water/humidity will naturally create white rust. I was looking for a more distressed look than that. What products work best? Thank you in advance
Sunny Roller
steel - Benton, Arkansas, United States


This public forum has 60,000 threads. If you have a question in mind which seems off topic to this thread, you might prefer to Search the Site