Where the world gathers for
plating, anodizing, & finishing Q&As since 1989
Clear Finishing Dilemma
-----
1998
we are currently using basic, clear, acrylic spray lacquer to coat and protect cold patinated steel surfaces (never greater than 1m*1m) for use on indoor furniture. It is far from perfect, but we don't know any better.
Can any body suggest alternatives (processes or products) that meet the following criteria: good degree of scratch resistance; possibility of matt/satin finish; affordability?
Also bear in mind that we only ever need to coat a very small number of surfaces at one time, 1-5, as work is custom made to order.
We would also like to hear of any clear finishes that could be applied straight onto steel surfaces for use outdoors, affording a decent degree of rust protection (or am I just asking too much!)
Dean Wilson
Exeter, UK
---
1999
Hi, Mr. Wilson, I am also looking for the same thing. If I find it I will send some information for you. Also, I would like to ask you if you have any luck please respond.
My purpose is to find lacquer manufacturing equipment and it's additives for the manufacturing in Belarus.
Thank you.
Best regards.
Andrei Karpuk
- Boston, Massachusetts
---
1999
Dear Andrei,
thanks for your reply. I am receiving bits and pieces regarding my dilemma, so I'll try to keep you informed.
Dean Wilson
Exeter, UK
---
1999
DEAN,
CHECK WITH BOB GRIFFIN AT Macdermid. THEY CARRY AN EXCELLENT WATER SOLUBLE LACQUER WHICH IS A HIGH BAKE, CROSS LINKING THERMO RESIN. IT CAN BE USED IN A SPRAY OR DIP MODE. AQUALAC 6A IS DESIGNED TO GIVE 100 HOURS IN HUMIDITY TESTING AND HAS A PENCIL HARDNESS OF 6 IF I REMEMBER.
RAY DELOREY
- CAMBRIDGE ONTARIO CANADA
---
1999
It may not be affordable, but what is these days?
Try Hawking International, Glos, U.K. for an electrophoretic painting plant that will take your pieces. The process is not for short run production, but maybe you can add them to someone's line, if they are set up for the color you want. You may have to coat steel with a color that looks patinated, rather than patinate and then lacquer. A beautiful finish that will add value to your product.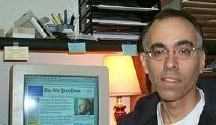 Tom Pullizzi
Falls Township, Pennsylvania
---
1999
Thanks to everyone who has replied to my initial query, I have been really impressed with all all suggestions so far!
Having contacted Hawking International, at their UK branch, I think I may have found the answer. I am waiting for them to send some promotional material, and will report back as things develop.
Dean Wilson
Exeter, UK
---
2001
I found a company in California called Spectrum Coatings that produces a water base urethane that is extremely hard, mil-spec, easy to mix and apply, non-hazardous, and available in gloss or satin. We have applied it over several different patinas and bare copper - only thing that we have found that sticks well to bare copper. It seals the patina without changing the initial color too much like automotive finishes we have used. It is the WU-2k.
Scott Tibbetts
- Santa Fe, NM USA