Live! From beautiful Pine Beach New Jersey: Welcome to the world's most popular metal finishing website
topic 23922 p2
Musty smell in basement and throughout entire house
---
< Prev. page (You're on the last page of this topic)
---
A discussion started in 2003 but continuing through 2018
February 13, 2015
Q. My daughter just rented a basement suite and is having issues with the smell. When we viewed the suite it smelt a little musty, certainly nothing to worry about so we thought. We tried air fresheners thinking that would help. Not. We had bought a used vintage couch thinking that the smell was coming from that so we sold it. Bought a brand new couch nothing changed. You can't really smell much when you walk in, so herein lies the issue. I take my grandson to school every morning. He comes over and everything smells. His back pack, his clothes, his hair. Today was the worst ever, we had to strip his clothes off and put him into new ones. The smell is now attaching itself to my daughter's hair and we are at at our wits end. Should we call someone in or this a case of mold and we should leave?
Any advise would be greatly appreciated.
Cheryl Cleland
- Langley B.C., Canada
---
March 15, 2016
A. Google "ozone generator". It's a machine that you can buy or rent and it uses ozone to kill the mold, bacteria, mildew, etc that causes odours. It will remove the smell from clothes, furniture, the air... I've just ordered one as apparently it will take the musty smell out of an antique sideboard I just purchased. Good luck to both of us!
Mrs. Miggins
[returning]
- Bath , Uk
---
July 4, 2016
Q. Has the ozone air cleaner helped at all? My daughter moved into a home aND it has a horrible musty sMell and my grand babies carry the smell as well. Has anyone tried the ozone machine and have any of the home remedies helped? I'm also wondering how to get laundry to smell clean again. Thanks.
Andria a.
- South Shore Kentucky, usa
---
July 11, 2016
Q. Hello. I am also very interested in Mrs Miggins entry too. And I live nearby! Do please let us know of your trial outcome, Mrs Miggins! I have a house we rent out to holiday makers in Wales and it smells awful, just like you are all describing. And we get complaints- all justified. :(
Sara Watkins
- Bath UK
---
July 12, 2016
A. Hello Sara and Andria,
Unfortunately I have to report that the ozone machine I purchased to use at home had no effect on my sideboard whatsoever and I sent it back for a refund. I subsequently had the sideboard taken away for a professional ozone cleaning treatment, and this did help. The offending furniture was put into a sealed chamber and blasted with ozone for 24 hours. I was told this is the same procedure that is used to remove smoke damage/smell from household possessions/clothes after someone has had a house fire.
It is also possible to get the professionals to come in to your premises and treat musty rooms with ozone but it requires special equipment including breathing ventilators as the ozone can burn the lungs of anyone/thing that comes into direct contact with it! I suspect the machine I bought to use at home was a much less powerful version of the professional machines so that's probably why it didn't have any effect.
The company I used is called Rainbow International (Disaster Recovery and Specialist Cleaning Services) if you want to Google them. The treatment itself cost £100 plus I paid extra for them to collect and deliver the sideboard from my home.

July 15, 2016
Just for clarification, I should add to my note above: the breathing equipment I mentioned is something the ozone company operatives bring and wear while they are treating your premises; you will have to go out while they do the treatment and take your pets with you.
I hope that's helpful. It certainly has been a learning curve!!
Mrs Miggins
- Bath, England, UK
---
---
April 29, 2017
Q. I have mold in my room, my question is can the smell travel throughout the house even if it's in one room?
Stephanie Rivera
- Ossining, New York
---
---
July 26, 2017
A. I just rented a house built in 1901 and have a very similar situation. The house has a basement but the stairwell is open to the house. It isn't a finished basement but the floor is concrete. The musty odor permeates the entire house, but I must have a very sensitive nose as others say it's not as bad as I think it is. Anyway, I've ruled out pet urine with black light and so am literally trying every remedy I've read about. I've laid out bowls of vinegar, bowls of baking soda, two bags of kitty and litter and two bags of charcoal briquettes. This morning it seems better but the true test will be when I get home and walk in. I've also purchased two box fans to put down there and they have a fan that sucks air out. We live in Utah so water and mold aren't as bad a problem as Florida where I moved from. I will post back with how successful these have been. Fingers crossed.
Lisa Nelson
- Salt Lake City, Utah, USA
---
August 26, 2017
A. I have had success with getting musty odors out of my house by setting a bowl of vinegar in each room. After a day or so the smell was gone! Of course if there is mold growing in your home the smell will come back, so you will have to make sure the source of the smell is eliminated, for long term results.
Amy Lovell
- Coker, Alabama USA
---
December 14, 2017

Seems like an endless problem for a thread that's been ongoing since 2003.. lots of good suggestions. I think I will try them all!
Roger Johnson
- Brookfield, Missouri (USA)
---
January 26, 2018
A. I own several rental properties.

There are several possibilities that have worked for me.

Start with mitigation. If there is visible surface mold or mildew, while using appropriate protective gear start with bleach [I just spray it undiluted]. The black spots will disappear over several minutes. Eliminate the water source(s) [fix leak or use a dehumidifier].

Still have smell?

Get a ULV fogger and a gallon of Concrobium (I'm thinking 1000 SF basement) [Lowes, Home Depot, Menards, etc.], remember to use proper protective gear or a long extension cord and turn the fogger on remotely. Or hire a professional who will use a more powerful regulated product.

Paint cleaned surface(s) to seal them.

Mitigate by ripping out carpets, dirty blinds, and curtains.

To mitigate "dog odor" and the "smoker"... Start by ripping out carpets, dirty blinds, and curtains. Wipe down all surfaces with some cleaning product capable of cleaning oils and tars. Rent a large commercial ozone unit. They must be run while the structure is unoccupied. Wait the appropriate amount of time after they have finished running before airing the place out.

The small $150 ozone machines from eBay or Amazon with repeated use may be able to solve a dog smell. You should not be in the structure while they are operating, follow the directions.

Paint to seal surfaces (if needed).

Jim
Jim Cotton
- Portage, Michigan, USA
---
---
June 2, 2018
Q. We bought a house knowing it had water in the basement previously. I have solved the water problem

Then to get rid of the smell we had a professional come on work many ozone and air cleaning machines. They also scrubbed down the entire absent with strong anti odor products.

We had the ducts cleaned and sanitized.

Guess what … still stinks when you turn on Ac or furnace.

Have tried most hacks found on internet.

No idea where to go from here.
Sam Smith
- Ottawa Canada
---
July 8, 2018
A. My house is 180 years old and on the historic registry. We have a perpetual moldy odor problem that we've mitigated somewhat but it will never go totally away because we've kept as much original plaster as possible, plus the basement is dirt. We also have two rooms on the main floor that were built directly over dirt. The walls are laid-up stone.
We followed our home inspector's instructions to put heavy duty plastic all over the basement floor and called in a professional company to both lay down plastic in the crawl spaces and spray foam insulation onto the undersides of the crawl spaces. Our dehumidifier was installed in the basement with a little motor that pumps water through tubing to the outside of the house so we don't need to keep emptying it. During warm weather we keep air conditioners running at about 70 to 72 degrees in the house when we're away and at about 68 degrees when we're home. We have a security camera that keeps tabs on the air quality and temperature that we can read on our cell phones at any time. During the cool weather, of course, the heating system keeps things dry. The basement has its own thermostat.
I finally found Roomshocker [linked by editor to product info at Amazon] which I use copiously in the basement and bathrooms twice a year. I don't think there is any cheap or permanent solution to true old-house odor. You just need to keep at it. Bleach solutions for washing woodwork, sheets and towels, etc. are a big help and can make you feel like you're doing something -- important when having guests. Throw comforters, pillows, etc. out on the grass in the sun as often as possible during warm weather. Trick question: if you baked an apple pie every day for a year, would that wonderful odor take over permanently?
Earlene Williams
- New York, New York USA
---
November 19, 2018
A. The smell could also be from the wood itself, like fir, for example. Have a house on West Coast of Canada and Douglas fir was used in the 1950s. Well, when I return home to Calgary my clothes stink of 'old house' musty. It's not mold.
Q.
I've been told to start in attics and spray the wood with 50-50 bleach water mix and move on from there.
Anyone have any different solutions?
Darrell Dobell
- Calgary, Alberta, Canada
---
November 22, 2018
A. A moldy smell in our basement was finally "cured" by lowering the relative humidity. Mold spores will still be there, but mold cannot grow well below 50% RH, so a dehumidifier is a good bet in a single space such as our basement. Simply moving the air can help, so a fan works somewhat. Nothing worked as well as the dehumidifier. A household AC unit does this for a whole house, but it is a constant battle wherever natural humidity is high.
Roger Williams
retired engineer - Rapidan, Virginia, USA
---
November 29, 2018
A. I have a 130 year old Victorian with a damp cellar and the absolute best combination of attack strategies for dealing with my own funky old house smells has been a large dehumidifier in the cellar, and an ozone generator.
Where and how you install the ozone generator would depend on your goals (musty ambient basement smell elimination vs musty odor in heating ducts).
I run a small Uvonair in my main floor hallway, and find it very effective for low levels of dank odor that might make their way up from the cellar on damp days and sneak under the door jamb. My furnace and ducting doesn't seem to harbor any stinks. It's just the wet end of the cellar, nearest the stairs of course, that goes a bit 'off' after a rain! :/
Your goal is to match the volume of the space you need to de-funk-ify to the wattage of the generator, and get the SMALLEST one that is effective. For home use, a low wattage ultraviolet light bulb and fan unit is infinitely safer (and uses less electricity) than a super powerful UV or corona-discharge industrial one like a mold remediator would use to do a one-time visit; they would set it up, LEAVE THE AREA, plug it in from outside, wait a few hours, unplug it, ventilate, and THEN reenter the house. Ozone is dangerous and can harm your lungs if you are exposed to too much, but at low levels (too low to smell if you are more than a couple feet from the discharge) it is quite safe. I would still never use it in a bedroom.
There are also models that can be fitted inline in a round heating duct, and if your most annoying issue is odor in the HVAC system, this may be worth looking at. Just don't put it *too* close to the furnace or AC- temperature extremes will shorten bulb life. It should be pretty easy to install. It's also a good idea to have your ductwork cleaned at the same time, in case there's anything in there contributing to the odor.
Anyway, I can't say enough how simple and effective this fix has been for me. Link to website includes a chart for calculating watts vs cubic feet- and I would still go a tad lower, because I have a strong suspicion that this is oriented towards agricultural users rather than 24-7 in-home use. I think mine is a 40 watt but it's at least 10 years old and the exact model is discontinued so I'm not sure.

https://www.uvonair.com/product/uvonair-room-1000-3000-5000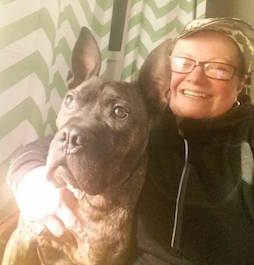 Rachel Mackintosh
Plating Solutions Control Specialist / Industrial Metals Waste Treatment - Brattleboro, Vermont


If you have a question in mind which seems off topic, please Search the Site