Live! From beautiful Pine Beach New Jersey: Welcome to the world's most popular metal finishing website
topic 23909
Problems in zinc plating of cast iron
A discussion started in 2001 but continuing through 2018
2001
Q. Hi,
We are doing Zinc Plating on Iron Casting (Potassium Chloride Bath). The component is machined after plating. After 4 to 5 hours of machining, stain marks develop from the plating edges and moves inside the machined area. We had been plating the same component for the past year without this problem.
Trials conducted:
1) Fresh plating solution prepared
2) Plating solution of another company tried out
3) Electrolytic cleaning included.
Any suggestions would highly be appreciated.
Thanks,
Rajesh Kumar
- India
---
---
Problems in acid zinc plating on cast iron
2001
Q. DEAR SIR,
I HAVE GOT A PROBLEM, I AM DOING ZINC PLATING WITH YELLOW PASSIVATION ON CAST IRON BODIES IN ACID ZINC BATH. IN THE PROCESS THE PLATING IS GOOD BUT LATER ON THERE ARE PITS OBSERVED AND THE YELLOW PASSIVATE FADES. KINDLY GUIDE ME THE EXACT PROCESS TO FOLLOW FOR PLATING ON CAST IRON BODIES. MY PROCESS IS AS UNDER.
1.CLEANING IN ALKALINE SOLUTION
2.WATER RINSE
3.ACID PICKLING (HCL)
4.WATER RINSE
5.WATER RINSE
6.ELECTRO PLATING IN ACID ZINC BATH
7.WATER RINSE
8.DIP IN YELLOW PASSIVATION
9.WATER RINSE
10.NATURAL DRY
AFTER FOLLOWING THIS PROCESS THE RESULT ARE NOT SATISFACTORY.PLEASE HELP ME IN THIS MATTER.
KIND REGARD,
XAVIER FERNANDES
INDUSTRIAL PAINTING - HUBLI, KARNATAKA, INDIA
---
2001
A. You could try doing anodic cleaning in NaCN solution after acid pickling and prior to plating it may help; please let me also know if you succeed.
Viney Chaddha
- Gurgaon, India
---
2001
A. You have not mentioned the grade of Casting, assuming the grade to be 25, before Yellow passivation dip in 2% HNO3 and rinse Dip in Yellow passivation and spin dry in a Centrifugal dryer at about 50 °C.
MAHENDRA gARGATTI
- Belgaum, Karnataka
---
2001
A. Many castings are porous. It is common for chemistry to leak back out of these pores after finishing, causing the described types of failures. One technique which I have used in the past has been to alternatively dip the finished part in clean cold, then hot rinse water tanks, repeating several times. This will cause the metal casting to expand and contract slightly, thereby drawing in and expelling the water, and rinsing to some extent the pores. Thorough drying must be achieved with time in a hot air box, fan-forced type dryer.
Brian A. Calver
- Grimsby, ON, Canada
---
---
To minimize your searching efforts and to offer multiple viewpoints, we've combined some threads into the dialog you're viewing. Please forgive any resultant repetition or failures of chronological order.
---
---
2003
Q. I have inconsistent plating results when sending out gray cast iron valve bodies for zinc dichromate plating. There are two reoccurring problems. The first is a lack of plating coverage in low current areas on the exterior of the casting. An example would be the inside corner of the port flange on the valve body. The more complex the shape of the valve the more problems I have with plating coverage. Are there suggestions I can give the plater to reduce these occurrences?
The second problem is in the appearance of the body after plating. White chalky spots show on the body surface. The appearance will continue to deteriorate over time. I have been told that this is chemical bleed out from the plating process. I have tried impregnating the casting with a Loctite LRTC product with little improvement. Is there any preparation that I can do to prevent bleed out and staining from occurring?
John R
[last name deleted for privacy by Editor]
fluid products mfgr. - Mauston, Wisconsin, USA
---
A. Hi, John. The impregnation should help on the bleedout issue. But you can't give the plating shop a pass; it is they who must satisfactorily plate the parts.
It is possible that the shop you are working with uses an alkaline zinc plating process whereas acid zinc plating may give better coverage on cast iron. In any case, careful rinsing will minimize staining, alternately rinsing in hot and cold water can be effective in getting the plating solution out of the pores.
Regards,
Ted Mooney, P.E.
finishing.com
Pine Beach, New Jersey
Striving to live "Aloha"
---
---
To minimize your searching efforts and to offer multiple viewpoints, we've combined some threads into the dialog you're viewing. Please forgive any resultant repetition or failures of chronological order.
---
---
White spots on zinc plated cast iron bodies
2004
Q. Hallo,
I'm looking for some help on a yellow passivation treatment on a cast iron finished body (EN-GJL250). During the zinc plating process it looks to reach a good result. After some weeks, on the body surface, come out little white spots. These spots become larger during time and our customer reject all supplied components. Our supplier cannot solve this problem and we are in trouble. Is it depending on the material composition? Could anyone help us?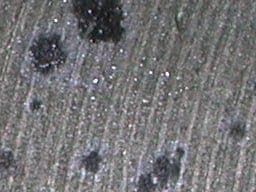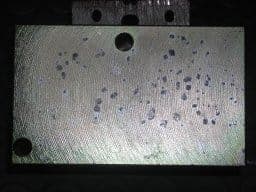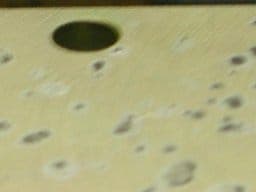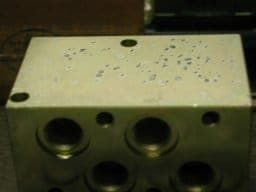 Thanks in advance, best regards,
Pingani Davide
fluid power engineer - Vezzano s/c, Reggio Emilia, Italy
---
2004
A. This kind of spotting out is normal for castings that will be zinc plated. Degassing or vacuum impregnation may help minimise but will not be a 100% fool proof solution to this problem. Try E- Coating the part instead.
Khozem Vahaanwala
Saify Ind
Bangalore, Karnataka, India
---
2004
A. We have had many years experience with plating cast iron, what we have found that this defect can arise when the part is overpickled. His results in surface porosity and the corrosion is from inside out. Try using a weaker pickle or utilize inhibitors to limit metal attack.
Martin Sullivan
- Merthyr Tydfil, United Kingdom
---
2004
Q. Thanks for your interest, I've already spoken with our customer and he told us that he use a hydrochloric pickling bath for about 15 minutes. I asked him what he think about and he said that we cannot decrease pickling time 'cause our body needs it. Which kind of inhibitors shall we use? Shall we decrease our level of acidity or do we need another kind of acid bath?
Thanks a lot,
Pingani Davide
[returning]
fluid power engineer - Vezzano s/c, Reggio Emilia, Italy
---
---
Can't get shiny consistent zinc plating on spheroidal graphite cast iron
July 22, 2015
Q. Hi,
Trade in truck spare parts.
Of of the components that fits into the wheel, is a bracket that weighs 0.600 KGS, made of SG iron graded casting. It's NOT machined at all, hence its got the grainy surface.

We've tried our level best to bring about a shiny zinc surface to it and have taken following measures:

1) Shotblasted the components with fine grand for like 45 minutes per batch
2) Use Electrogalvanising tank/dip style (not in barrel)

But somehow, we are never able to achieve the shiny surface. The final appearances are like this:

1) kind of average zinc finish
2) yellow spots on surface here and there

The only solution to this is that we've to use a Chrome based spray paint which matches the overall finishing, but is damn expensive.

Please suggest where can we be going wrong?
Guneet Sahni
- Jalandhar, Punjab, India
---
August 12, 2016
A. If you cannot seal the porosity adequately and your client will allow a copper plate, castings can quite often be sealed with a cyanide copper plate and then subsequent zinc plating. Cyanide copper is nearly 100% efficient and there for similar to acid zinc the castings will usually cover, and being highly conductive the zinc deposit will readily plate over the copper. In the galvanic series zinc preferentially corrodes to both iron and copper and therefore the zinc will still corrode preferentially. Iron on the other hand corrodes preferentially to copper.

The only two drawback here is possible migration of the zinc and copper at the interface that over considerable time may spot out, and the other would be how critical the dimensional issue may be with say a .0002" copper deposit in addition to your zinc deposit.
Jon Hibbard
- Albert Lea Minnesota USA
---
---
Zinc Plating on FM Steel and Ductile Iron Issues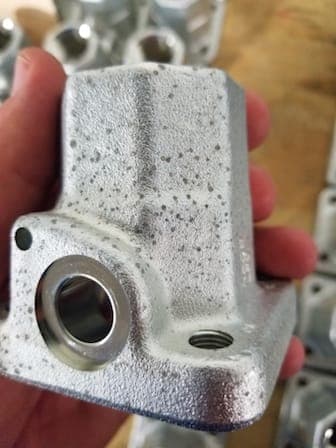 August 2, 2017
Q. We are running chloride zinc on some parts. The parts are coming out bright and plated perfectly. 2 days later, they are spotting and rusting like there is chemical leaching out or pores much like a bad casting will do. Any suggestions on how to stop this or fix it?
Brandon Boyd
Plating Facility - Holdenville, Oklahoma USA
---
August 8, 2017
? Hi Brandon!

What type of steel parts? Is this cast ductile iron or SAE 1212/similar? Leaded steel?

Can you give us a hint of how you prepare the parts prior to plate them? Maybe we can help you that way.

Regards!
Daniel Montanes
TEL - N FERRARIS - Canuelas, Buenos Aires, Argentina
---
August 21, 2017
Q. It is 1215 steel. We run through alkaline cleaners, rinse, 40% hcl, rinse, plate, rinse, 1% nitric post dip, chromate, rinse, hot rinse, air dry.
Brandon Boyd
[returning]
Plating Facility - Holdenville, Oklahoma USA
---
August 28, 2017
A. Hi Brandon!

It is a tough one... These black spots appear only in the non machined surface, or are they all over the part?

The rough surface in the non machined area is like cast iron, is it really SAE 1215?

What thickness is required for this part?

Do you use hex or trivalent chromate?

I think there are too many questions and few answers...

Best of luck!
Daniel Montanes
TEL - N FERRARIS - Canuelas, Buenos Aires, Argentina
---
August 2017
Hi. Although I'm no metallurgist, I have to agree with Daniel that this certainly looks like a casting, not a rolled or forged item … in which case, yes it is probably bleedout from the pores. Vacuum impregnation can probably eliminate the problem, but who pays for it -- you or your customer?
Regards,
Ted Mooney, P.E. RET
finishing.com
Pine Beach, New Jersey
Striving to live "Aloha"
---
July 26, 2018
A. Hi, the problem is in cast iron and solution is shot peening and humidity and casting sand.
Controling humidity and spheroidal graphite is necessary.
70% trapezium grit and round grit 30%.
Magnesium content in smelter controls spheroidal graphite and lowers pores.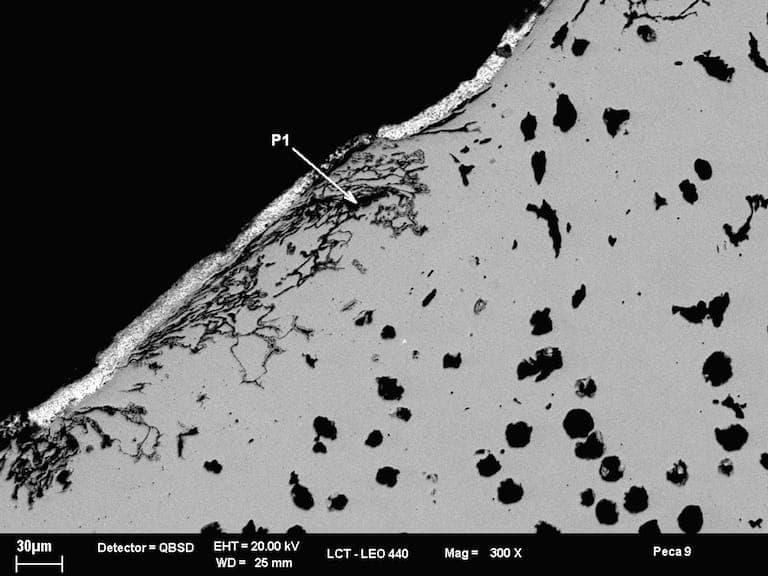 Rogerio Rosenzweig
- Sao Paulo, Brasil
----
See also letter 38946, "True that cast iron can't be Zinc Plated?"


---
---
August 7, 2018
Q. Hello,
Please, I would like to ask if are some risk of over-pickling for cast iron in HCl acid (change dimension of parts, hydrogen embrittlement? I am not sure).

concentration of HCl - 13-20%
temperature - 15 - 35 °C
optimal time - 7 min 14 sec

Sometimes happens, because of breakdown, parts stay longer in pickling tank. Parts should be just scrapped or can be used after finishing zinc plating process?

Thank you very much for your answer.
Jozef Mobis
- Slovakia, Zilina
---
August 2018
A. Hi Jozef. I would anticipate neither hydrogen embrittlement nor significant change of dimensions from over-pickling of cast iron parts which will be zinc plated. But what I would anticipate would be difficulty in successfully zinc plating them. Over-pickling can leave carbon (graphite) on the surface and greater porosity which can lead to excessive staining, bleedout, etc.
I think the correct answer is, unfortunately, that nearly any breakdown will generate "out of spec" components, which means that the particular lot must be isolated and evaluated as to salvageability rather than making a salad of good and potentially bad parts. As the world increasingly moves towards treating electroplating as a critical process rather than as a 'commodity', we'll find that 'breakdowns' become financially unacceptable and will stop happening. Best of luck.
Regards,
Ted Mooney, P.E. RET
finishing.com
Pine Beach, New Jersey
Striving to live "Aloha"
---
August 9, 2018
Q. Thank you very much for your answer Ted, it is really useful for me. I need to make stable our process and I am just a newcomer here.
I have, please, one more question, after plating sometimes happens, that parts have to be rework because of not sufficient zinc layer - In our company we have rule rework max 3 times. Is this OK ? Can multiple rework process lead to some problems with parts? (I suppose multiple insert to pickling tank can be problem, Am I right?)

Thank you very much again.
Jozef Mobis
[returning]
- Zilina, Slovakia
---
August 2018
A. Hi again. Yes, multiple rework processes can cause problems.
Way back when automobile bumpers were usually nickel-chrome plated, so there were lots of bumper manufacturers, there was sort of a standard about reworking vs. scrapping that a lot of shops followed: a rejected bumper was stripped (often just of its chrome plating) and sent for a second trip through the nickel plating and chrome plating tanks. If it was rejected a second time, it was scrapped. The reason it was scrapped after two tries probably had less to do with potential functional problems from three trips through the nickel tanks, and more to do with the simple economic premise that we don't really know why it failed twice, but the likelihood of it failing a third time due to something we don't understand or haven't accounted for is probably fairly high, and clearly higher than for a raw part.
Although the economics, logistics and type of plating are different in your case, the same general thoughts might apply: if a given part was rejected, then replated, then rejected a second time, it may be best to cut your losses. I can't prove that it would fail on its third time through, but I can say with pretty good confidence that the rate of success drops with each re-do.
Regards,
Ted Mooney, P.E. RET
finishing.com
Pine Beach, New Jersey
Striving to live "Aloha"


If you have a question in mind which seems off topic, please Search the Site