60,000 Q&A topics -- Education, Aloha, & Fun
topic 23304
Powder Coating Adhesion Testing
A discussion started in 2000 but continuing through 2019
2000
Q. Sir, Is there a more accurate test method for adhesion of powder coat than cross hatch and pencil hardness? These are subjective and somewhat inconclusive. Please forward any additional methods that would be repeatable back to me. Thank you
David Ostrosky
- Booneville, Arkansas
---
2000
A. Accurate test method: If you're using the right specified tape, cross-hatch cuts, procedures as per your adhesion testing standard used and the same as the pencil hardness test. Your tests should be as accurate as it should be. But you can include more severe tests like Mandrel bending, impact, pressure cook or permeability(done on sample plates), sawing and milling-(on sample product)to reinforce your quality systems (ISO test methods). Dubious results may warrant adhesion failure of your product.
Carpo Tirol
- Brisbane, Australia
---
February 18, 2010
-- this entry appended to this thread by editor in lieu of spawning a duplicative thread
Q. Dear sir,

We have a powder coating plant and we want to test our powder coating components. please can you suggest a test method for powder coating components?
Presently we are using peel off test; can you suggest this method in detail?
pavan kumar
engineering - India
---
2003
Q. Is there an ASTM standard for the adhesion testing of powder coat on perforated metals? If so, what is it? If not, is there an accepted method in the industry and what is it?
Paul Brown
- Dayton, Ohio
---
A. GM9071P describes Tape Adhesion for Paint Finishes. I realize that is not your exact application, but it better describes the tape than the ASTM method.
Cynthia L. Meade
- Sylvania, Ohio, USA
---
November 8, 2008
A. As with most people trying to obtain results using the "tape test", my frustration was with the variation in the method more so than the tape. The ASTM D3359 [affil. link to spec at Techstreet] has an appendix that highlights some of the "Procedural Problems", such as the method of application of the tape and the angle it is removed. While searching the ASTM website for this standard I found links to companies that have made equipment that take that variation out of the test. It's interesting to know a problem that has been around for a long time has only recently been solved. I've done thousands of these tape tests now and can probably offer some decent advice on how to make them more consistent from operator to operator and from time to time. Thank you.
Dolph Himmelbauer
- Cincinnati, Ohio
---
Q. What is the recommended tape to test according to GM9071P (tape adhesion test for paint finishes)? The more adhesive the tape the better reliability? Can I test the tape strength (N/m) by using a load cell and a caliper?
Rodrigo Madrid
wiper systems - Juarez, Chihuahua, Mexico
---
A. GM 9071P mentions 3M 610, 3M 670, or 3M 898.
Christa Shirey
- Sylvania, Ohio, USA
---
January 21, 2009
Q. Why can I not use ASTM D3359 [affil. link to spec at Techstreet] on a paint with a hardwood substrate. Why does it matter if the blade may cut into the wood? The paint will come off the substrate if not well adhered.
George Pecoraro
consultant - Lower Burrell, Pennsylvania
---
March 26, 2009
Q. I'd like to add a variable to the tape adhesion test issue. Our coatings are exposed to moisture for extended periods of time. We perform a standard cross hatch/tape adhesion test but follow up with a water resistance/tape adhesion test. We place a wet cotton ball on the cross hatch pattern for 24 hours. We then remove the cotton ball, thoroughly dry the surface, apply tape and remove. We would like to know if there is an ASTM or other standard available for this - Does anybody know about this test?
Steve Coven
- Skokie, Illinois
---
January 27, 2010
Q. Dear Sir,
Please let me know the adhesion property of tape to be used for peel off test of paint on ferrous surface.
Khare
Rakesh Khare
- Jhansi, Uttar Pradesh, India
---
July 6, 2015
Q. What are the reason of cross cut failure in powder coated components
Amit Sondhi
- India, Thane
---
---
Adhesion test method
August 18, 2019
-- this entry appended to this thread by editor in lieu of spawning a duplicative thread
Q. How many blocks or % peel off is allowed in adhesion test and
is water boiling test the ultimate test for powder coating.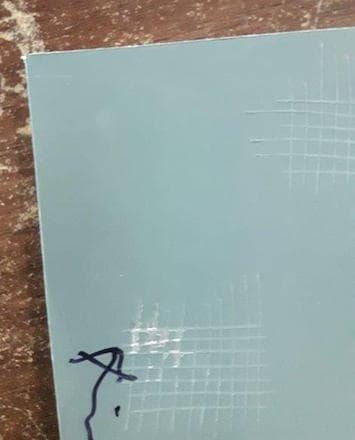 Manish Kale
- Gujarat, India
---
September 6, 2019
A. Read ISO 2409 [affil. link to spec at Techstreet] cross-cut test, then you will find answer! YES! IF boiling water cross-cut test passed, most of test of powder coating will pass too!
ANKA QIU
- GZ CHINA
----
Ed. note: Please see also topic 46657, "Process/Procedure for Cross Hatch Test - Measuring Adhesion by Tape Test" and topic 13961, "Strength of a powder coated part"