topic 23085
Streaking problems in anodizing extrusions
(2003)
Q. (6061-T6 material) My company designs and manufactures powered surgical hand-pieces. The housings for these hand-pieces are often machined from extruded aluminum shapes. We are struggling with getting to the root cause of a "streaking" problem that the anodize process brings out. The parts are machined and the remaining extruded surfaces are buffed, polished and glass beaded. When they leave the plant, they look very uniform cosmetically. After anodize, which is a type II clear coat, they have axial (along the axis of the extrusion) streaks in the part and we loose very expensive parts at the last operation. Our anodizer says that the etching is brings the lines out, but they cannot offer any solution. Does anyone have any ideas about what this may be?
Thanks for any help.
Roger McPherson
- Santa Ana, California, USA
---
(2003)
A. We are both a CNC machine shop and anodizing job shop. I agree with your anodizer that the etching process does tend to enhance the grain structure, but one option we've used is to not etch the part at all, but leave it in the alkaline cleaner slightly longer. Instead of testing a whole run of your very expensive parts, test one piece and see if the finish improves.
Bill Smith
- Trinity, North Carolina
---
(2003)
A. Send a small lot of parts to an anodizer that uses non etch cleaners and preps. Very few anodizers use this, because it is not needed for 99% of their parts. The quality of the extrusion depends on the extruder, not the anodizer. Extrusions are only a tiny bit better than casting in many cases. I have seen absolute garbage extrusions that customers were irate because the anodize brought out the flaws that you could see before you started if you washed the part and looked closely.
James Watts
- Navarre, Florida
---
(2003)
A. Make the last polishing or buffing operation ACROSS at 90 degrees from the direction of the streak. Cut the alkaline etch concentration down to 6 oz/gal and 135 °F, transfer to rinsing rapidly. Discontinue glass beading altogether. If the glass beads are used on other metals then you are pounding non-aluminum into aluminum; better, just skip the glass beading, which also work hardens the surface, more in some areas than others.

Robert H Probert
Robert H Probert Technical Services
Garner, North Carolina
---
(2003)
A. The above ideas are good. 6061 T6 is sensitive in the quenching operation after extrusion. Improper quenching will bring out Mg silicides. This is a long shot as you machine the metal before anodize. Try another extruder.
Jon Quirt
- Minneapolis, Minnesota
---
March 29, 2012
Q. Dear All,

Recently we have started Anodizing on pre fabricated Aluminium profiles and are facing the problem of caustic stains. These are not going even after doing proper desmutting.
Arun Nath
- Bangalore,Karnataka, India
---
March , 2012
A. Hi, Arun.
Where are the caustic stains coming from … your own process? If so, start with Bob Probert's advice about caustic concentration, temperature, and quick transfer. Please get back to us with more detail.
Regards,
Ted Mooney, P.E.
finishing.com
Pine Beach, New Jersey
---
---
April 24, 2013
Q. We purchase and machine 6061-T6 extruded bar in 1.25" diameter. The finished product is Type II anodized and has a high requirement for cosmetics (color match, consistency, etch, etc.). Recently we've come across (for a second time) lots of aluminum that have what look like water spots in them. This is best described as a spot that has a slightly different reflectivity. Our guess is that it is material that wasn't alloyed properly but we're not intimately familiar with the extrusion/ingot process.

These spots are noticeable before anodizing and very noticeable afterwards. This may yield thousands upon thousands of dollars in scrap.

What is causing these material flaws? How can we avoid them? Should we pursue the material supplier?
Rob F
- Atlanta, Georgia
---
April 24, 2013
A. Hi Rob. Hopefully you'll get some clues in this public forum, but when thousands upon thousands of dollars is at risk, you should immediately hire an aluminum finishing consultant to see the situation firsthand.
Regards,
Ted Mooney, P.E.
finishing.com
Pine Beach, New Jersey
---
April 25, 2013
A. What Ted Mooney said plus if the spots are elliptical, the extruded bar is probably "cold drawn", in which case, get some bar that is not cold drawn.

Robert H Probert
Robert H Probert Technical Services
Garner, North Carolina
---
April 29, 2013
A. Can you please post a photograph of the defective sample?

Thanks.
Srimay Basu
- Dubai, U. A. E.
---
---
March 5, 2014
Q. We are having problems with extruded 6063 T6 aluminum tubes for which we specified and purchased custom sized, extruding dies. Is there anything that can be done with the extruder to reduce streaks and spots in our extruded metal after anodizing? We are machining 1.5 mm off the extruded surface presently; would we get better results machining off a greater amount? Aside from specifying AQ material and temper, is there anything we should require of our extruder in way of extrusion specifications that would reduce the streaks and spots? Thanks for any advice regarding.
Scott Thompson
- Broomfield, Colorado
---
March 7, 2014
A. Scott

I would get samples from your extruder of the same alloy drawn through other dies that are comparable (as best possible) and have them anodized to your current process. By comparable, I mean similar wall thickness.

Without seeing pictures, its hard to venture a guess if root cause is the extrusion process or the anodize process. Both can produce similar results.

There are variables the anodizer can control to minimize the appearance of the streaks & spots, but not eliminate.

There are numerous threads here discussing this issue. I suspect it has to do with the cooling rate / method once drawn.

Good luck.
Willie Alexander
- Colorado Springs, Colorado
---
---
Vertical streaks with hard anodizing after coloring
July 23, 2018
Q. Hello
The problem is manifested when solid anodizing and coloring in black alloys 7xxx, 6xxxx series. When anodizing alloy 2024, there is no problem.
The problem lies in the vertical stains that can be seen in the photos. These streaks are visible after the caustic etching step and washing on a dark film that is formed during etching. After the clarification stage in the nitric acid solution, the part becomes light and no streaks are observed. After the hard anodized sulfate, the film is uniform and no irregularities or streaks are seen.

Flows occur after the stage of staining and washing.
The caustic etching solution was changed. The nitric acid solution for clarification was changed. Washing was changed. The problem did not go away.
For some reason, the temperature of the environment has increased in the industry. Could this be the cause of this problem? Has anyone encountered such a problem?
In the morning, with the first cycle of anodizing, there were no issues. Parts were perfectly black. Temperature of 24 °C (75 °F). Issues with vertical stains begin during second cycle, when the temperature was 34°C (93 °F).
Parts on the suspension are placed in 3 rows, 6 pieces per row. Top row has the most noticeable stains, middle tier slightly noticeable stains, and the lower row has no defects at all.
Parts between containers are transferred manually, which takes 2-3 seconds.

I will be very grateful for the help in this matter. Thank you.


(Click thumbnails for higher rez photos at original source)

General view of the galvanic holder: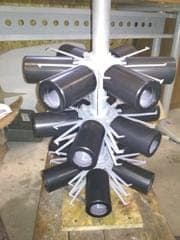 Detail view from the top row: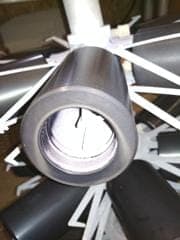 View from above detail top row: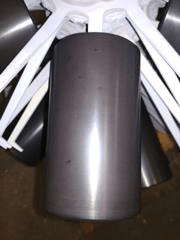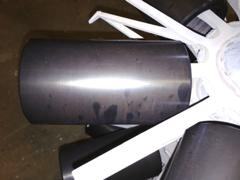 Bottom detail view top row: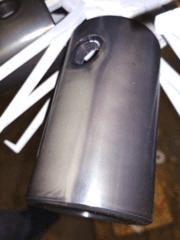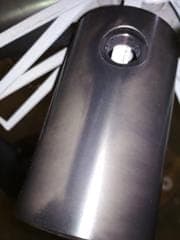 Detail view from middle row: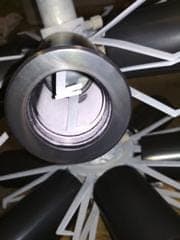 Bottom detail view middle row: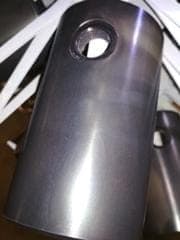 Detail view from lower row: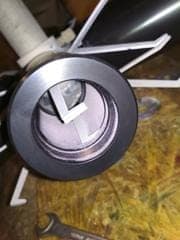 Bottom detail view lower row: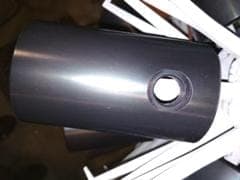 Photo details that are anodized one row: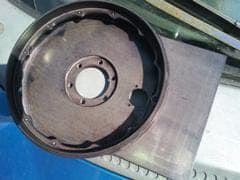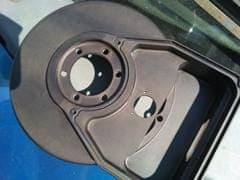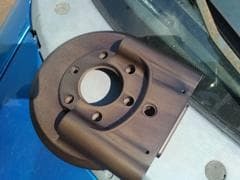 Oleh Hurenko
Technologist - Ukraine Kyiv
---
July 26, 2018

A. Because the top row is the worse and the bottom row is OK, and because tremendous gassing is developed from the inside of the tubes and this gas is funneled toward the center, then the hydrogen gas evolution is scrubbing away the solution and current form the top row.

Re-rack so that the gas evolution will not scrub solution away from the parts above.




Robert H Probert




Robert H Probert Technical Services





Garner, North Carolina






---

July 27, 2018

A. Hello Mr. Hurenko,
That's awfully warm for anodizing! You should really be under 72 °F for regular anodize, and much cooler still for hard anodize. Are you running a chiller and mixing your tanks briskly during the processing? The first thing to do is get your temperature under control.
I'm seeing a couple different types of marks on parts on the same rack- dots and smears- and you may have multiple things going on.
I'd also think about your racking. Good stiff rack fingers, appropriate number of contact points for the surface area of the part, correct rack geometry for part geometry, tight bolts on the racks, and a tight connection between racks and flight bars.
My view from here is if you optimize tank temperature and mixing, and then look at whether your racks are able to carry current adequately, you will see a huge improvement.

It would be helpful to see the racking orientation of the parts in the lower pictures- coming off the holes, the staining does look like bleed out. You say you are using a nitric step between anodize and dye? That does help a lot. But a really vigorous spray rinse as the parts are coming out of each bath is still important.


Start first off looking at your soap. Is there oil or wax on the surface when the agitation is turned off and the tank allowed to rest? The best time to chevk is first thing in the morning before startup. Some of the marks look like soap stains. I've seen this happen when we run heavy throughput of extrusions that had a waxy substance on them when they came in. It was very difficult to get a good water break (clean sheet of water, no droplets) after rinsing. That will certainly affect the ability to etch evenly and would account for the marks that are most randomly distributed with no obvious correlation to holes or rack points.




Rachel Mackintosh




Plating Solutions Control Specialist / Industrial Metals Waste Treatment - Brattleboro, Vermont






This public forum has 60,000 threads. If you have a question in mind which seems off topic to this thread, you might prefer to Search the Site