60,000 Q&A topics -- Education, Aloha, & Fun
topic 23007
Pitting Problem in Acid Copper Plating
2003
We are manufacturers of PCB and we have been having constant pitting problem in one of our acid copper plating tank. We have fixed the sparger and checked the filter for air leaks and tested the solution for particles with no results. We carbon treated the solution and brought the level of all the ingredient to optimum required levels and plating results are the same. Any ideas?
Sanay Beri
- Naperville, Illinois
---
2003

Sanjay,

The following may help.

1) Check the level of both Brightener and Carrier .
2) Chloride levels. Recheck the chloride using fresh reagents.
3) Do a simple Bent Panel test in a beaker and see if the pitting results can be replicated.
4) Assuming your solution is not contaminated with resin from the boards, or Oil , or that there is no form of chrome in the bath , it is then safe to assume the pitting is possibly organic contamination.

In which case draw 5 liters of bath, treat with Potassium Permanganate @ 1 gram / lit, hot at 60- centigrade, Carbon at 3 g/l stir for an hour at 60 then settle for 6 hours and decant .

Filtering the actual bath over Carbon cartridges is a good idea replacing the 6 hour wait, messy carbon handling.. In which case no carbon need be added to bath.

Make up the solution with additives, and run Hull cell panels with a proper anode, with air. Check.

The pitting , if caused by a organic impurities will go away.

Excess additives enhance the tendency pit.

So does lack of wetter.

It is advisable to check wetter content and surface tension at this point of time. 40 Dynes per cm is a suggested middle number. Check with your supplier too for accurate numbers. Some PCB systems have additional wetters.

Good luck.


Asif Nurie [dec.]
- New Delhi, India
With deep regret we sadly advise that Asif passed away on Jan 24, 2016



---

2003

It is possible that the preparation for acid copper plating does not remove all the soils. Anything left on the surface may cause pitting. I suggest an experiment: Wet sand a panel using 600 grit emery, rinse, acid dip, D.I. rinse and plate in the acid copper bath. Sanding should remove the type of imperfections that cause pitting. If no pitting, reevaluate your entire cleaning and preparation cycle. Look especially for traces of photo resist or other resist residues.




Ted Mooney, P.E.




finishing.com - Pine Beach, New Jersey




Striving to live Aloha




---
2003
One additional thing to consider is excessive resistance between your anode + cathode. If your anode bags or diaphragm between your anode and cathode is too tight a mesh or if it is sludged up (plugged), you simulate a set- up with insoluble anodes. Have you tried switching one of your "good" baths into your "bad" tank? Does the problem stay with the tank or move with the bath? That would also help your trouble shooting.
Bob Edwards
- Endicott, New York
---
2003
We fixed a similar problem where I last worked by replacing the cleaner bath. When it reaches it's end of life, it does not remove resist residues completely which creates sites for bubble formation.
John Nelson
- Leesburg, Virginia
---
2003
Maybe imperfectly filtration. If you use filter paper ,you will find carbon. I sometimes find such thing in our customer bath. Of course, They have no any other problem.
SE DO JANG
- korea
---
April 1, 2009
Dear Sanai,
I recommend you to please concentrate on the etching and activation of the PCB, including electroless Ni or Cu whatever you are coating. Concentrate also on Degreasing, Anti-pit concentration, filtration and agitation.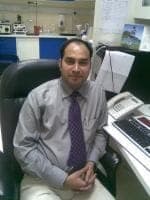 Shafiuddin A. Mohammed
metal coating shop - Dubai, United Arab Emirates