Where the world gathers for
plating, anodizing, & finishing Q&As since 1989
-----
Anodizing of aluminum thinfilm deposit
Q. I am dealing with a 6061 aluminum application that runs in contact with fibrous materials which develop black color I assume from the natural aluminum oxide being wiped off. It is not necessary to 100% eliminate this, but I would like to significantly reduce the black transfer onto the fibrous material. I am considering anodizing the aluminum to prevent this, but want to minimize anodize build up on the aluminum surface due to concerns of changes to surface tribology, flaking (contamination) and possible reducing heat absorption. Are there guidelines that may help specify this type of minimalist anodizing process?

TIA
Gregg Nader
Product Manager - Bellows Falls, Vermont
June 19, 2023
---
---
↓ Closely related postings, oldest first ↓
---
---
Q. Is it possible to anodize a thin film that has been deposited onto an insulator? For example, 5000 angstroms of Al on a quartz plate.
Troy Reichard
1998
A. Troy,
Thin films of aluminum can be anodized using a barrier anodization technique where the thickness of the anodized layer is proportional to the applied voltage. It is very important that there not be any tramp chlorine ions in the electrolyte. This type of anodization is used to make thin film capacitors.
Donald M. Mattox
Society of Vacuum Coaters
Albuquerque, New Mexico
---
---
Verifying very thin (1-2 microns) anodize layer
Q. I have some parts that have been clear anodized. The anodize coating (per anodizer) is very thin (~2 microns). It appears to still conduct electricity. Is there an alternate method to check for an oxide layer such as testing reaction to some chemical?

Based on prior issues I think the layer is too thin to resist penetration by ink. I work at a machine shop that has had issues with wear on parts that have been anodized and I want to verify the presence of clear anodize on 2024 aluminum. The appearance of the metal is identical before and after and it still conducts electricity.
Tim Fraser
Buyer - Engineer at a machine shop that anodizes aluminum. - Cincinnati, Ohio
2007
A. At the risk of slight simplification, it sounds like you have an "anodized coating" that is too thin to be visible or dyeable, or to provide either wear resistance or electrical insulation. Therefore the question of whether it's actually there or not may be rather moot.

Most anodized coatings are about .0002"; coatings of .0001" are for interior use only and very limited abrasion-- and yours are only half of that. But I would still expect it to be electrically resistive. If it's a serious contract dispute, a lab could take SEMs that would show you what you have.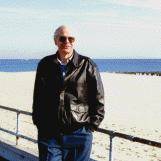 Ted Mooney
, P.E.
Striving to live Aloha
finishing.com - Pine Beach, New Jersey
A. By far the easiest method of checking is electrical. However, a flat probe must be used (rather than a needle tip which punctures the coating). From Aluminium Federation Bulletin 39 data given on p. 1054 (6th edition) of The Surface Finishing and Treatment of Aluminum and its Alloys [on AbeBooks, on Amazon, on Ebay (affil links)], 2-3 microns of anodize on an alloy such as 2024 has a breakdown voltage of ~100 Volts.
Ken Vlach [deceased]
- Goleta, California

Finishing.com honored Ken for his countless carefully researched responses. He passed away May 14, 2015.
Rest in peace, Ken. Thank you for your hard work which the finishing world, and we at finishing.com, continue to benefit from.
---