topic 2335
Cerium plating?
(1998)
I would like to know if it is possible to plate cerium from an aqueous plating bath. I work for a small thinfilm coater that is interested in plating cerium. Any information on cerium would be helpful.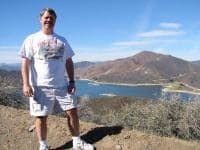 Mark Batich
plater - Atlanta, Georgia
---
(1998)
Cerium is in a group of radioactive metals. This could be a big bucket of worms.
There is only one reference given in Lowenheim's Modern Electroplating. It can not be deposited out of an aqueous solution. The one reference deposited it out of an alcohol that I am not familiar with.
James Watts
- Navarre, Florida
---
(1998)
Mark,
I am afraid that cerium is a very oxygen-active material that would oxidize in an aqueous bath. You might be able to do it from a molten salt bath or from a non-aqueous electrolyte. Cerium is often deposited using Physical Vapor Deposition (PVD) processing such as vacuum evaporation but the resulting film will rapidly oxidize when removed from the vacuum chamber unless protected.
Donald M. Mattox
Society of Vacuum Coaters
Albuquerque, New Mexico
Ed. note:
Mr. Mattox is
the author of -->
---
June 13, 2012
A. I have successfully plated cerium onto copper from an aqueous solution of Cerium Nitrate. It's very easy but you just have to work quickly (your solution will oxidise within 10 min or so), or work under nitrogen or argon.

Of course you can co-deposit Ni-Ce alloys easily also -- just search for "electroplate cerium nickel" for papers on the topic.
Mark Snoswell
- Adelaide SA Australia


This public forum has 60,000 threads. If you have a question in mind which seems off topic to this thread, you might prefer to Search the Site