Where the world gathers for
plating, anodizing, & finishing Q&As since 1989
-----
Desire an aluminum to wood screw with no galvanic action
2003
Concerning a house right on the Gulf of Mexico,... the salt atmosphere corrodes "everything". There is some painted Aluminum attached to wood structure with screws. Which kinds of screws would be best to avoid sea air corrosion and galvanic action with the Aluminum.

Also...are there any plastic washers available that would prevent contact between the screw and the aluminum sheet?
Philip G. Dragonetti
- Largo, Florida, USA
---
First of two simultaneous responses -- 2003

You can get plastic washers from suppliers like Grainger by the box at affordable prices. Cadmium is very close to the galvanic potential of aluminum, so if you do not abuse the coating, cad plated fasteners would work best. Stainless steel will do fairly well also. Tin-zinc plated would work very well, but I doubt if you will find them.
James Watts
- Navarre, Florida
---
Second of two simultaneous responses -- 2003

Phillip,

I'm sure that there are Aluminium screws available ... if not, then you could use nylon screws.

As for a 'washer' between the screw and the aluminium sheet, even if such an animal were available, surely, due to your climate, surely the aluminium would eventually deform (i.e., expand/contract) and render that washer useless.

Two options l. Get hold of some nylon screws (but how long they would last UV-wise, I don't know 2a. Use an ordinary off-the-shelf plated screw BUT wrap it with tfe (teflon) tape first of all. 2b. Use stainless screws, if you don't mind the extra cost.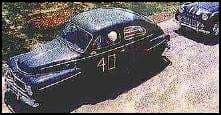 Freeman Newton
[deceased]
(It is our sad duty to advise that Freeman passed away
April 21, 2012. R.I.P. old friend).
---
2004
For aluminum, you should use an aluminum screw if possible. The next choice is cad-plated, and preferably painted. Galvanized is next in line.

Do NOT use stainless, as there is a high galvanic difference between aluminum and stainless steel, causing the aluminum to corrode like crazy. Some mfgs. make a painted stainless trim nail (Maze), which is less of a problem, as the metals shouldn't actually touch.

Bill.
Wm. Johnson
- Melbourne, Florida