Where the world gathers for
plating, anodizing, & finishing Q&As since 1989
-----
Finishing Weld Seams On Satinless Steel #4
2003
Thank you for reading:

I am working on starting a custom range hood and metal accents business. I have been in sheet metal fabrication for 11 years. Recently I have been working with the best tig welders I know who are trying to weld one of my stainless steel prototype range hoods.

The material is 18 gauge #4. Some of the welds are up to 20.00" long. My problem is the 'denting' from the tacks, or from areas where the weld stops and starts. We are using heat sinks and the welds themselves are mostly white and seemingly cool.

Is there a method to avoid these dents? Is there a finishing method I should know about?

The commercial hoods I have seen are much 'duller' than when you peel the plastic from a fresh piece of flat #4 sheet metal. And I see no dents in commercial hoods (or hoods made by major appliance manufacturers.

Do you think belt sanding with paper or scotch brite is part of the finishing process?

I have been working to start my business for nearly 2 years now. The metal finishing is now my biggest concern. I need help. Thank you for all replies.
Joseph Norris
metal accents - Eugene, OR, USA
---
2003
Dear Joseph:

I am facing the same concern, if you get the answer, would you please let me know.

Best regards,
Xiankai Lu
- Chengdu, Sichuan, China
---
2003
Hopefully you will get an answer from an expert welder, but I can only suggest a surface finishing application. The best way to blend in welds and to achieve appearance of SS is to use non-woven wheels, wire, or if you are very careful, a good quality belt ( in that order ). I suspect, heat is your biggest problem and you may require an starting metal piece to dissipate then discard.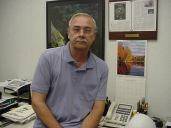 AF Kenton
retired business owner - Hatboro, Pennsylvania
---
2003
Have you tried a copper manifold backing with argon at 3 Psi running through it.
Fred Tofts
- Labrador City, Canada
---
2004
HI JOSEPH,

I OWN A CUSTOM METAL FAB SHOP. WE MAKE ALOT OF CUSTOM CANOPIES AND VARIOUS STAINLESS STEEL PRODUCTS. THE DENTING THAT OCCURS FROM TACKING CAN ONLY BE AVOIDED WITHOUT TACKING THE PARTS TOGETHER. THE HOODS THAT YOU SEE WITHOUT THOSE MARKS ARE MASS PRODUCED USING VERY EXPENSIVE JIGS THAT DON'T REQUIRE ANY TACKS ON THE LONG SEAMS. WE FINISH OUR HOOD WELDS USING different GRITS OF SANDING DISKS,BELTS AND COMPOUNDS USUALLY THE TACKS WON'T BE VISIBLE. BUT ITS A LONG PROCESS!
DARREN GOMIEN
CUSTOM METAL FAB - WINNIPEG, MANITOBA, CANADA