Where the world gathers for
plating, anodizing, & finishing Q&As since 1989
-----
Electropolishing wire: Black marks

Q. We are a steel wire products job shop. We currently have an issue when electropolishing #304 s/s .250" dia. wire baskets.

After electropolishing, there are noticeable black markings on every butt weld and t-weld area. The other spotwelded areas are clean. The markings seem to be spaced in the areas where our welder grippers pressure the wire (i.e., during butt / t-welding).

We have never seen this before. And the 'only' identifiable variable since our last prod'n run is the stainless steel wire itself.

We are now forced to clean all butt & t-weld areas prior to finishing.

Our wire supplier has suggested that other co.'s have used wire from the same heat without issue (although the wire was 'gummier' / stickier than usual).

I think it may be a combination of the wire (compound used when drawing) and dirty copper blocks on our machines (we do much more low carbon than s/s). Any ideas would be appreciated.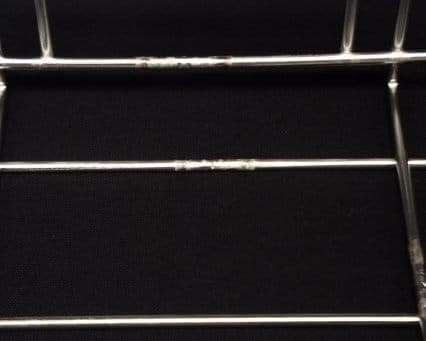 S Jean
- Montreal, Que, Canada
2003
---
2003
A. First of all every supplier will say that the other guy has no problems. This takes the heat off of them and makes you think what am I doing wrong. Others are better versed on what is going on but I think you have a HAZ (Heat Affected Zone) The heat of welding is changing the structure of the SS. If mild you may find pre-treatments effective. If you have deeply affected the metal structure then SOL (sorry out of luck)Can you make a successful weld with less current and more time? = less heat. We see this a lot but I can't share on line our means to correct.
Jon Quirt
- Minneapolis, Minnesota
---
2003
A. One clue could be your comment about the new wire being "gummier" -- is it the correct grade wire? If it is not, this could cause your problem. Another thought - do you have dirty contacts that are arcing over and you're getting spark erosion of your basket. How would you describe the black markings? - are they rough as if the metal has been etched or are they deeply in-ground into the metal. This could give another clue to your problem and point towards either the wrong local current density/ voltage or a fault in the steel joint. Sorry I can't help much more, but more info may help!

Trevor Crichton
R&D practical scientist
Chesham, Bucks, UK
---
2003

Trevor,

I always like your answers.

? Trevor hit on something here. If the wire is gummier, does it have a residue of a drawing compound not removed in soak clean? Wipe areas you intend to weld with a nasty solvent (MEK / methyl ethyl ketone or acetone Acetone [affil link]) before welding. You may be burning a carbon deposit into the metal. Also many drawing compounds have chloride.
Jon Quirt
- Minneapolis, Minnesota
---
2003
A. I have come across "some" 316L round bar that had been cold rolled which had also shown blackened staining from electropolishing. The stain markings appeared along the length of the bar, in one even strip which penetrated into the bar to .002" in depth wherever the original bar diameter was not machined. My guess is contamination from cold rolling, the staining appearing where the roller left off the bar having pushed the collecting particles of used up oil and metal smut into the last surface point of contact with the roller. The line of contamination did etch away faster than the rest of the part which left a fine groove. The damage in your photo looks symmetrical, and the same on both parts between a different join, which points toward resistance either from welding or during electropolishing. Also, the fact that the wire seemed dirtier would provide enough foreign material in your E.P. bath to possibly cause smut to adhere onto areas of higher resistance.

Stringent cleaning prior to welding, electropolishing, is a given fix for most problems, but perhaps a different racking configuration may help reduce resistance possibly caused by the complex geometry of your parts.

Good luck!
Jeff Swayze
body jewelry - Kelowna, B.C., Canada