Where the world gathers for
plating, anodizing, & finishing Q&As since 1989
-----
Brown Deposit on 304 Stainless Steel Buckles
2003
I am using 304 Stainless Steel rods for casting stainless steel buckles&bits through thermit process (pouring melted steel in moulds made up of quick sand). After grinding the articles,we rotate the articles in concrete, sand&water for 48hrs in a drum. Then we rotate these articles in another drum of Caustic Soda [affil link] & water for 10hrs. After this process we dip the articles in hydrochloric acid and leave the articles in citric acid for an hour.Then these articles are buffed. This is the whole procedure we are following. The problem which we are facing is when we keep these articles in damp cloth for 48hrs, there is a brown deposit on the part which is not properly buffed. These are the impurities or rust? Is there any solution to get rid of this problem? How to test casted product is rust free.
TariqAkbar
- Kanpur, UttarPradesh, India
---
2003
Doesn't sound like a thermit process to me, but not an issue here. Believe that rusting occurred because the buffing removed the beneficial effects of the citric acid passivation. Buff and clean* before passivation in 4-10 wt.% citric acid solution. *If rinsing prior to passivation does not yield a water break-free surface, add a small amount of surfactant or detergent and heat the passivation solution to about 120 F. Final rinse should be good quality water: 200 ppm Total Dissolved Solids is the maximum limit, de-ionized water is preferred. Chlorides in rinse water are bad, worse if allowed to dry on the surface.

Why is hydrochloric acid used? A dilute solution to remove alkalinity? Is there a thorough rinsing to avoid chloride contamination of the citric acid solution? For testing the passivated surface, the copper sulfate test is quick and easy. See Method 102 of MIL-STD-753 [affil link or DLA / cancelled] (replaced by AMSSTD753 [affil link] ) or Section 7.2.5.3 ofASTM A380 [affil link] for the test solution and procedure.
Ken Vlach
[deceased]
- Goleta, California

Finishing.com honored Ken for his countless carefully researched responses. He passed away May 14, 2015.
Rest in peace, Ken. Thank you for your hard work which the finishing world, and we at finishing.com, continue to benefit from.
---
2003
There are a number of things going on here that you need to look at. I do not know the temperature of the melt, etc.; but you will be changing the properties of the 304ss somewhat in the process. We assume that you know this or are getting advice from your supplier.

Secondly, you should avoid using hydrochloric acid on stainless steel. You need to change the process or replace the HCl with another acid to do the job. You may want to consider electropolishing the surface to avoid the long process you are going through.


Lee Kremer
Stellar Solutions, Inc.

McHenry, Illinois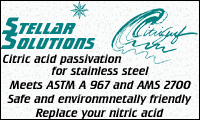 ---
2003
Sir

The SS 304 after being cast may change its structure. These alternatives can help.

- Use dilute Sulfuric acid 15 to 20% to remove the surface discolorations only.
- Run the parts in a drum to remove the rough edges. (Bawri)
- Buff and polish for smoothness and brightness.
- remove buff compound. - Clean in Caustic. Rinse. Then Activate gently in 5% Sulfuric and rinse.
- Use a proprietary Stainless Steel passivate which will be the last of the treatment stages. (Since this is a non Commercial reply I will not name a known product .)
- Citric acid alone is not a complete answer to your need. Rinse. Dry with hot 90 centigrade deionised water to prevent staining.

By varying the timings I expect to see you coming out with good results.

Regards,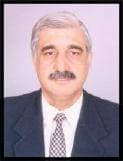 Asif Nurie
[deceased]
- New Delhi, India
With deep regret we sadly advise that Asif passed away on Jan 24, 2016