Where the world gathers for
plating, anodizing, & finishing Q&As since 1989
-----
How to prolong the life of my evaporator tanks ?
2003
I need your help!.

We are an aluminum anodizing jobshop, which uses atmospheric evaporators to reduce the amount of waste generated by our facility. Our evaporator tanks are made of stainless steel 316 LC , and we usually neutralize the acid rinses prior to evaporation because a pH below 5.0 will destroy the gas heated tanks (the tanks have a stainless steel fire tube inside to transfer heat to the solution being evaporated).

My goal is to avoid neutralization and at the same time increase the life of my stainless steel evaporator tanks (they last about a year). Any recommendations ?
Marcos C.
an anodizing shop - Central California, USA
---
2003
The first thing you need to do is make sure the local authorities know what you are doing because some (wrongfully, I feel) believe that you are operating a treatment and disposal facility if you treat waste in this manner. I personally see nothing wrong with what you are doing, and it is essentially no different than what a sludge dryer does, but I knew a shop manager in Maryland who was criminally charged for concentrating his cyanide wastes this way (although the charges were later dismissed).

Part of the problem is that when you use home-made tanks like this, your system isn't imbued with the automatic legitimacy that a regulator tends to instantly interpret when he sees a commercial nameplate on wastewater treatment equipment.

But if you are comfortable with that end of it, and 316 LC isn't holding up, you need to change materials, and there is no grade of common stainless steel that will solve the problem. I think you should consider switching to fiberglass tanks and a different heating system, perhaps titanium heating coils.

I don't know how far you are taking this atmospheric evaporation--just to a slightly thicker liquid or all the way to essentially dry. But if you try to dry materials without neutralizing them, I think you'll have a hygroscopic mess on your hands :-)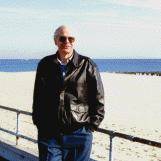 Ted Mooney
, P.E.
Striving to live Aloha
finishing.com - Pine Beach, New Jersey
---
2003
Yes, some EPA regions are wrong. they are going only by the CFR. EPA recognized that they had an OOPS and published a clarification in the Federal Register. If not, just neutralization of a waste containing a listed material would be a de facto treatment facility. Anyway, You will probably need to neutralize closer to 7 to 8 pH. The problem is you are forcing a very hot flame thru the tube. The tube literally gets to several hundred degrees right at the edge of the tank. There is nothing that I am aware of that can stand an acidified solution at this temp. It pits like mad. The next problem that you run into is sludge forming on the tube. This essentially stops the heat transfer and that allow the tube temp there to rise and pit. Chlorides are a kiss of death for this tube.Two things that will help. Pull the burner out, affix a inner liner about 1 ft long with a 1/4" clearance from the outer pipe. 18" long if you can. That lowers the temp in this area but maintains the heat for evaporation. Next, is use a settler or settling tank. Only evaporate the top layer of this tank. Better yet is to buy a small filter press or a large bag filter. This reduces the amount of salts that turn to concrete on your tube. Older versions of this commercially available evaporator are less than optimal and that is at the very best. They at least got a little smarter and vacuum fan exhausted the tank instead of pressure exhaust. You bring back nightmares.
James Watts
- Navarre, Florida