Where the world gathers for
plating, anodizing, & finishing Q&As since 1989
-----
DI water is attacking PVC and Polyethylene Piping
Q. I have 12-17 meg-ohm DI water running through PVC piping to a humidity chamber. For some reason, after about a week or so, the polyethylene parts in the chamber show signs of a chemical attack. Does anyone have any idea of why this would happen with my PVC piping but not my stainless piping?
Darnell Albearto
- Odessa, Texas
2003
---
2003
A. Why are you running such high quality water in a humidity cabinet. Electronics testing? You mention polyethylene and PVC. Both should be unaffected to any significant degree by 18 M water. Bet you a nickel cup of coffee that you are talking about a fitting and I bet that it is nylon, even tho it looks like PE. Replace it with a polypropylene, or if you are rich, teflon, fitting and your problem should go away.
James Watts
- Navarre, Florida
---
2003
Q. I am also showing attack on polycarbonate parts. My theory is that the DI water is taking something out of the piping that is detrimental to the parts in the chamber. There is also a bit of polyethylene running to the chambers.
Darnell Albearto
- Odessa, Texas
---
2003
A. Darnell,

What James Watts said sure sounds l00% correct.

Both PVC and PE are NOT affected by the D.I. water ... but in all my experience, we never, EVER used or even considered using Polycarbonate for chemical plant work ... You went on to say that PE parts show signs of chemical attack but then go on to say "why is this happening to my PVC piping" ... and that sure DOESN'T make sense, does it?

Please indicate the attack mode. PVC's drawback is temperature and many solvents. PE's drawbacks (apart from temperature) lies with certain oils, surfactants, some solvents and very strong acids. Then you say that you have a piece of PE running to the chambers. Ah. Um. What! Are you sure that it is PE? Does it burn? Does it drip? Does it smell of candle wax? All are proven tests for PE.

I am a great disbeliever! Often Chief Chemists or Engineers have passed on false information hence, if you don't mind, I'm taking what you said with the proverbial grain of salt, a large grain!

Please get back with more info, if you don't mind. Thanks.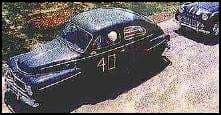 Freeman Newton
[deceased]
(It is our sad duty to advise that Freeman passed away
April 21, 2012. R.I.P. old friend).
---
2005
A. Our business is purified water systems. Your contractor should know that 10-18 megaohm xcm water is the most aggressive solution that exists.
PVC piping is not recommended for ultra-pure water and you should know it.
PVC piping is fabricated with multiple chemical additives and most are carcinogenic leachants. These chemical additives leach out in ultra-pure water and create your problems as well as other types of problems.
Get rid of the PVC piping and replace with natural virgin polypropylene (PP) or polyvinyldene fluoride (PVDF) piping.
As for the SS piping: if grade 316, it will deteriorate at a very slow rate of maybe 0.02%/year and is hard to notice with the eye. SS 316 grade that has been passivated is even slower to deteriorate.
PP piping is best for such applications.
DENIS GAULIN
- ST-BRUNO, Quebec, Canada
---
---
August 12, 2012
Q. We are an assembler of ultrapure water systems for electronics.
Usually we have problems with PVDF distribution lines, due to very slow fusion and installation.
Some people claim that PVC Schedule 80 pipe is suitable, and installation is easier with cement.
Please enlighten me.
Hasan Peksen
- Ankara, Turkey
---
August 14, 2012
A. For my nickel, I would only use teflon tube or pipe for ultra pure DI. Mandatory at 18 megohm and advisable at 12 Megohm water.
James Watts
- Navarre, Florida
---
August 16, 2012
A. PVC piping is fine for O.5 - 5 Meg-ohm DI water as long as you are not concerned with the Total Organic Carbon (TOC) concentration. There will be some leaching of plasticizer from new PVC and some other plastic piping, and the solvent cement will elevate the TOC for days after a piping modification.

Fusion welded PP or PVDF is preferred for > 10 meg-ohm, low TOC DI water.

Lyle Kirman
Lyle Kirman
consultant - Cleveland Heights, Ohio
---
August 29, 2012
A. Hi there,

we use C-PVC in all our piping with DI water <5 microSiemens without having any issues.

Regards
Dominik Michalek
- Melbourne, VIC
---
January 29, 2018
A. When you run high purity water through PVC piping, you have to consider that you have removed some minerals from RO/DI filters and then when you run the RO/DI water through high purity resins you have incompletely removed all minerals from the water, then it starts to degrade the PVC piping which removes the plastisizers in the PVC piping. (In plain English the pure water starts to remove the flexibility from the pipe and the pipe becomes rigid and slowly over a period of time the water is attacking the pipe trying to absorb all the minerals back into the pure water. If you consume or drink too much of the 10 to 18 meg-ohm water your body's organs will start to shut down because the high purity water starts to attack your organs of the minerals and cause you to get very sick or even die from complications from your organs shutting down.
Gregory L Smith
- Hagerstown, Maryland
---
---
July 12, 2018
Q. I HAVE USED PVC PIPES FOR DI WATER. WE USED A PVC SOLUTION TO JOIN THESE PIPES. WE CAME TO KNOW THAT DUE TO USE OF PVC SOLUTIONS THE TOC OF THE WATER RISES. IF ANYBODY HAS THIS SORT OF EXPERIENCE PLEASE SHARE
MUHAMMAD ALI
Business - Pakistan, Islamabad
---
August 19, 2018
Q. TOC will rise sharply whenever new piping revisions with new primer and solvent are used, but will decline to normal after a few days.
Lyle Kirman
Consultant - Cleveland Heights, Ohio USA
---
---
Hybrid DI / Mineral Oil immersion solution
April 2, 2019
Q. I am new to the DI universe and am unclear as to how an open bath DI solution at type one levels ( 18ohms? ) will degrade with normal air. It seems to me that a layer of mineral oil on top of the DI water would be well suited to fixing this problem?

Also is type 1 DI water acceptable for cooling servers and other electronic gear? Are there leeching issues?

Also running an ro de-ionizer combination appears to be considered finicky and high maintenance. Is this true?

Finally what thickness of CPVC or PVDF or PP piping is recommended?
James Reilly
- McMinneville, Oregon USA
---
May 18, 2019
Q. Hi All, I'm a fresh DI system contractor. I found out that PVC pipes indeed will affect the TOC parameter in UPW especially new pipes and cement glue joints. I'm searching around papers to prove to my customer about this but seems not much research was done on this issue. Maybe you guys have helpful webpage links that can be shared here?

A. On the other hand, I think adding oil in DI water will affect its resistivity? Moreover, it also depends on your system. If the system has supply and return then the oil may affect your resin in your system?
David Siew
- Perak, Malaysia
---
May 24, 2019
A. 18 Meg-ohm water will degrade in seconds upon exposure to air, probably down to 10-12 Meg-ohm in only 30 seconds.

Regarding TOC and PVC pipe, new PVC pipe will have some TOC from the solvent and glue used and also some leaching of plasticizer. Once aged, it is fairly inert. That said, one system that I am familiar was routinely < 50 ppb of TOC, spiked to > 200 ppb after minor PVC piping repairs. It took about 3 days to get back to < 50 ppb.
Lyle Kirman
Consultant - Cleveland Heights
---
---
September 16, 2019
Q. Regarding degrading of PVC by DI water and this thread. Can anyone comment on PVC being degraded by RO alone (NO DI)? Trying to evaluate the need to use low extractable PVC for a small industrial RO system.
Mitch Witt
Ultra Pure Process Installation - Hampton, Virginia USA
---
September 18, 2019
A. PVC should be acceptable for RO water without problems. That said, there may be some TOC elevation from new piping, and especially from solvent-cemented joints. Accordingly, it is preferable to use PP or PVDF for ultrapure water.
Lyle Kirman
Consultant - Cleveland Heights, Ohio USA