Where the world gathers for
plating, anodizing, & finishing Q&As since 1989
"How do I spot galling? prevent galling on 304 on 316?"
-----
2003
Q. Two questions:

Q1: How do I know if "galling" is occurring? My components are getting stuck together after high load. These components exhibit scratch marks and even metal particles raised on the surface.

Q2: Is this galling aggravated by the fact that my mating components are 304 and 316, which I believe have similar hardness? I am hearing contradictory things on this item.

Here are some solutions I am thinking of pursuing. Any critiques or suggestions would be greatly appreciated!
-Precipitation hardened 17-4 on one component
-Silver plating one component
-Hard chrome plating on one component
-Nitronic 60 on at least one component
-Smoother finish on both components

Thanks!
Mina Leung
- Santa Clara, California, USA
---
2003
A. As I learned years ago (the hard way) , you just do not mate 300 series stainless to itself. Sometimes you can get away with it with good lubrication. Silver plating is an excellent lubricant. Chrome or electroless nickel plating one of the surfaces will take care of the problem in virtually all cases. Plate the easiest or cheapest to plate part. Hardened 17-4 will do better than 300 series on one part. Here again, do the cheapest to manufacture part. I don't think that I would go to Nimonic unless you have a good reason. You have not said how the part is used or any of the particulars, so the above is a generic answer.
James Watts
- Navarre, Florida
---
2003
A. If environmental conditions permit, use type 410 stainless for one of your components. The difference in hardness will prevent galling. The 410 still has a degree of corrosion resistance and good strength characteristics.
John Hetherington
- Montreal, Canada
---
2003
A. I make a lot of stainless steel and nickel alloy threaded components. Experience has shown that smooth surfaces will gall more often than rough surfaces. Buffing threads with a wire brush will help prevent galling.

Also coat threads with an anti-seizing compound such as Kopr-Kote.
If you have the option, do not thread like materials together.
Sheldon Nadeau
- Red Deer Alberta, Canada
---
2003
A. If you are interested in solving your galling problem, coat one of the mating surfaces with "Thickfilm Ion metallizing Process". We coat high nickel alloy, stainless steel, Inconels, and and various types of substrates and have proven results for anti-galling.
Brent Steadham
- Houston, Texas
---
2004
Q. I have heard that using a stainless steel bolt and a stainless steel nut increases the potential for galling. Is this true? I have also heard that using a galvanized nut on a stainless bolt solves the problem. Is this true as well or could we be better served by just providing a lubricant? Thank you.
Matt Dunlap
engineering consultant - Pittsfield, Maine, USA
---
2005
A. Reference the Stainless Steel(SS)bolt and nut.

Yes, by using a SS bolt and a Steel nut the galling issue should be corrected. You may also want to investigate what grade of bolt and nut you need for your application. i.e. Grade 2,5,8. The following website has a decent review of the differences between grades, and information on how to read the symbols on the bolt heads.
www.americanfastener.com/technical/grade_markings_steel.asp
Kamm
- Calgary, Alberta, Canada
---
June 12, 2013
A. Stainless Steel nuts and bolts Galling is a real problem. Stainless Steel tends to 'Cold-weld' when not lubricated. the rougher the threads the more likely. I find bigger threads like 1/2" or m12 and larger tend to be worse. Nickel based lubricant is the best prevention. Some people like using opposite grades, like 304 bolts with 316 nuts. The important aspect is using a bolt/nut mate with differing hardnesses. So 316 Bolts with Duplex 2205 Hex nuts even better.
Jamie Hunt
- Auckland, New Zealand
---
---
Coating the inside of a stainless nut to prevent galling
August 13, 2018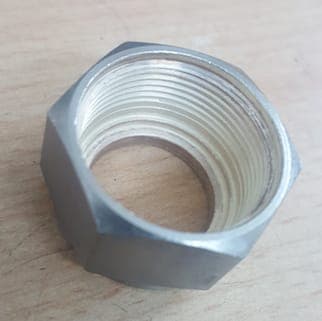 Q. I need to manufacture a nut in SS 304 grade. Sample pic is attached herewith.
Expert opinions are needed to comment on the type of coating you see on inside threads of sample supplied by buyer. We have no information about this coating. I believe it's some kind of an anti seizure coat.

Thanks in advance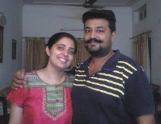 Vikram Dogra
Irusha India - Chandigarh, India
August 13, 2018




To point you in the right direction, the type of coating you are talking about sounds like Dry Film Lubricant, which is often molybdenum disulfide, or sometimes graphite, in a silica or other binder.

One major source of qualifying products is Curtiss-Wright / Everlube. Henkel and Dow-Corning are others. There are many different Dry Film Lubricants,so you'll want to match your material AND your eventual application to the right one.

It is typically sprayed on, dried at a moderate temperature (warm oven), and then baked to cure (up to 600 °F depending on type of coating). What you decide upon will depend on whether the customer requires manufacture to any particular specification. If you are coating to spec, there is a film thickness callout, and you will have to figure out how to measure your coating thickness on internal threads. Fun times :/

MIL-PRF-46010 [affil link or DLA] is one example, and has applicability to steels.

The best part is trying to clean up the inevitable grey dust/overspray mess that covers every nearby work surface (and all your technicians lol). On the up side, you may find a significant decrease in gall amongst the shop staff! But no guarantees. :P

Good luck!




Rachel Mackintosh




Lab Rat and some other things - Greenfield, Vermont






---

August 14, 2018




A. Vikram

Silver plating is used on threaded fittings found in the semiconductor industry, i.e. Gas lines as an anti-galling agent.

Willie Alexander




- Green Mountain Falls, Colorado






---

August 17, 2018




A. It is customary to use different stainless steel alloys on the nut and the thread in order to prevent galling. For example, you could use 304 for the thread and 316 for the nut. This is not a perfect solution, but it helps.

Lyle Kirman




Consultant - Cleveland Heights, Ohio





---
September 7, 2018

Thanks guys ... silver plating worked.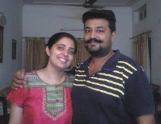 Vikram Dogra
Irusha India - Chandigarh, India