Where the world gathers for
plating, anodizing, & finishing Q&As since 1989
-----
Faux antique mirror
Q. I am looking for instructions on how to get an antique looking effect on a piece of new mirror by altering the silver finish on the back of the glass. I am having no luck in finding ready-made material of this sort.

Thank you for any help or suggestions.
Jill Hansen
- Henderson, Nevada, USA
2003
---
2003
? What effect-exactly- are you looking to achieve? If all you want is to remove a little of the silver in an erratic pattern around the edge, Windex [affil link] and a few days will do that.
James Watts
- Navarre, Florida
---
2003
Q. I want to know how to antique new mirror....what to use, the appropriate way to apply, safety concerns and where to get the solution.

I'd appreciate any information,
Kathleen Gibbs
junk dealer/craftsman - Asheville, North Carolina
---
2003
Q. I would like to resilver a piece of glass but I would like it to look aged. I've seen it done. I'm not sure where to get the chemicals to do it. Take glass, spray solution (aging) then spray on silvering so that the aging solution is trapped between the clear glass and the silvering. Where to get kit or chemicals to do this process?
Cathy Osoria
decorator - Houston, Texas, US
---
2003
Q. Did anyone have a solution for making a new mirror look old? I am looking to do the same thing. I would like to make the finished product to look streaked, stained and foggy. Is there a treatment I could use on the backside of the mirror?
Sarah Liuzzi
hobbyist - Charlottesville, Virginia, USA
---
2004
Q. I would like a recipe for the light distressing of a mirror. We want to keep the mirror a subtle grayish-foggy- still able to look into it mirror. We have used in the past Muriatic Acid [affil link] and have gotten a great effect, but we need something less corrosive.

Thank you,
Jean Easter
conservation - Indianapolis, Indiana, USA
---
2004
A. I've developed a simple & effective process for inducing heavy distress or a subtle patina onto the silver or copper plating on the back of new mirrors. The effect duplicates the look of an old and or distressed mirror. I am applying for a patent for the process.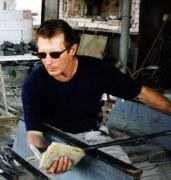 Timothy Poe
- Birmingham, Alabama, USA