Where the world gathers for
plating, anodizing, & finishing Q&As since 1989
-----
Re-Finishing Zinc/Zamac/Pot Metal gun parts and replicas
Black Patina for Zinc
on eBay or


(as an Amazon Associate
& eBay Partner, finishing.com earns from qualifying purchases)

Q. I have a GSG 1911 where the frame is zinc alloy the finish is completely gone. Looks absolutely horrible -- any recommendations on how to bring it back to life?
Brian Campbell
Hobbyist - Manchester New Hampshire
May 28, 2022
A. You can use any proprietary zinc blackening product. There are some D-I-Y zinc blackening formulas too (for example 12 gms copper sulphate [adv: item on eBay & Amazon] - 15 gms potassium permanganate [adv: item on eBay & Amazon] - 1 lit water/90 °C temp.). Hope it helps and good luck!
Goran Budija
- Cerovski vrh
---
---
Q. I have some blank guns made of zamak, which is a zinc alloy; this solution should work. How is it prepared? Mix at 90 °C? Is it filtered? Applied as a cold bluing or immersion?

Thanks a lot for your answers
Julian Andres España Cardona
Hobbyist - Palmira, Valle del Cauca, Columbia
June 23, 2022
A. Copper nitrate 6,25 gms
Ammonium chloride 6,25 gms
copper chloride 6,25 gms
hydrochloric acid 6,25 gms
water 1 lit

brief dip in cold solution must be ok; after that step work is swilled, dried in air and lightly scratch brushed. Black finish.

According to Fishlock,D., Metal Coloring, Teddinton 1962 ⇨
Goran Budija
- Cerovski vrh Croatia
---
---
Q. I have tried all the above methods with absolutely no results, almost no color change.

Would wrinkle varnish work, or is there another method I am missing? I have not tried heating metal and dipping in oil but maybe I will (kind of scared to do that because of metal transformation that occurs with this method).
joe moore
hobbyist - leesville SC
October 22, 2023
A. Hi Joe.
Strange. Do you know for sure what the parts in question are made of?
Luck & Regards,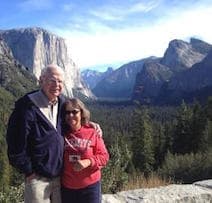 Ted Mooney, P.E. RET
Striving to live Aloha
finishing.com - Pine Beach, New Jersey



Q. It is an alloy, is about all I know. I am assuming a zinc-aluminum mixture.
joe moore
[returning]
- leesville SC
October 23, 2023
---
---
Q. I collect Japanese replica gun models from the 1960's - 1980's which were made (I believe) using zinc or what they also term as "pot metal"...

Many of the replicas are in bad shape and need to be refinished and I'm wondering if anyone can give a suggestion on how to treat the zinc to give it that original "gun blue" look without simply painting them.

On real firearms blueing liquid is used which actually corrodes the metal to darken it however I'm told that this technique won't work on zinc because it's a non-ferrous metal.

I and my collection would be extremely grateful for any and all suggestions.

Thanks,
Kerry Harris
- New York, New York
2003
A. I don't know much about gunmetal finishing but I know from a friend that for your application electroless will work fine. Notice, I'd like to know about all these methods (bluing, blacking, parkerising, etc.) by following your dialogs.

Good luck.
Ahmad Semir Bizri
- Lebanon
A. Regarding finishing replica guns. I too was told that gun-blueing liquids and creams do not work on non-ferrous metals. Most of these replicas are made from a frangible zinc alloy, most notably mazak. I had a poorly finished Thompson SMG replica that had a factory finish that looked like licorice. It just didn't look right. After disassembling it, I removed the toffee-like black and polished the metal (it took a long time). I degreased the whole thing and placed all parts in really hot water. I removed the parts one by one and dried them with paper towels and hair dryer [adv: item on eBay & Amazon] to retain the heat. I then applied a cold blue liquid (any will do) with wads of cotton wool (I wore rubber gloves [adv: item on eBay & Amazon] ). I obtained a finish that I considered better than the original. Try it, what have you got to lose apart from about $8. I had tried cold blueing on cold replicas but the zinc alloy took better when hot.
Jan Saunders-Singer
jeep tours - Minehead, Somerset, England
Birchwood-Casey Gun Bluing

(as an Amazon Associate
& eBay Partner, finishing.com earns from qualifying purchases)

A. The heat method definitely works. I tried it a few days ago and it's definitely the key to bluing pot metal. Has to be clean, polished, put into boiled water; dry it. Get a hair dryer to keep it hot, then coat it with bluing agent -- a small paint brush is best, and put plenty on! Work it in and recoat. Keep the heat on, into hot water (helps the process), gently brush it down while it is under water -- and it should be ready to polish! Have done three non-guns with this method and it is the only way, so good luck.
Jamie round
refinishers. - gloucestershire, U.K.
A. Wire wool down the surface and use 'Birchwood Casey Perma Blue' ⇨
It's a cold bluing process that will, after removing the factory protection metal coating, turn the cast or pot metal black just like a real firearm. We treated four Denix replica Winchester rifles and they look exactly like the real thing. You may need one or two coats depending on how dark you want it.
Peter A. Montgomery
Rigar - Glasgow Scotland UK
---
---
Q. I have occasion to refinish several small pistol frames made of cast Zamak. The original black has worn from the edges and high spots, exposing the cast material which is now dull gray in color.
What should I do to prep the surface?
Then, what specific formula should I use to achieve a finish color similar in tone to this: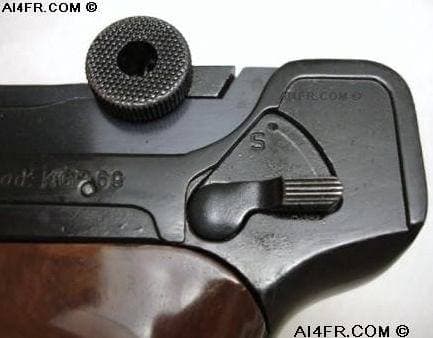 (photo courtesy of
www.ai4fr.com/main/page_militaria__collectibles_germany_luger_erma.html
... visit that site for more)
Any after-treatment or sealer or stabilize?

Thanks,
David Parker
- Trumansburg, New York
September 27, 2012
A. Zamak is zinc based alloy so you can use any zinc colouring method. Try next download free booklet on metal colouring and plating:
attachments.wetpaintserv.us/ZLSnLKosv0l3CnE9hGDi7w488720
- there you can find some zinc colouring methods.
Hope it helps and good luck!
Goran Budija
- Cerovski vrh Croatia
Ed. note Jan 2017: Although wetpaintserv.us was a legitimate site when Goran posted this, it is currently a malware site. DON'T GO THERE!! Goran has been kind enough to upload his booklet to https://www.finishing.com/library/budija/budija.pdf.

Thank you very much! Your data, as well as helping with my immediate situation, promises to be a valuable reference for future metal-coloring projects.
David Parker
[returning]
- Trumansburg, New York, USA
October 6, 2012
---
---
Q. I'm interested in bluing some pot metal Japanese model replicas, but it has a gold, bright finish. Does anybody know of a technique that strips the plating from pot metal substrates?
Curt Aumiller
- San Jose, California, US
October 27, 2016
A. Hi Curt. I guess there are three obvious ways of removing a finish, namely burning it off, abrading it off in some way, or chemically dissolving it. Burning it off doesn't sound do-able and, unfortunately, the question of how to chemically dissolve an unknown finish without dissolving the pot metal isn't answerable. We can hope that some reader is so familiar with these items that he is fairly certain what the finish probably is ... or you can try to figure it out yourself and then give us some further info. Good luck.
Regards,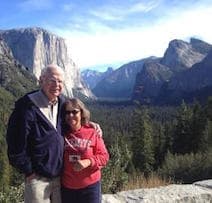 Ted Mooney
, P.E. RET
Striving to live Aloha
finishing.com - Pine Beach, New Jersey
Q. Thanks for the rapid response. I'm enclosing a picture to see if anybody has any idea on the type of plating I'm dealing with.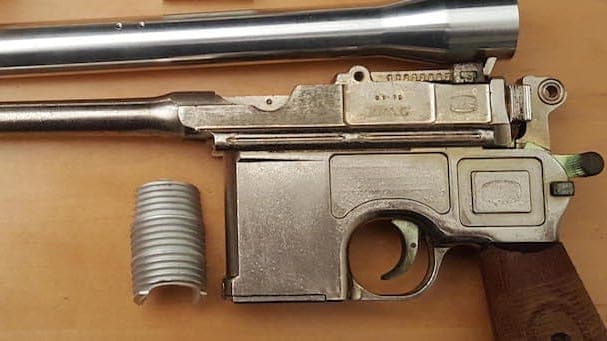 There's a small flat piece that I can use for testing. Thanks.
Curt Aumiller
[returning]
- San Jose, California, US
October 27, 2016
A. Hi, regarding the gold-finished pistol (Broomhandle Mauser) I think I would play safe and re-paint. I use a high temperature satin black spray, several light coats; and once fully dried I rub down with black lead grate polish to create a realistic metal appearance.
Ed Church
Living Historian - Feltwell, Norfolk, UK.
---