topic 22747
Aluminum Oxide / Glass Bead Blast problems
(2003)
I have stainless steel covers 18" x 18" x 4" that get Aluminum Oxide and Glass Bead Blast from a job shop. Over the course of this job, the parts have come back with tiny black spots on them (would not come out with thinner) marks and abrasions. The marks are shiny and seem to be on top of the bead blast. The abrasions almost look like roller marks. After the part is done it gets packed inside of a plastic bag and then in a cardboard box. Anybody have any ideas.
Bob Manzella
- Bohemia, New York
---
First of two simultaneous responses -- (2003)
Have you tried different mesh size of glass beads? Have you tried wet blasting? I may suggest you should try those alternatives.
Timur Ulucak
aluminum extrusions & finishing - Istanbul, Turkey
---
Second of two simultaneous responses -- (2003)
It sounds like you or your subcontractor has a contamination problem. Because blast systems recirculate the abrasive blast media they are subject to contamination from a number of sources. I suspect that is the case here. Even if the subcontractor changes all of the media, it is still possible to encounter the same problem unless the cabinet is cleaned and hoses changed.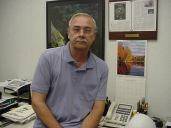 AF Kenton
Nova Finishing Systems Inc.
Hatboro, Pennsylvania
---
(2003)
the marks you refer to are probably from the blast job shop rolling hence scratching the profile left by the blasting. i.e., they are wearing down the profile making it shinier or darker than the matte finish of the blast. Talk to your job shop about being more careful with handling your parts. This is a common problem.
jeff chadwick
- mississsauga,ontario,canada
---
July 30, 2009
You need to send your cover to someone who knows to handle the material. After they're blasted they need to be washed or wiped down then wrapped in soft foam, then shrinkwrap with plastic.
Cardboard will scratch stainless if it is slid on it. The shiny marks that look like roller marks could be from the material finish before blasting; if the material was #4 it would have about a 180 grit shiny grain. Which is hard to blast because it would have to be DA sanded to a 80 grit. The best material finish for bead blasting is 2b or mill finish. Also stainless needs to be blasted with clean sand most blast shop do not tell you that because they don't care.The cover might rust if the sand was contaminated with carbon steel (black Spots). Most stainless specialty shops will blast stainless and only stainless in there booths. I only use glass beads unless I need a real rough finish. They should be able to show you blasted samples so you can pick out the finish (grit) you want.
Jack Kelly
stainless steel welding - Kenosha, Wisconsin


This public forum has 60,000 threads. If you have a question in mind which seems off topic to this thread, you might prefer to Search the Site