Where the world gathers for
plating, anodizing, & finishing Q&As since 1989
"Moisture effect on 98% sulfuric acid"
-----
2003
What will be the affect of moisture on open sulfuric tank (98%). I am a maintenance engineer at a chemical processing industry where pin hole pipe leakage in the 98% Carbon steel piping is frequent.
ALEEM BHUTTA
- DAHARKI, SINDH, PAKISTAN
---
"Sulfuric Acid Manufacture"
from Abe Books
or

Affil. Link
Your purchases make finishing.com possible
"Sulfuric Acid Use and Handling"
from Abe Books
or

Affil. Link
Your purchases make finishing.com possible
"Sulfuric Acid Handbook"


Affil. Link
Your purchases make finishing.com possible
2003
Hi Aleem, Ah, you WILL have a problem. Whereas strong sulphuric can be contained using mild steel, once moisture occurs, then the concentration drops to very corrosive limits.
Case history. Toronto. In the 70's. Battery manufacturing plant. Roof mounted steel storage tank containing concentrated sulphuric. Suddenly the mild steel drain pipe lets go and out poured the acid onto the roof. The fire brigade came and then some (not very intelligent) person poured alkali onto the acid. The resultant exothermic heat apparently ensured that the entire roof had to be replaced !
Have a look in the archives at # 8698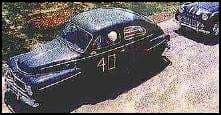 Freeman Newton
[deceased]
(It is our sad duty to advise that Freeman passed away
April 21, 2012. R.I.P. old friend).
---
2003
I think (do not know) that sulfuric can suck enough moisture out of the air to minorly dilute the "pure" sulfuric acid. The slightly diluted sulfuric is considerably more aggressive than the 98% acid to several metals.
James Watts
- Navarre, Florida
---
2003
G'day Aleem,
I have met with this problem before. The first thing to do is enclose the tank, put a lid on it that can't be taken off unless you have some cutting equipment. And if you do have to cut it off make sure you purge the tank first. Fill the tank through a pipe into the top of the tank and put in a vent/overflow but make sure the vent/overflow extends down toward the ground and isn't next to a source of water such as an open drain or even rain, and certainly not near any escaping steam. Importantly make sure the pipe connections into the tank, the fill line and the vent/overflow, extend into the tank and they slope into the tank. That way the acid will drain away into the tank and any corrosion occurring as a result of moisture entering the tank will take place at the end of the pipe, not at the joint between the pipe and the wall of the tank. If the tank has a level indicator based around the float system, make sure the opening is kept to a minimum, preferably use a non-contact level indicator and overflow warning system.
Cheers,
Tony Johnston
- Melbourne, Australia
---
2003
Hi Aleem,
What Tony Johnston says makes sense. I think that he must be an engineer to come up with that descriptive reasoning.
A couple of things. Firstly, on any discharge pipe from that tank make SURE that it is totally level, preferably sloping down by a degree or so. Why? Because if there's any chance of an air gap (due to an elbow), then, oh dear, any entrapped acid in that line will absorb some moisture, ergo eventual failure.
The second option is to make the entire tank from a fluorocarbon such as FEP, Tefzel, Halar ... duly fiberglass reinforced. But that costs mega $ or £... hence Tony's idea is more practical.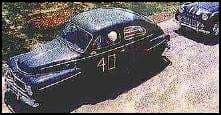 Freeman Newton
[deceased]
(It is our sad duty to advise that Freeman passed away
April 21, 2012. R.I.P. old friend).
---
August 21, 2009
What Mr. Johnston was saying was right. Giving a considerable slope for pipe that will bring the acid in and out of the tank is the best way. We are shifting to conc. sulfuric acid from the 33% solution and we are through with that. We have tested all materials (materials that comes in contact with the acid, like pipe,pump,tank,elbow, etc) by soaking them 24 hours with concentrated sulfuric acid. FRP, ABS (acrylonitrile butadiene styrene) are some of the materials that are attacked by concentrated sulfuric acid. From our tests, we have found out that cPVC, uPVC, PVC are the best materials to use for this application. Ordinary metal can but we must make sure that there is no source that will make the acid diluted to a more corrosive concentration level. For tank, I suggest that we use HDLPE (High Density Linear Polyethylene) sulfuric resin tank. This would be the best tank to use since we can fill this in with any type of acids supposing there would be problem with its supply.
Lebumfacilr
biopolymer - Cebu City, Philippines
---
February 18, 2010
We want to supply an ETP plant to a Battery (Lead acid) Manufacturing factory. Can we use PVC tank as Clarifier tank or Flash tank? Effluent will be containing Sulphuric acid at 30 centigrade, pH is less than 5.
Sajjad Hosen
Mechanical Engineer - Dhaka, Bangladesh