Where the world gathers for
plating, anodizing, & finishing Q&As since 1989
-----
Cleaning up purple plumbers glue
2003
I had a leak in my bathtub and purple plumbers glue was spilled in the tub. Do you know of anything that will remove it.
Eozabetjh Downen
- Castroville, Texas
---
2003
If it was purple and not blue, it was a primer/cleaner and not glue. If this was a fiberglass tub, It is probably resurface or replace. I guess you could always have the whole tub an artists purple sweeps. If it is a porcelain tub, try a cloth that is damp with acetone Acetone [affil link]. The fumes will be quite strong and they are not good for your body, especially strong or long doses. It is highly flammable/explosive, so small or very small amounts at one time with ventilation. You need a new tub and faucets don't you. Here is a good reason.
James Watts
- Navarre, Florida
---
2003
Hi
It sure sounds like the plumber was doing some PVC cementing because the PVC primer is normally colour coded blue in order that inspectors can check to see if the primer was applied (properly). The PVC cement is normally grey.
If you have an acrylic, sic. plastic tub, BAD news. Don't even try to remove it with solvent. But if your tub is the normal glazed ceramic, then you'll have to use some strong (clear) solvent. If, if, if you can latch onto any clear PVC primer, OK ... if not then, as said, you'd have to try using a powerful aromatic solvent.<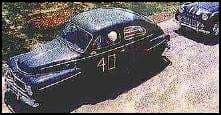 Freeman Newton [deceased]
(It is our sad duty to advise that Freeman passed away
April 21, 2012. R.I.P. old friend).



---
2003
1st, there are a few colors of primer. Either of these can, and will stain. I have also seen a few plumbers that will pre-mix their primer with the cement. Its wrong..but, I've seen it. If the stain is fresh, use plumbers putty on it! Just roll, and rub the putty over the stain. I have found this to work on tubs and showers great! If the primer stains painted metal, it must be refinished, or covered.
Sean Scott
Finishing plumbers - Fredericksburg, Virginia
---
2005
We have a porcelain bath tub and my wife bought a new shower curtain which is red. I think the moister in the room from showers has caused the red to stain the outside of the tub. I have tried bath cleaners and Soft Scrub [affil link] with no improvement. Anybody have an idea how to get it off?
Larry Jacobson
homeowner - Pittsford, New York
---
January 22, 2015
A. I just used Goof Off [affil link] on the cheap 12 x 12 vinyl tiles. It has been there for about 7 years and I have a tub that has a large amount of purple primer. This took it up almost instantly.
Misty Frame
- New Carlisle, Ohio. U.S.