Where the world gathers for
plating, anodizing, & finishing Q&As since 1989
-----
Deterioration of bright Ni electrolyte
2003
We are making Ni.screens having apertures of 100dpi, we plate the same in sulphamate giving thickness of 50 microns, after which we transfer the plate to bright Ni. to give the dull Ni. a bright and leveled look. Now the problem is that when ever we make a new bright Ni. solution, it gives us a very good result in maximum of 5 to 6 minutes, but after about 3 days it starts deteriorating the time taken to brighten the plate goes up to 25, 30, 35minutes. Could some body explain why, we use dichromate based photosensitive glue for making screens. Could it be that the dichromate gets dissolved in the tank, we have treated the solution by first adding ferrous sulphate, but not much improvement.
Ravinder Singh
- New Delhi, Delhi, India
---
2003
I presume you mean that a fresh bath will take 5 to 6 minutes to give a bright nickel deposit, but after three days this increases to 35 minutes. Furthermore, I am not totally clear what solution you are treating with ferrous sulphate; if it is the nickel bath, it is done to remove hexavalent chromium, but the process is quite difficult to control properly and is very time consuming. All in all, it sounds as if the bright nickel bath is getting contaminated. It could well be the effects of dichromate, or it could also be the effects of ferrous ions; iron will give nickel a dark colour, often with pits; it also makes it very brittle. Dichromate could easily oxidise the additives in the bright nickel bath as well as inhibit or even prevent nickel deposition. Make sure you only use good quality water to top up the tanks; check the upstream processes for contamination etc. Also make sure the bath formulations are in spec.

Trevor Crichton
R&D practical scientist
Chesham, Bucks, UK
---
2003
Mr Ravinder Singh,
It is likely the contaminants are being dragged in to the Bright Nickel bath causing the solution to lose its effectiveness.
Possible cure is good rinsing before Bright Nickel.
Another method will consist of neutralising the part in a sodium Bisulfite dip 7 percent for 1 minute at room temperature . This presumes the dichromate is the culprit.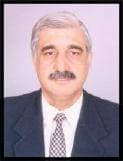 Asif Nurie
[deceased]
- New Delhi, India
With deep regret we sadly advise that Asif passed away on Jan 24, 2016
---
2003
High quality photosensitive dichromate glues are generally very resistant to chemical attack, since they are used even for etching applications with aqua regia or hydrofluoric acid. So, if the resists do not look seriously degraded after the sulphamate you should look for other paths for contamination or unbalance.
Guillermo Marrufo
Monterrey, NL, Mexico