Where the world gathers for
plating, anodizing, & finishing Q&As since 1989
-----
Welding spots and finishing techniques in Stainless Steel
2003
Dear Sir,
I work as a designer in a panel manufacturing company. This year our company planning to bring some products in stainless steel. We are trying some finishes on SS like No 4. The problem we are facing is that we are not able to remove the welding marks properly. Also, please suggest me some tools for finishing and getting grains along a line not circular that we get from a buffing wheel. We don't have electro polishing set up at our works.
Your's faithfully,
Puneet Talesara
- Udaipur, Rajasthan, India
---
2003
You can never match the original "scratch" brush SS finish, but you can avoid the circular pattern by using what is referred in the USA as flap wheels. You can make a poor mans version by slitting the end of a metal rod arbor and putting folded Sandpaper [affil link] into the slit. 1 slit is common, two (cross)is a little harder and three( * pattern) slits is about the most that you can get in a small arbor as you will need to use a rather rough grit paper. Not perfect, time consuming , but, no circle patterns. You may get to be good at feathering your scratch pattern into the original.
James Watts
- Navarre, Florida
---
2003
It sounds as if you have a shaped part. How big and what dimensions will determine your best method on how to proceed. If you have some volume and the part can go into a mass finishing system, then I would suggest a new dry preformed shaped media to achieve a textured finish. We just developed a process for a company who wanted to get a SS look on a chrome plated part. It had to be done after plating in this same media.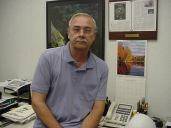 AF Kenton
retired business owner - Hatboro, Pennsylvania
---
2003
We are able to replicate the brushed look (M4) but can't seem to get the polish/shine.The material is sheet stock M4 Brushed satin stainless. Advice?
Dora-Lynn Melnik
- London, Ontario, Canada
---
2003
Stainless Steel look or appearance can be replicated, including shine, by flap wheel suggested by J Watts. Actually these can be purchased with different grit pads alternated with non-woven pads. These are good for mostly flat parts or where access is easy to reach with a wheel. When it comes to contours then the new dry organic media shape and mass finishing works very well.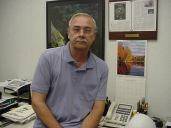 AF Kenton
retired business owner - Hatboro, Pennsylvania
---
2007
I have been able to achieve a #4 finish using a scotch-brite style pad mounted on an inflatable drum. This is great for smaller parts, but still hard to match exact grain on large panels, as the surface of the pad is only about 5-6 inches across. Hope this helps.
Peter Hynd
- Vancouver, B.C., Canada