Where the world gathers for
plating, anodizing, & finishing Q&As since 1989
-----
Plating Nylon 66 as ABS, Is it possible?
2003
Dear colleague,
I would like to know how can I plate Nylon a.k.a PA (Mineral reinforced) with making little or no changes in a ABS plating line. Is it possible to apply a paint suitable for ABS on Nylon and then plate it as ABS?
Thanks,
Mehmet Demiray
- Parkersburg, West Virginia
---
2003
Nylon 66 is a polyamide and is not really suitable for metallising. It absorbs a lot of water and then becomes dimensionally and structurally unstable. The usual way of activating ABS is to use a chromic acid etch, but nylon is not stable in chromic acid and will break up and dissolve. It is possible to etch nylon with chromic acid, but it should only be about 10% strong and the nylon should be immersed in it for only 10-15 seconds. It must then be thoroughly neutralised and rinsed. Electroless nickel or copper will not be suitable for metalling nylon because they take so long to put a non-porous layer down and the nylon will have absorbed too much water during this time, so an alternative must be sought. It may be worth considering plasma etching the nylon and then vacuum coating it with a suitable metal, such as copper, silver or nickel. Once you have a good layer of metal, it may be sufficient to reduce water absorption. Alternatively you could try silver spraying after plasma etching, but again the sensitisation step may cause you problems. There is also another way of etching the surface called "satinising"; this uses perchloroethylene and other additives to roughen the surface by controlled dissolution. All in all I would not recommend using nylon as a suitable polymer for metallising.

Trevor Crichton
R&D practical scientist
Chesham, Bucks, UK
---
2003
Have you considered nickel coating the nylon by the CVD process? Nickel, as you probably know, provides very good corrosion protection and will polish extremely well. It can be hardened to be similar to chrome (but that makes the polishing harder to do!). Our nickel coating process by CVD will coat directly on various plastics, resins, composites, ceramics, polymers, as well as on metals. The substrate material, however, must be stable at our coating temperature of 350 F (175 C) and must not off-gas. Can you verify that your material will be good in these conditions? If so, there is a good prospect for coating the nylon in which you are interested.
I hope this helps
Sincerely,

Mick O'Meara
- Toronto, Canada
---
2003
We have a clamp made by Nylon 66 and would like it be metallized with chrome. However, we knew that it is not stable nor good process to metallize Nylon. If anyone has suggestion with using other material to supersede Nylon 66 and could be plated.
MK Leung
engineer - Hong Kong, China
---
2007
Dear All,

After reading your conversation, I need to ask if some manufacturer start to produce metallized BOPA. According your saying, it is not easy to make it but as generally, is there any company which succeeded to produce it?

thanks.
selin baruh
packaging - istanbul, Turkey
---
January 22, 2009
In response to your question and the subsequent statements. There are nylon resins commercially available that are dimensionally stable and have been successfully plated in the past. These products are typically referred to as partially aromatic nylons. Modification have been made to the nylon polymer chain that eliminates some of the hydroscopic tendencies of nylons. Namely dimensional stability and stiffness characteristics (flexural modulus) that change with molded parts after conditioning to normal humidity conditions. These are used frequently as die cast metal to plastic conversion components. Some of these also carry extremely good surface finishes (even with high glass reinforcements), while still being able to process at normal temperatures for standard nylons. This addresses the issues of plating relating to dimensional stability. The issue of inherent chemical resistance of nylons and effects of this to etching (typical ABS process) presents another challenge. There have been some platers that have plated nylons.
If anyone knows of any in the US, I would be interested in contacting them.
Gregory Boston
- Fowlerville, Michigan
---
April 10, 2009
Hi, Gregory. Virtually everything has been plated, from aardvark skulls to zinnias, through some metallization procedure or other. But I think the main issue is the adhesion of the plating to the substrate.
ABS has been popular as a plating substrate largely because it can be selectively etched for such outstanding tooth that plated ABS can be successfully used on exterior automotive components. Standards and Guidelines for Electroplated Plastics lists the properties of three plateable nylons, but also observes that the adhesion of plating on nylon is only about 40 percent of the adhesion value of plating on ABS.
Good luck and Regards,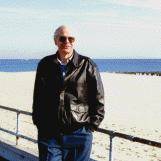 Ted Mooney
, P.E.
Striving to live Aloha
finishing.com - Pine Beach, New Jersey
finishing.com is made possible by ...