Where the world gathers for
plating, anodizing, & finishing Q&As since 1989
"Burnishing of 300 Series Stainless Steel"
-----
2003
For Esthetic Reasons, my client a bridge engineer wants to have a Bright Burnished (about 16-24RMS)appearance on large (>50'X 15'X 1/4") panels of 316L stainless steel being installed on a new highway bridge.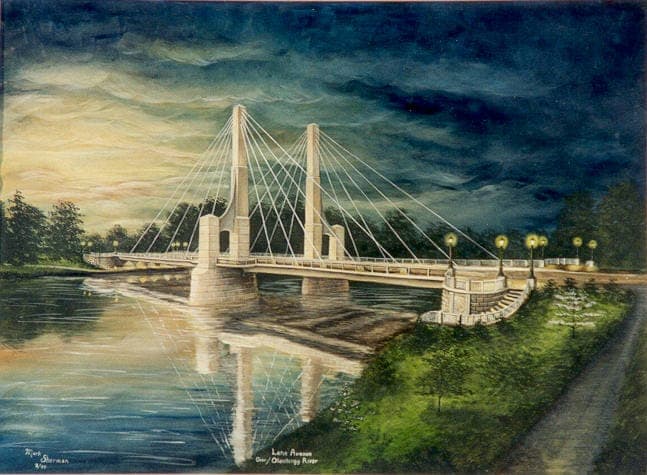 I hope I can purchase the material finished on one side to his requirements,but I will have to fabricate the panels from smaller sections. There will be at least 2 welded seams that will have to be matched up in textured appearance to the rest of the bridge panels.
How can this be done in the fab shop or field? How good will the finish match up be? What equipment is needed?
Gordon E. Smith
- Columbus, Ohio
---
2003
After you grind the seam to make it level, you can restore the finish using a abrasive flap wheel or one of the woven Scoth Bright type wheels. A flexible shaft machine would be suitable for this operation.
Robert Kramer
- Roslyn, New York
---
2003
When designers refer to a burnished finished they usually mean a non-linear grain/scratch pattern. As such I suggest after leveling the welds you go over the surface with a random orbital type sander. commercially this finish is referred to as a non-directional(burnished) finish. you will have to experiment with grit sizes to see what scratch pattern your customer wants, but on metal 60 or 80 grit is quite common. Note: random orbitals leave a random elliptical scratch pattern that when overlaps looks burnished. Your customer may also consider sandblasting which will give a uniform matte but not burnished finish. Several different medias exist for different finishes. Blasting of course would be the most economical ie. fastest
Jeff chadwick
- mississsauga,ontario,canada
---
2003
It sounds to me the panels maybe able to be timesaved it will put a brush finish on the part to any grit youd like
scott regenauer
- st paul Minnesota