Where the world gathers for
plating, anodizing, & finishing Q&As since 1989
-----
Starting chrome refinishing business
2003
I am researching this information for my cousin. He wants to know how to get started in the business of chrome refinishing. Could you help.
Judy Vaughn
- Jeffersonville, Kentucky
---
2003
This is a very tough business to get into! Most businesses have a failure rate in two years for about 90%+ In chrome plating I would put the five year survival rate at <1%.
In custom chrome you have to first strip the old plating, rust, paint. Then polish the metal, dirty, dangerous and boring as hell. After that you can try to plate the old hunk of metal given you. If it is pot metal (zinc diecast) be ready to plate that part many many times. IF the copper hold and does not blister or peel than you can nickel plate it. Nickel plating is a complex system of additives, hard to hold in a good concentration in a job shop. If the nickel is good and bright you can chrome over it. If not be ready to nickel buff the part then re-rack re-activate and then chrome plate. In chrome you have a either very poisonous Hex Chrome or a expensive and difficult to maintain Tri Chrome. Most motor heads want the Hex Chrome look. With hex Chrome you have to have specific controls to reduce emissions, weather a fume suppressant or a fume scrubber ($$$) Once set up and earned of the proper permits ($$$), insurance ($$$) You can count on period of down time as you learn the art of custom chrome. Everything will mess up custom chrome. Oil, soil, polishing compound, WD 40, rust, old chrome, old/weak soak clean, old/weak electroclean, old/weak acid preps, rack marks, nickel out of balance, bad filtration in nickel, too thick, too thin. Chrome plate; fussy chemistry, burns, lack of coverage.
Of course then to all this stress you add customers. They sent the bike or car out for painting 18 months ago and it will be ready next week and they bring you the chrome trim and want you to basically crap chrome plated parts.(Sorry) Or the other way around and they do not want to pay or pick up the parts for 18 months when the bike/car is ready. Advise get 1/2 down and take only cash on completion. Charge for storage! You will need a lot of money, but more knowledge. Fund yourself well with at least 1/3 of your setup capital in reserve, more like 1/2. 16 hour days, some tears, lot of reading.
Sorry to sound too preachy but I bought a "Custom Chrome" shop out of the second failure, ran it for three years and hated it, made money and sold it, it went broke two more times. As fate would have, to eat, I had to set up another one in Maine, lots of old wood stoves, ahh pitted cast iron, I do not miss the taste. Six more years I did not care for it. I call polishing a good young man's sport.
Jon Quirt
- Minneapolis, Minnesota
---
2003
I agree totally, same the world over! May I suggest that a period of time working in the industry may open the eyes to the cost, complications, cost, complications, and cost complications!
Mark Gunn
- NSW, Australia
---
2003
It must be really tough, I would make another choice. Opening a new business requires both dedication and a lot of working capitol. Recently I went to a chrome plater to have my 62 corvette bumpers rechromed. I was told by the owner that it would be best if I came back on Friday. Several months went by before I had a Friday free enough to go back. When I got there the facility was shut down. Nothing not even fingerprints. I was surprised that there was not even a note on the door. This facility was open for roughly two years.
As a machine shop weld shop owner I am very much aware of the numerous pitfalls of business ownership. The government police are constantly on the prowl to see if you are violating any of the thousands of laws. Employees show up with drugs faces and are quite willing to steal anything. The American dream has become the American nightmare for many. It has many rewards as well. If you make a profit, assuming you do not give it all to the government, you are free to do as you please providing your clients are not going to replace with another. (Competition is very high for all businesses.) You are free to set your own hours and set your income level. So going into business has both good and bad sides. If you are smart and can survive, the rewards are numerous. If you are not disciplined, you will be in the unemployment line with the rest.
Tony Knotts Sr.
- New Albany, Indiana, USA
---
January 25, 2013
Yes, Tony. But unlike the others in the unemployment line who will be getting a year of unemployment checks, as a business owner or officer you won't be eligible for a single dime to tide you over during the job search -- even though you paid the same unemployment deductions as everyone else :-)
You'll never become homeless in America today by being repeatedly fired, but you can easily become homeless if you start an unsuccessful business :-(
The "American Dream" today is quickly morphing into hoping to have good enough connections to get a government job -- same as every third-world country :-)
Regards,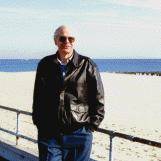 Ted Mooney
, P.E.
Striving to live Aloha
finishing.com - Pine Beach, New Jersey
adv.: